Officials at the National Zoo in Washington, D.C. have the firmest indicator yet that a baby panda could soon be born there. Veterinarians on Wednesday detected what they believe is a developing fetus in an ultrasound of giant panda Mei Xiang. "Based on the size of the fetus, which is about four centimeters (1.6 inches), veterinarians estimate that Mei Xiang could give birth early next week, or possibly in early September," the zoo said in a statement.
There's still "a substantial possibility" that Mei Xiang could resorb or miscarry the fetus, but for now zoo officials are cautiously optimistic.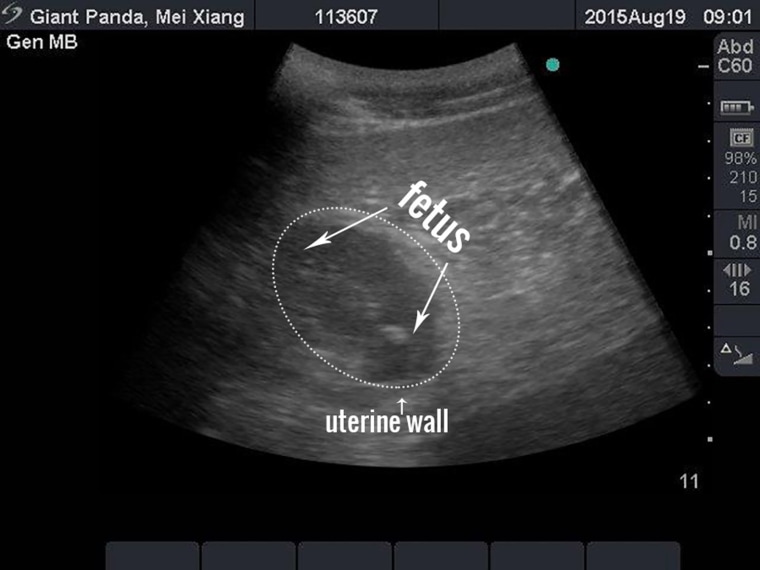 "We want a healthy cub for all the right conservation reasons," said Dennis Kelly, director of the Smithsonian's National Zoo. "I am excited, but I have to say that we were prepared for a cub even before this morning's ultrasound. Our expert team of keepers, scientists and veterinarians are going to do exactly what they are trained to do and I'll just ask everyone to remain positive with us."
Related: National Zoo's Giant Panda Mei Xiang Could Be Pregnant
Mei Xiang was artificially inseminated in late April with semen collected from Hui Hui (h-WEI h-WEI), a giant panda living at the China Conservation and Research Center for the Giant Panda in Wolong. Scientists also used semen collected from the National Zoo's male giant panda, Tian Tian (t-YEN t-YEN), for the inseminations. The father of the cub would be determined by DNA analysis.
Though their numbers have rebounded somewhat over the past decade, giant pandas remain one of the world's most endangered creatures. A census in 2014 found that there were 1,864 giant pandas left in the wild, according to WWF. A few hundred more than live in zoos and breeding centers around the world, mostly in China.