Science isn't just for the laboratory and the classroom: It's also for big-screen theaters and video games, as demonstrated by the winners of this year's International Science and Engineering Visualization Challenge.
"The winners made scientific data beautiful and brought their new ideas to life, while at the same time immersing the viewer in science," Monica Bradford, executive editor of the journal Science, said in Thursday's announcement of the awards.
This is the 11th year for the competition, which recognizes researchers, illustrators and filmmakers who use visual media to convey their scientific concepts to the public. It's jointly sponsored by the National Science Foundation and the journal Science. This year, 227 entries from 12 countries were entered in the contest. "People's Choice" awards were selected through an online survey in which 1,983 Internet users participated.
Take a look at the competition's stars:
VIDEO
First place goes to "Dynamic Earth: Coronal Mass Ejection and Ocean/Wind Circulation," a four-minute animation that shows how the sun influences conditions on Earth through outbursts of radiation as well as solar heating of the atmosphere and oceans.
"Moving through these flows gives the viewer a sense of the grandeur in the order and chaos exhibited by these dynamic systems," said video designer Horace Mitchell of NASA's Goddard Space Flight Center.
Mitchell and his colleagues at NASA's Scientific Visualization Studio created the video excerpt as part of a lengthier planetarium movie, narrated by Liam Neeson. The full-length film is now playing at more than 60 planetariums around the world and has an estimated viewership of 500,000.
Winners for "Dynamic Earth": Greg Shirah and Horace Mitchell (NASA/Goddard Space Flight Center—SVS); Tom Bridgman (Global Science & Technology, Inc.)
Honorable mentions:
"StemCellShorts," by Ben Paylor, Michael Long, Jim Till, David Murawsky, James Wallace, and Lisa Willemse of Stem Cell Network.
"Immunology in the Gut Mucosa," by Doug Huff and Elizabeth Anderson (Arkitek Studios); Zoltan Fehervari (Nature Immunology); and Simon Fenwick (Nature Reviews).
"Visualizing Leaf Cells From Within," by Geoffrey J. Harlow, Shou Li, Albert C. Cruz, Jisheng Chen, and Zhenbiao Yang of the University of California at Riverside.
People's Choice:
"Spherical Nucleic Acids" by Quintin Anderson (The Seagull Company); Chad Mirkin and Sarah Petrosko (Northwestern University).
INTERACTIVE GAMES AND APPS
First place goes to EyeWire, a citizen-science computer game that lets players map the 3-D structure of neurons in the brain.
"Mapping an entire human connectome is one of the greatest technological challenges of all time," said Sebastian Seung, who is based at Massachusetts Institute of Technology. "Over 100,000 people from 135 countries joined EyeWire.org in its first year," team member Amy Robinson said.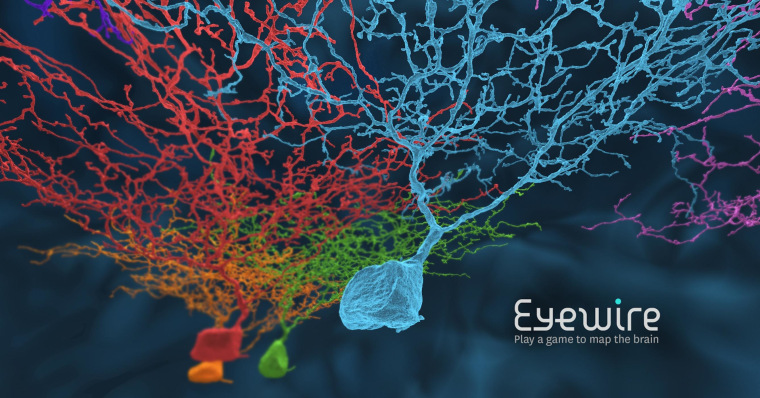 Winners for Eyewire: Amy Robinson, William Silversmith, Matthew Balkam, Mark Richardson, Sebastian Seung, and Jinseop Kim.
Honorable mentions:
EarthViewer, by Mark Nielsen and Satoshi Amagai (Howard Hughes Medical Institute); Michael Clark (EarthBuzz Software, Ltd.); Blake Porch and Dennis Liu (Howard Hughes Medical Institute).
Deep-sea Extreme Environment Pilot (DEEP), by Daniel Rohrlick, Eric Simms, Cheryl Peach, Debi Kilb (Scripps Institution of Oceanography, University of California San Diego); and Charina Cain (Birch Aquarium at Scripps Institution of Oceanography).
People's Choice:
Meta!Blast: The Leaf, by Eve Syrkin Wurtele, William Schneller, Paul Klippel, Greg Hanes, Andrew Navratil, and Diane Bassham of Iowa State University.
PHOTOGRAPHY
First place goes to "Invisible Coral Flows," a photograph that shows the beauty of micro-scale flows produced by reef-building corals. The picture graces the cover of this week's issue of Science.
"Corals create these flows by waving minute hairs, or cilia, lining their surface to remove debris and enhance their exchange of nutrients and gases with the surrounding seawater," said Vicente Fernandez from the Massachusetts Institute of Technology.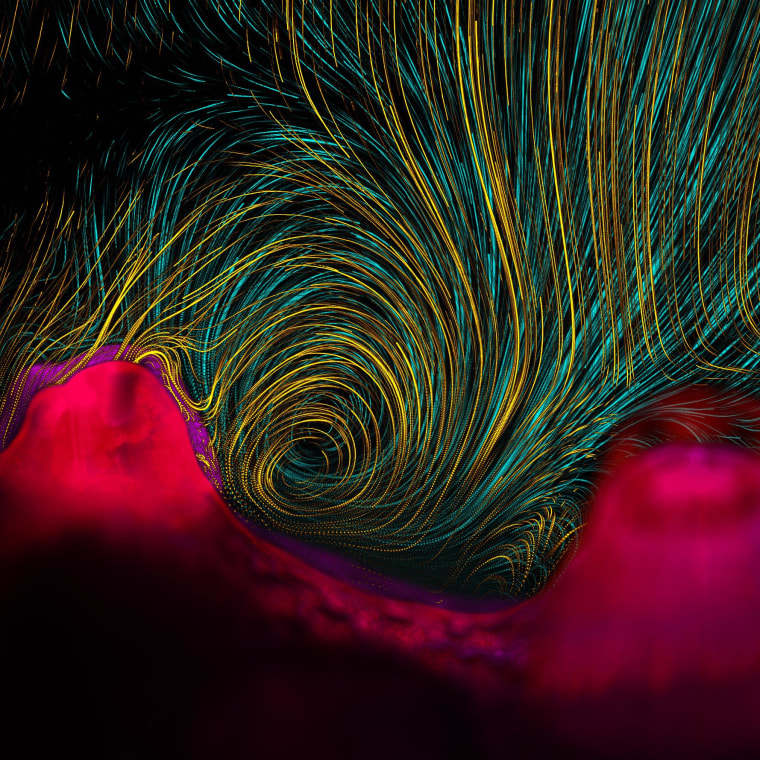 Winners for "Invisible Coral Flows": Vicente I. Fernandez, Orr H. Shapiro, Melissa S. Garren, Assaf Vardi, and Roman Stocker, Massachusetts Institute of Technology.
Honorable Mention:
"Stellate Leaf Hairs on Deutzia Scabra," by Stephen Francis Lowry, Steve Lowry Photography.
People's Choice:
"Polymer Microstructure Self-Assembly," by Anna Pyayt and Howard Kaplan, University of South Florida.
ILLUSTRATIONS
First place goes to "Cortex in Metallic Pastels," an illustration by Greg Dunn that reflects the layered, forestlike structure of the cerebral cortex. The stylized painting, derived from Asian principles, uses gold leaf, aluminum, acrylic dye and other materials.
"The neurons are painted by a technique wherein pigments are blown across the canvas using jets of air, a technique that closely emulates the spontaneous, random branching patterns of actual neurons," Dunn said.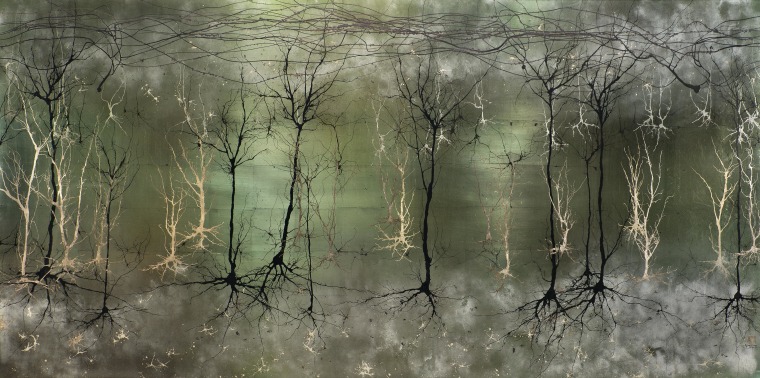 Credits for "Cortex in Metallic Pastels": Greg Dunn, Brian Edwards (Greg Dunn Design); Marty Saggese (SfN); Tracy Bale (UPenn); Rick Huganir (Johns Hopkins University).
Honorable mention:
"Security Blanket," by Lorrie Faith Cranor, Carnegie Mellon University.
People's Choice:
"Human Hand Controlling Bacterial Biofilms," by Lydia-Marie Joubert, Stanford University.
INFORMATIONAL GRAPHICS
First place and People's Choice award goes to "Wearable Power," a poster describing a product that has power sources built into fabric for clothing. It could be used in the medical, military and sportswear industries.
The poster "demonstrates how this technology may eventually be used in everyday life," Drexel University's Kristy Yost said. "We are developing yarns that can be fully knitted and integrated into energy-storing fabrics to power future generations of electronic clothing."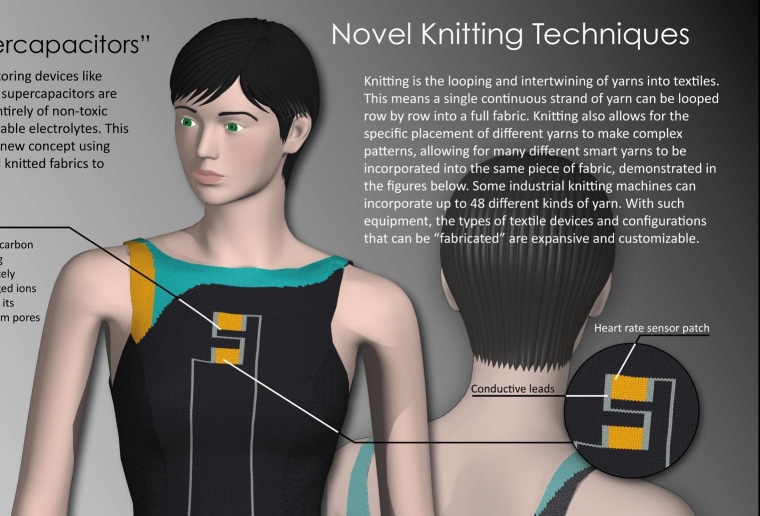 Winners for "Wearable Power": Kristy Jost, Babak Anasori, Majid Beidaghi, Genevieve Dion and Yuri Gogotsi of Drexel University.
Honorable mentions:
"The Life Cycle of a Bubble Cluster: Insight from Mathematics, Algorithms, and Supercomputers," by Robert I. Saye and James A. Sethian of the University of California at Berkeley and Lawrence Berkeley National Laboratory.
"Effects of Cold-stunning on Sea Turtles," Katelyn McDonald and Timothy Phelps (Johns Hopkins University); and Jennifer Dittmar (The National Aquarium).
To see all the top entries, check out the Visualization Challenge websites at the National Science Foundation and Science. And for still more science made visible, feast your eyes on the latest selections from the Olympus BioScapes, Nikon Small World, FEI and Art of Science competitions.