It was a wild winter.
The end of February marked the close of "meteorological winter," which spans December, January and February and is a designation separate from the astronomical seasons, capping a string of months when weather played out in unexpected ways.
Across the Northern Hemisphere, many normally frigid spots experienced dry and warmer-than-usual conditions, while others were plagued with heavy snow and damaging ice storms. Some cities in the southeastern U.S. recorded temperatures above 80 degrees Fahrenheit last month — one place in Texas even hit triple digits.
Although official numbers won't be confirmed for a few weeks, experts say this winter is all but sure to rank among the 10 warmest on record, yet another worrisome milestone in a trend caused by climate change.
"It has really been quite a roller coaster," Bob Henson, a meteorologist and writer for Yale Climate Connections, an online news service, said of the winter extremes.
And warmer winters have real consequences: Vegetation, including spring leaves on trees, is blooming days and weeks ahead of schedule in some parts of the country. In Washington, D.C., for instance, cherry blossoms are appearing earlier than expected, and they are projected to reach their peak roughly four weeks from now.
"The concern there is if it turns out we do get a cold mid- to late-March, it could really do a number on early-blooming crops or flowers," Henson said.
Henson pointed to "striking" temperature contrasts across the U.S. as one example of the season's strange variability. Last week, temperatures dropped in California, producing rare snow even at low elevations, while much of the Northeast basked in balmier-than-usual conditions and got little to no snow over the winter months.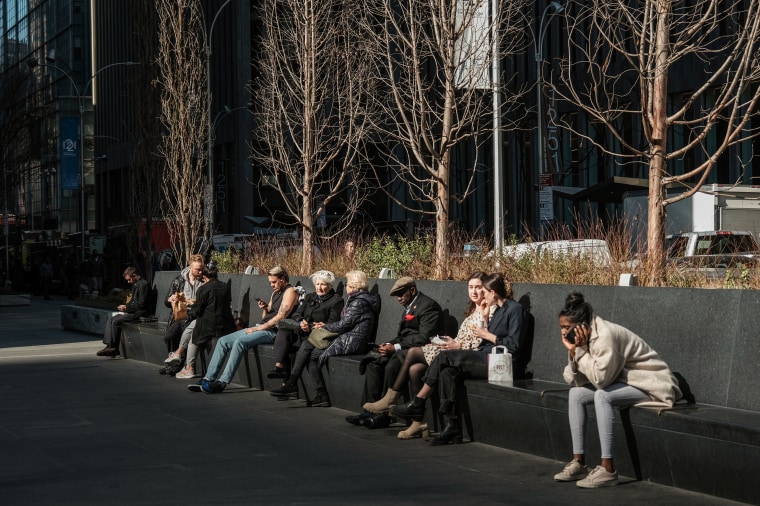 The sharp swings were fueled in part by an unusually wavy jet stream and a natural climate pattern known as La Niña, Henson said.
La Niña is characterized by a cooling of the eastern tropical Pacific Ocean, which produces atmospheric reverberations that can strongly influence weather around the world. La Niña conditions can also affect the movement of the jet stream, a ribbon of fast-moving air that flows from west to east and snakes its way around the Northern Hemisphere.
The jet stream is powered by temperature differences between the colder polar region to the north and warmer air masses to the south. Ripples in the jet stream are what produce day-to-day weather, but deeper troughs and ridges can develop that contribute to extremes by blasting cold air in one region and heating up others.
For most of February, the jet stream was buckled over North America in such a way that cold air was being funneled south along the West Coast while tropical air was pushing up into the Northeast, Henson said.
"It's not so different from what you might see in the summer that produces hot and humid weather," he said. "Of course, it's not going to be hot and humid in January or February, but just as that high is often persistent in the summer, this one has been quite persistent during winter."
The result was snow along the West Coast, including rare blizzard warnings in Southern California, while all-time heat records for February were set in some cities in Georgia, Florida and Tennessee, as well as farther up the coast in North Carolina and Virginia.
Extremes were also felt beyond North America. Record high winter temperatures were recorded across parts of Europe in January, and France went 32 days without rain in any part of the country this winter, adding to fears of deepening drought across the continent.
Seasonal variations are normal, but some scientists are actively studying whether global warming is making the jet stream wavier than usual. Some studies have drawn links, but more research is needed. So far there is no consensus within the scientific community.
"It's still a work in progress, but something to keep in mind is that the inability to find an exact relationship doesn't mean the relationship is not there," Henson said.
He added that what is well known is the overall warming trend caused by climate change.
"There's no doubt that the overall climate is warming," Henson said. "When it rains, it tends to rain harder. When it's dry, droughts tend to be more intense because of the warmer temperatures. Those things are well and firmly established."
The overall shift toward warmer winters doesn't mean there won't be intense storms to contend with in the years ahead. Although this winter was warm overall, a brutal winter storm walloped Buffalo, New York, in December, a severe ice storm swept the South in early February, and the Midwest was hit later in the month with heavy snow that knocked out power to hundreds of thousands of people.
"A warming climate does not preclude extreme winter weather," Henson said, "but the trend is less snow and less cold over time. We know that very well."