Wisdom, the world's oldest known banded wild bird, is prepping to be a mom again — at age 63.
The Laysan albatross has laid an egg at a nesting site at the Midway Atoll National Wildlife Refuge in the North Pacific, about 1,200 miles northwest of Honolulu, U.S. Fish and Wildlife Service officials confirmed Wednesday.
It's no small feat: Laysan albatrosses are monogamous and mate for life, and a breeding albatross lays only one egg per year. No one has an exact figure, but this would be about the 36th chick raised by Wisdom and her mate since Wisdom was banded in 1956, when she was an estimated to be 5 years old.
"We are thrilled with the public's interest in Wisdom. She really captures peoples' imagination around the world, particularly kids', and has become a great ambassador for conservation and Midway Atoll National Wildlife Refuge," Bret Wolfe, deputy refuge manager, said in a statement.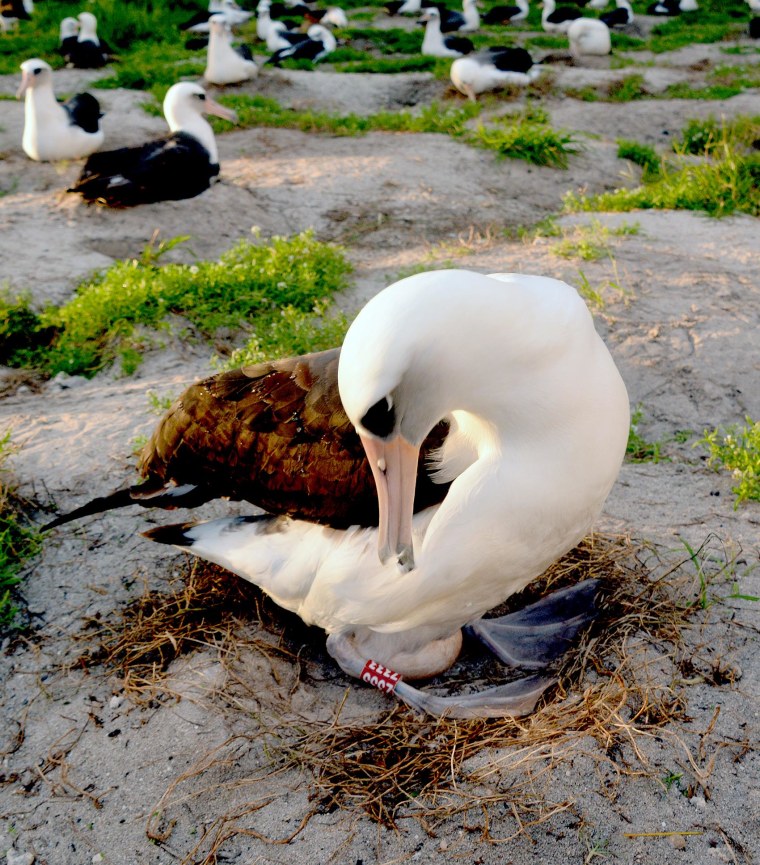 Indeed, Wisdom already has a children's book named after her.
Wisdom has successfully hatched chicks in eight of the past nine years. She laid her latest egg on Dec. 3. Since Laysan albatross incubate eggs for about 65 days, wildlife refuge officials hope to see a new chick hatch around Feb. 6.
According to wildlife officials, the typical lifespan of a Laysan albatross is 12 to 40 years. A breeding albatross typically spends an entire year incubating and raising a chick.
Laysan albatrosses are large, white-headed seabirds with very long and narrow wings. They nest on open, sandy or grassy islands, mostly in the Hawaiian Islands chain. The 590-acre Midway Atoll National Wildlife Refuge is home to about 70 percent of the world's Laysan albatross population.
IN-DEPTH
SOCIAL
— James Eng