Tax day is never fun, but you can take solace in a new finding: A recently translated ancient Egyptian tax receipt shows a bill that is literally heavier than any American taxpayer will pay this year — more than 220 pounds (100 kilograms) of coins.
Written in Greek on a piece of pottery, the receipt states that a person (the name is unreadable) and his friends paid a land transfer tax that came to 75 talents, with a 15-talent charge added on. The tax was paid in coins and was delivered to a public bank in a city called Diospolis Magna (also known as Luxor or Thebes).
Just how much was 90 talents worth in ancient Egypt? [See photos of the ancient Egyptian tax receipt]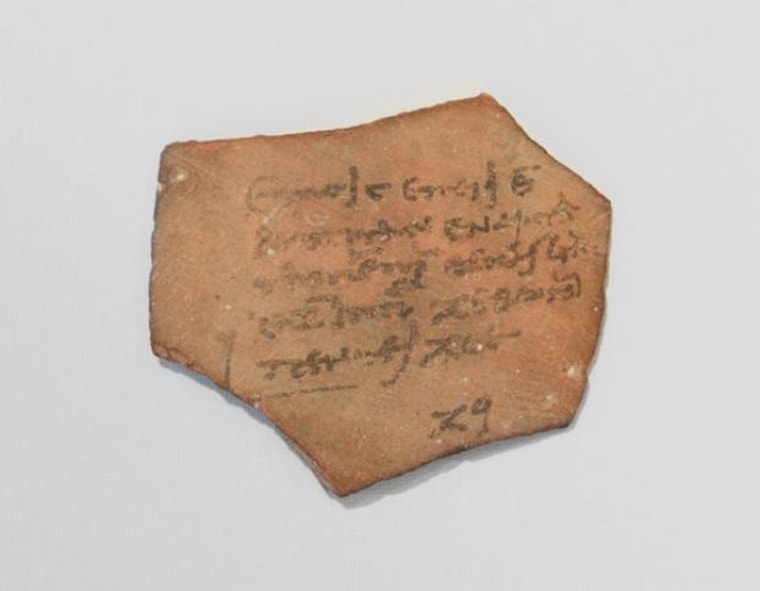 "It's an incredibly large sum of money," said Brice Jones, a Ph.D. student at Concordia University in Montreal who translated the text. "These Egyptians were most likely very wealthy."
The receipt has a date on it that corresponds to July 22, 98 B.C. Paper money didn't exist at that time, and no coin was worth anywhere near one talent, the researchers said. Instead people made up the sum using coins that were worth varying amounts of drachma.
One talent equaled 6,000 drachma, so 90 talents totaled 540,000 drachma, researchers say. For comparison, an unskilled worker at that time would have made only about 18,000 drachma a year, said Catharine Lorber, an independent scholar who has published numerous journal articles on Egyptian coins.
Back then, the highest-denomination coin was probably worth only 40 drachma, Lorber said.
It "would have taken 150 of these coins to make a talent, and 13,500 of them to equal 90 talents," Lorber told LiveScience in an email. "The coins in question weigh, on average, 8 grams [0.3 ounces], so the total payment of 90 talents probably had a weight in excess of 100 kilograms [220 pounds]."
The ancient tax receipt is located at McGill University Library and Archives in Montreal. Jones is studying and translating several texts from the library and is set to publish his findings in an upcoming issue of the journal Bulletin of the American Society of Papyrologists.
— Owen Jarus, LiveScience
This is a condensed version of a report from LiveScience. Read the full report. Follow LiveScience on Twitter, Facebook and Google+.