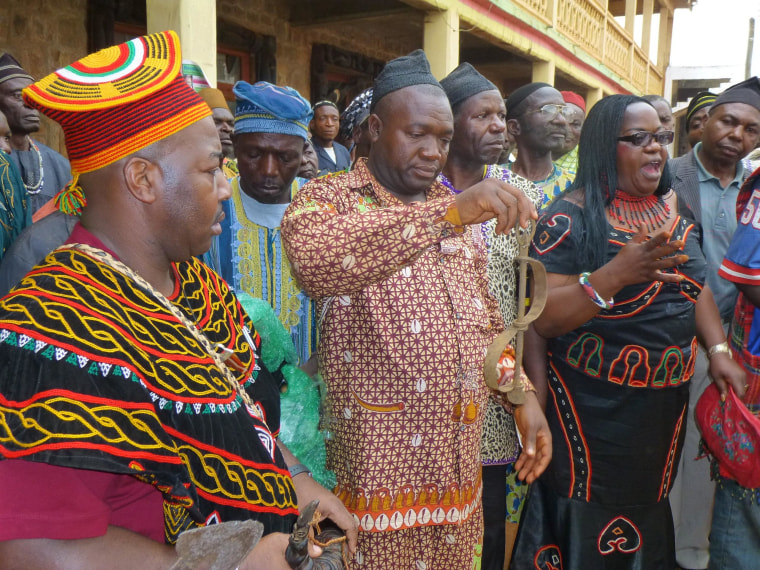 Decades after they were taken away, African ceremonial masks have been returned to the communities that venerated them, thanks to an African-American family researcher who bought them through eBay.
Georgia businessman William Holland, who has been tracing his roots in West Africa for more than a decade, carried the three masks back with him last month during his latest trek to Cameroon. That's not all he was carrying: Holland also brought relics from the mid-18th century — the time when his ancestor was taken from Cameroon, loaded onto a ship, brought to Virginia and sold into slavery.
The masks made a big impression on the hundreds of Cameroonians who gathered for Holland's show-and-tell session. But the slave chains made an even bigger impression.
"When we brought the shackles out, that's when they were about to cry," he said. "They were shocked to see an authentic item that brought so much pain along with it."
Holland's frequent trips to Cameroon's Oku and Nso regions have been a learning experience for him as well as for his long-lost cousins. It took years for Holland to narrow down his approximate place of origin, based on DNA tests as well as a study of American and African pedigrees. Along the way, Holland found out that one of his ancestors was a slave who was pressed into service in the Confederate Army, and that more distant ancestors were members of royal families in Cameroon.
During the buildup to his latest trip, Holland combed through online auction sales, looking for artifacts that could help bridge the gap between the African and American history of his family. He worked with Cameroonian contacts to identify two elephant masks that were associated with the Nso people's secret rituals, plus a wooden mask with a human visage that was used by Oku families during funerals.
The masks were sold out of Africa in the 1970s or 1980s under murky circumstances, and eventually ended up in private hands. "It's almost the same thing as the slave trade," Holland observed. "Outsiders go to a middleman and ask them to get something or someone for them. 'I'm giving you guns, I'm giving you cowrie shells, I'm giving you iron bars. Bring me the people to fill this ship, and I'll give you this.' That's what it reminded me of."
Holland spent hundreds of dollars of his own money to buy the masks, as well as other items such as throwing knives, the wrist and ankle shackles and a "monkey wrench quilt" — a type of quilt that slaves used to signal each other that it was time to wrap up their tools and get ready for an escape. Then he headed for the Cameroonian towns of Kumbo, Bamenda and Oku.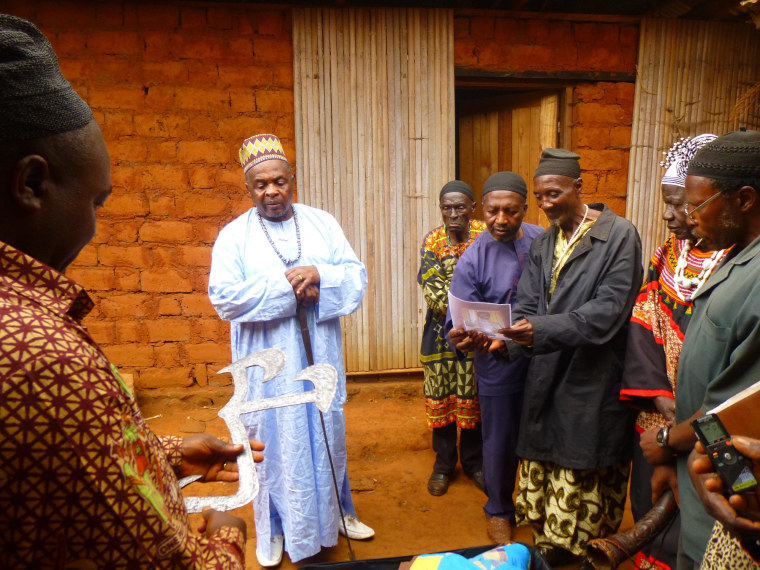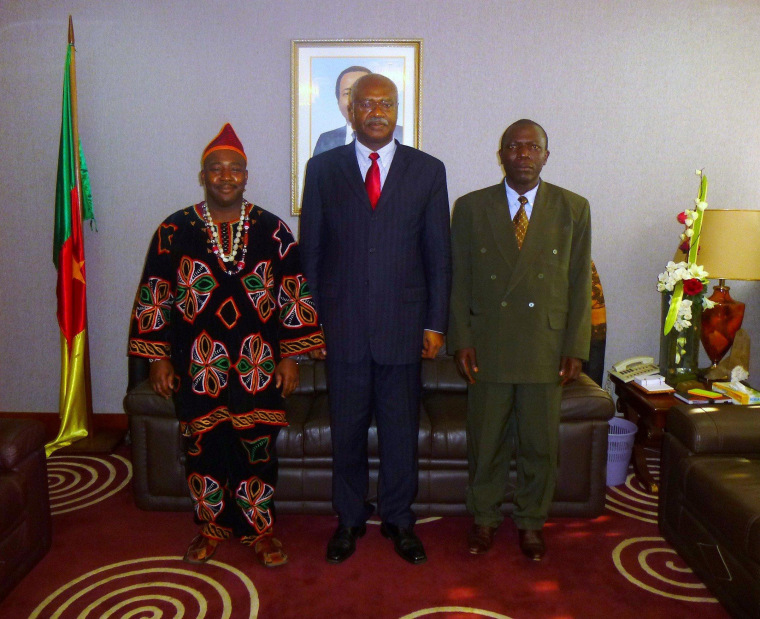 "It's more than just bringing things back," he explained. "It's a history lesson about those who were taken away during the slave trade. The Cameroonians didn't receive this information in school."
Holland's trip caused a sensation in Cameroon: More than 1,000 townspeople turned out to see the American who was bringing their treasures back. In Cameroon's capital, Yaounde, Holland met the prime minister. Journalists clamored for interviews. "It was crazy," Holland said. "It was a media circus."
The chiefs of the Nso and Oku peoples, who are known as "fons," joined up to give Holland a title that combines two honored names: "Shufaay," a title that is typically given to the Nso noble next in line to the king; and "Bailack," which recognizes Holland's connection to a patriarch who came to Oku from Nso centuries ago. "No Nso son or daughter is allowed to shake hands with a Shufaay again, if they are not of the same status," Holland said. "This goes back to the ancient way of doing things." 
All the attention was great — but for Holland, the most important result of the trip was the restoration of pieces of African history to their rightful places. Authorities in Kumbo are building a cultural museum that will eventually house the elephant masks and other Nso artifacts. And family members in the Oku region now have the funerary mask they were missing when their loved ones passed away.
The Fon of Oku drew a lesson from Holland's round of eBay diplomacy — a lesson that's particularly timely for the month of February, recognized in the United States as Black History Month. "He was telling people not to sell these precious things from our society," Holland recalled. "This is wrong. No matter how much money they offer, do not sell."
Holland is already planning his next trip, to the Cameroonian city of Buea in May. He'll be taking over some new history lessons to his ancestral homeland, but he's also hoping to bring back some business: Holland is planning to start up a travel business to put other African-Americans in touch with their roots, and the Africa Travel Association's annual congress in Buea seems like the perfect place for networking.
"I guess you'd call it 'historical tourism,'" Holland said. "Cameroon is really an untapped market for that."
Previous chapters in the African saga:
Alan Boyle is NBCNews.com's science editor. Connect with the Cosmic Log community by "liking" the log's Facebook page, following @b0yle on Twitter and adding the Cosmic Log page to your Google+ presence. To keep up with Cosmic Log as well as NBCNews.com's other stories about science and space, sign up for the Tech & Science newsletter, delivered to your email in-box every weekday. You can also check out "The Case for Pluto," my book about the controversial dwarf planet and the search for new worlds.