The U.S. Air Force's robotic X-37B space plane has broken its own all-time endurance record in orbit after more than 470 days of circling the Earth on a mystery mission for the American military.
The X-37B space plane currently in orbit in flying the Orbital Test Vehicle 3 (OTV-3) mission, the third long-duration flight of the unmanned Air Force spaceflight program. The miniature space shuttle launched on Dec. 11, 2012 and is surpassed the record for longest X-37B spaceflight on Wednesday (March 26).
Until now, the record for the longest X-37B mission is 469 days, set by the program's OTV-2 mission that was launched in 2011. [See photos from the X-37B's OTV-3 mystery flight]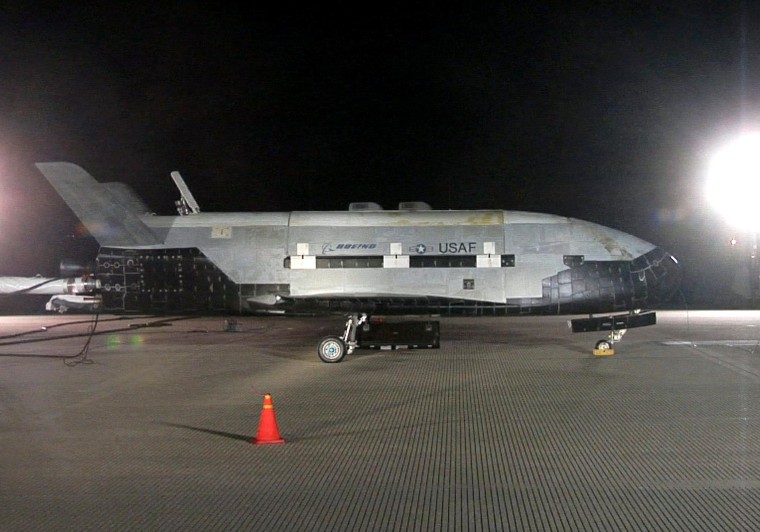 The OTV-3 mission in orbit today now uses the first of the Air Force's two X-37B space plane vehicles. The same spacecraft was used to fly the first-ever X-37B mission (the 225-day OTV-1 flight in 2010), while a second vehicle flew the longer OTV-2 mission a year later.
The U.S. military's X-37B space planes launch into orbit atop an unmanned Atlas 5 rocket from a pad at the Cape Canaveral Air Force Station in Florida. During launch, the space planes are encapsulated inside a protective shroud.
At the end of their respective flights, both the OTV-1 and OTV-2 craft missions flew themselves back to Earth on autopilot, each time touching down on a tarmac at California's Vandenberg Air Force Base.
X-37B space plane's Florida landing
Earlier this year, the X-37B supplier Boeing Space & Intelligence Systems announced plans to study the possibility of using NASA's Kennedy Space Center (KSC) in Florida as a landing site for future space plane missions.
Boeing officials said that investments will be made to convert a former space shuttle hangar, called the Orbiter Processing Facility (OPF-1), into a structure that would enable the U.S. Air Force "to efficiently land, recover, refurbish, and re-launch" the X-37B Orbital Test Vehicle.
- Leonard David, SPACE.com
This is a condensed version of a report from Space.com. Read the full report.
Leonard David has been reporting on the space industry for more than five decades. He is former director of research for the National Commission on Space and is co-author of Buzz Aldrin's new book "Mission to Mars – My Vision for Space Exploration" published by National Geographic. Follow us @Spacedotcom, Facebook and Google+.
Copyright 2014 SPACE.com, a TechMediaNetwork company. All rights reserved. This material may not be published, broadcast, rewritten or redistributed.