The past few days have been prime time for the northern lights, thanks to a blast of solar activity as well as favorable viewing circumstances at high latitudes. But even under the best conditions, it can take a night's worth of waiting to catch mere minutes of auroral glory.
Thomas Kast, an aurora photographer in Finland, knows the drill: "Northern lights can be calm in the sky for hours, but it can all change literally within seconds," he said in an email.
He pointed to Sunday night's experience as an example. Kast set up his equipment at a scenic river near his home in Oulu and gave his eyes time to adjust to the darkness. He could just barely make out the faint green glow of the aurora's arc amid the glare of a nearly full moon. After a couple of hours, he started thinking about packing up and going home.
"It was then when the sky went nuts," Kast said in a blog posting. Auroral lights started shimmering throughout the sky, so brightly that the light was reflected in the waters of the river.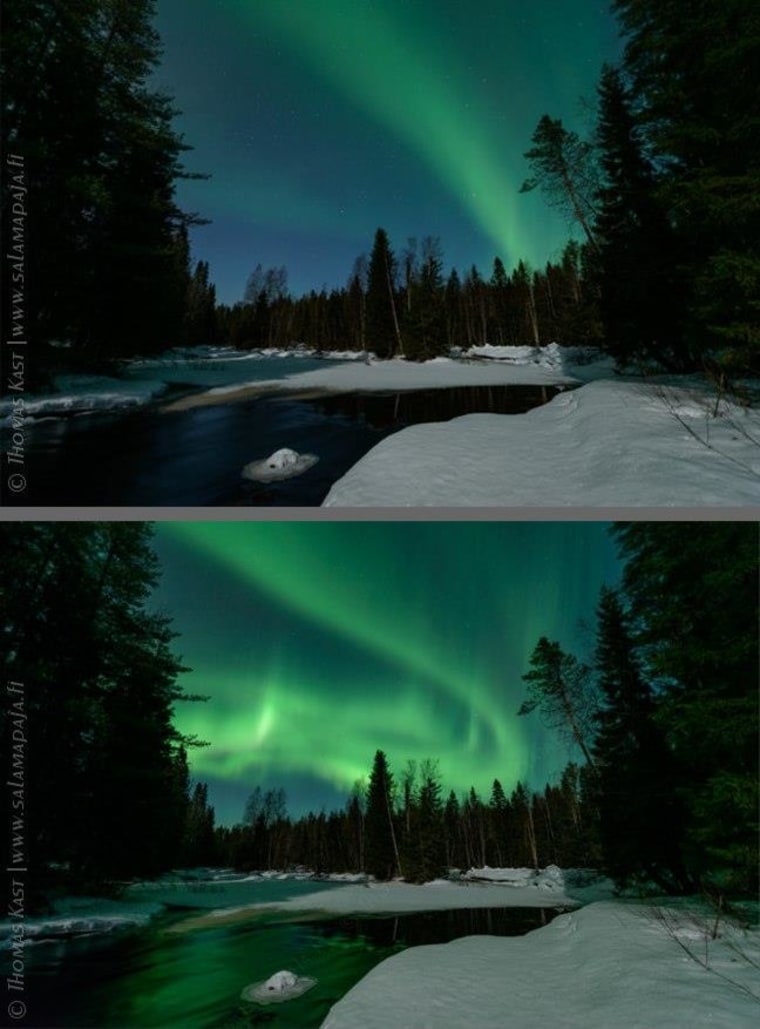 After a few minutes, the show faded away as abruptly as it started — but by then, Kast had gotten the shot.
"It's nights like these which keep me waiting and waiting," Kast said. "Keep me going out again and again to see those magical lights — faint or furious."
Kast has been sharing his pictures on his website as well as via Twitter, Facebook and Instagram. You'll find many more auroral glories in SpaceWeather.com's gallery. According to SpaceWeather.com's Tony Phillips, the sky show is expected to settle down after Tuesday night due to a downturn in geomagnetic activity. But you can bet that Kast will keep on watching and waiting.