Blue Origin, the sometimes-secretive space venture founded by Amazon.com billionaire Jeff Bezos, has joined forces with United Launch Alliance on a rocket engine development project that poses a new challenge to SpaceX — a space venture founded by another billionaire, Elon Musk.
SpaceX didn't come in for a mention when Bezos and ULA's CEO, Tory Bruno, unveiled a scale model of Blue Origin's BE-4 engine during a Wednesday news briefing at Washington's National Press Club. Nevertheless, Musk's company looms as the biggest rival for the new rocket partnership.
Bloomberg BusinessWeek's Ashlee Vance, who is working on a biography of Musk, took note of the potential clash with Bezos by writing that the two billionaires "are officially at war."
The military reference is apt for another reason: United Launch Alliance, a joint venture involving Boeing and Lockheed Martin, sees the BE-4 engine as a potential replacement for Russian-made RD-180 engines that have generated a political controversy due to the crisis over Ukraine. The kerosene-fueled RD-180s are currently used on ULA's Atlas 5 rocket, which has been a workhorse for U.S. government and military satellite launches.
21st-century engine
Bruno said a "baseline Atlas" would work just as well, if not better, with a pair of the 550,000-pound-thrust BE-4 engines. And Bezos said the engines, which would be powered by liquid natural gas and liquid oxygen, will represent a substantial technological advance.
"It's time for a 21st-century booster engine," he said.
Bezos said Blue Origin already has put three years of work into the BE-4 (which stands for "Blue Engine 4"). The deal announced Wednesday envisions four more years of development and testing. If the schedule holds, the first BE-4-powered rocket would lift off in 2019.
ULA was making a "very significant dollar investment" in the BE-4, Bezos said, but he declined to go into further detail.
The BE-4 also would be used on the rockets that Blue Origin would use to send its own spaceships into orbit, starting "late this decade," Bezos said. The orbital space vehicle is still in the design phase, but Blue Origin has been quietly conducting a series of engine tests, as well as low-altitude test flights with less advanced engines.
SpaceX, meanwhile, has been working for years on a family of engines for its Falcon rockets, including the Merlin, Kestrel, Draco and SuperDraco. The California-based company has launched several uncrewed resupply flights to the International Space Station, and is due to launch another this weekend. On Tuesday, NASA said it would award SpaceX $2.6 billion to develop a Dragon capsule for transporting astronauts to thhe space station. (Boeing, one of the partners in ULA, is receiving $4.2 billion for a similar job.)
The fact that ULA and Blue Origin are teaming up on the new rocket engine turns up the heat in a long-running battle pitting those two ventures against SpaceX.
Billionaires butting heads
Blue Origin and SpaceX have butted heads a couple of times in the past: Last year, the two companies vied to take control of NASA's historic Launch Complex 39A at Kennedy Space Center in Florida. At one point, Musk joked that he was more likely to see "unicorns dancing in the flame duct" than he was to see Blue Origin create a spaceship suitable for carrying NASA astronauts by 2018. A couple of months later, NASA awarded control of the pad to SpaceX.
SpaceX is also contesting Blue Origin's patent on a procedure for landing a booster rocket at sea — a procedure that's similar to the sea-platform landing strategy SpaceX hopes to use in the future.
ULA, meanwhile, is SpaceX's biggest nemesis, and vice versa. Earlier this year, SpaceX filed a federal lawsuit against a ULA subsidiary and the U.S. government over what it sees as ULA's unfair monopoly in the military launch business. In response, ULA complained that SpaceX was using the lawsuit to "create negative perceptions of a competitor solely for purposes of its own self-interest."
Like Blue Origin and SpaceX, ULA and SpaceX have a history of bad blood. ULA was one of Blue Origin's biggest supporters in the unsuccessful bid for Launch Complex 39A, and at the time, Musk suggested that was a malicious maneuver on ULA's part.
On Wednesday, Musk told Bloomberg BusinessWeek's Vance that he welcomed the latest challenge: "Competitors ganging up against you is the sincerest form of flattery," he said.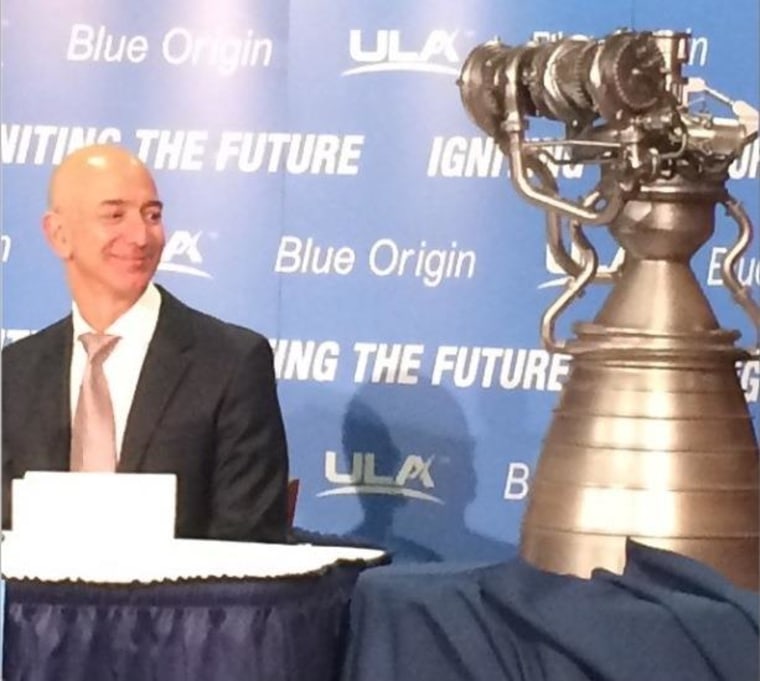 Accentuating the positive
During Wednesday's news briefing, Bezos and Bruno took the high road, praising each other's track record. Bezos touted ULA's "astonishing" eight-year string of successful launches, while Bruno joked about his admiration for Amazon Prime.
"We are going to do for space, and for your lives, what the Internet has done for the information age," Bruno said.
Both men said the partnership was not directly related to NASA's commercial crew program, which grabbed headlines earlier in the week. Boeing's CST-100 capsule would ride into orbit atop ULA's Atlas 5 rocket, but Bruno pointed out that those flights were due to start in 2017, before the BE-4 engine is ready.
"If our customer would like us to make a change — any change, including this one — we're here to support it," Bruno said.
"If you're not passionate about space, go figure out something else to do, because this business is too hard if you're not passionate about it."
For his part, Bezos noted that Blue Origin is working on multiple generations of rocket engines — not just the BE-4, but also the hydrogen-fueled BE-3. That engine is designed for 110,000 pounds of thrust, and is to be used on Blue Origin's New Shepard suborbital spaceship. Bezos said the latest prototype for the New Shepard is "about to go into flight test."
Bezos' long-term vision for Blue Origin is to take space tourists and researchers on suborbital flights using the New Shepard, and to carry travelers into orbit on a spaceship launched by BE-4 engines. But he acknowledged that progress toward that vision doesn't come easy.
"If you're not passionate about space, go figure out something else to do," he said, "because this business is too hard if you're not passionate about it."