A network designed to detect nuclear test explosions has recorded more asteroid impacts over the past decade than expected, according to a group that's working on an asteroid-hunting telescope.
The B612 Foundation said it would share the evidence from the International Monitoring System, a global network of sensors built to monitor compliance with the Comprehensive Nuclear Test-Ban Treaty, during a news conference at the Seattle Museum of Flight on Earth Day, April 22.
The sensor readings show that 26 explosions more powerful than a kiloton of TNT have been detected since 2001, "all of which are due to asteroid impacts," said former astronaut Ed Lu, the foundation's CEO.
He said the readings were analyzed by Peter Brown, a physicist at Western University in Ontario, and would be detailed in a video visualization making its debut at the Seattle event.
"It shows that asteroid impacts are not rare — but actually three to 10 times more common than we previously thought," Lu said in Friday's news advisory. "The fact that none of these asteroid impacts shown in the video was detected in advance is proof that the only thing preventing a catastrophe from a 'city-killer'-sized asteroid is blind luck."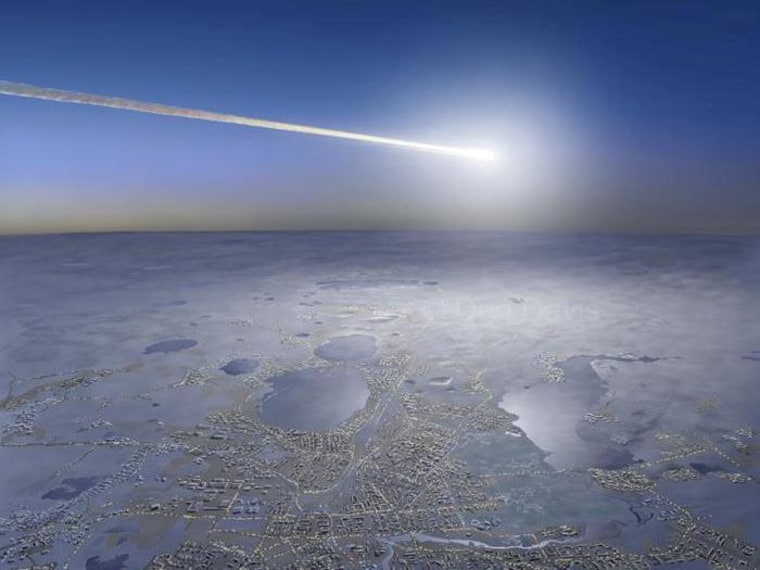 The B612 Foundation has partnered with Ball Aerospace to build a space telescope to watch for asteroids from a Venus-like orbit around the sun. The Sentinel Infrared Space Telescope Mission is currently due for launch in mid-2018, with an estimated mission cost of $400 million.
"The goal of the B612 Sentinel mission is to find and track asteroids decades before they hit Earth, allowing us to easily deflect them," Lu said.
There's a chance that NASA may support the mission, but for now, the foundation is relying on contributions. In March, the indie rock band Broken Bells announced that it would donate $1 from every ticket sold for this month's West Coast tour to B612.
The foundation has also attracted support from several former astronauts. Apollo 8 astronaut Bill Anders and veteran shuttle astronaut Tom Jones will join Lu in Seattle for the Earth Day event.