Bright spots that look like a beacon flashing from a distant Martian hillside are attracting attention from the UFO crowd — but are they real or just photographic glitches?
The evidence so far favors a pixel dropout as the explanation, but the coincidence is curious enough to stir up chatter on websites such as Disclose.tv and UFO Sightings Daily. The webmaster for the latter site, Scott C. Waring, is having as much fun with this one as he had last year with the Mars Rat and the Martian Iguana.
"This could indicate that there is intelligent life below the ground and uses light as we do," Waring wrote in a posting about the pic on Sunday.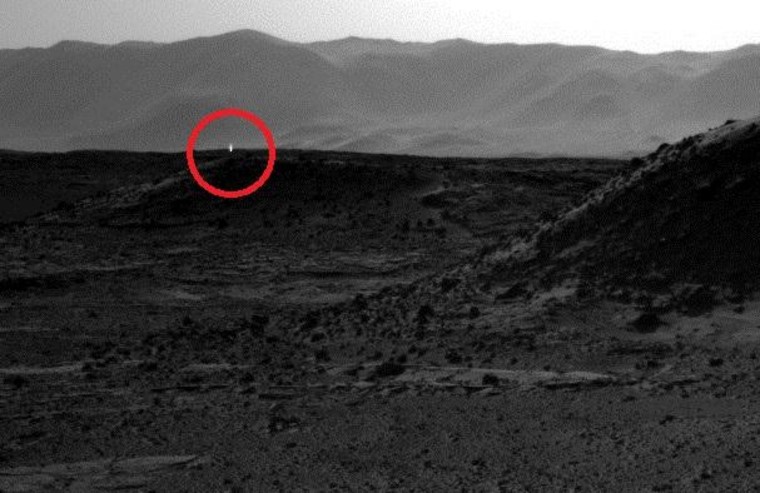 The picture that caught Waring's eye was taken on April 3 by the right-hand navigation camera on NASA's Mars Curiosity rover as it was getting itself settled in a new study area known as the Kimberley. A bright speck that appears to flare upward can just be made out, right at the rim of a rise.
A picture taken by the right navcam on the day before shows a similar bright speck, seen from a slightly different perspective. The only problem is that the navigation camera is a stereo system, and the left-hand navcam doesn't show the bright spots on either day.
That suggests that the "light" might be a bit of lost data that left blank spots only on the right-hand navcam pictures. And it suggests that people are looking at the pictures from Curiosity very, very closely. If there's a message from Mars flashing in any photos, you can bet somebody's going to see it.
We've asked NASA's Jet Propulsion Laboratory to take a look at the pictures, and if we hear anything back, you'll find the update right here. Now, about that deer-cam UFO...
Update for 9 p.m. ET April 7: Doug Ellison, an imaging guru who happens to work at JPL, quickly told me in a Twitter update that the bright spot is due to a "cosmic ray hit" affecting the rover. (Later: The Surrey Space Center's Chris Bridges agrees.)
Update for 12:50 a.m. ET April 8: Here's a recap of the four pictures we're talking about:
Update for 3 p.m. ET April 8: JPL sent along a couple of potential explanations for the bright spot, and they don't include the cosmic ray scenario. Get the details here.