A photographic mosaic from the moon shows China's Yutu rover on the move - in triplicate.
The wide-screen view was assembled from imagery captured by the color camera on the Chang'e 3 lander over the past month, as the six-wheeled robot rolled over the lunar surface. This time-lapse version comes from Ken Kremer, a scientist and science journalist from New Jersey who teamed up with Italian colleague Marco Di Lorenzo.
"It shows Yutu at three different positions around the landing site, and gives a real sense of how it's maneuvering around. ... The last Yutu position shows her heading off to the south and departing the landing site forever," Kremer wrote in an email. (We've cropped the panorama into two separate frames to fit our format better.)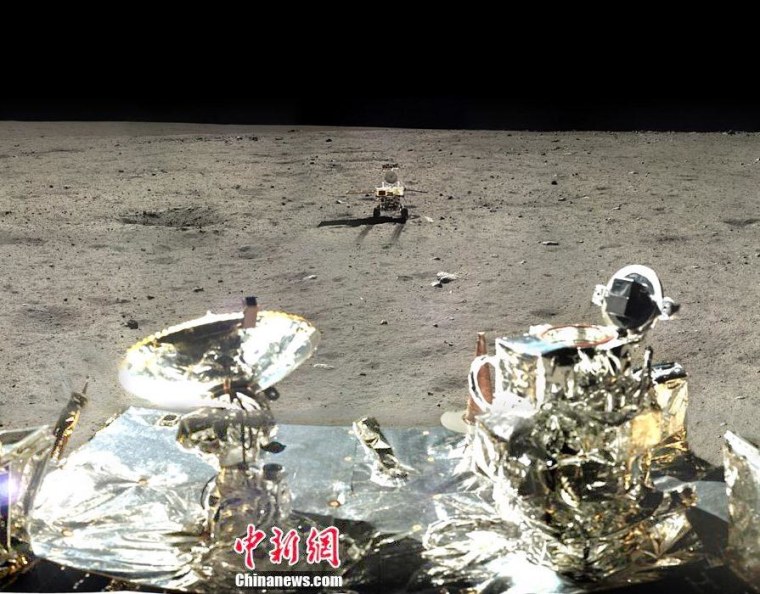 To see more of the panoramas, check out Kremer's report on Universe Today. And for other panoramic perspectives, take a look at Don Davis' version on the Planetary Society blog as well as Andrew Bodrov's interactive panorama on 360Cities.
Chang'e 3 and Yutu are continuing their work on the lunar surface: Late last week, China's Xinhua news agency reported that scientists have used astronomical images from the lander to create an atlas of stars in the constellation Draco. Meanwhile, the rover's ground-penetrating radar instrument has collected data about the structure of the lunar subsurface going as deep as 460 feet (140 meters), Xinhua said.