SpaceX's Dragon commercial cargo ship delivered some late Christmas gifts to the International Space Station's crew on Monday. Meanwhile, SpaceX engineers reviewed the company's nearly successful effort to recover the first stage of the Falcon 9 rocket that launched the Dragon two days earlier.
Space station commander Barry Wilmore used the orbital outpost's robotic arm to take hold of the Dragon capsule at 5:54 a.m. ET, about 18 minutes ahead of schedule. The uncrewed spacecraft was originally scheduled to arrive with more than 5,000 pounds of supplies, equipment and experiments before Christmas, but a series of glitches held up the launch.
"We apologize for Santa and his Dragon sleigh for being more on the Eastern Orthodox schedule," mission communicator Randy Bresnik told Wilmore jokingly from NASA's Johnson Space Center in Texas.
Wilmore replied that he didn't mind. "We'll be digging in soon," he said.
Over the hours following the Dragon's capture, the station's crew brought the spacecraft in to its port on the station's Harmony module and prepared it for hatch opening.
The Dragon's flight was flawless, starting with Saturday's launch from Cape Canaveral Air Force Station in Florida. After the Dragon and the Falcon 9's second stage separated, SpaceX conducted an experiment aimed at bringing back the first stage autonomously and landing it intact on a drone ship stationed in the Atlantic Ocean, 200 miles from the Florida coast.
The rocket stage actually hit the target, but too hard. SpaceX's billionaire founder, Elon Musk, said the stage broke apart and did minor damage to the ship. Photos published by the SpaceflightNow website showed the ship returning to Jacksonville, Florida, on Sunday with scorched and damaged containers on deck.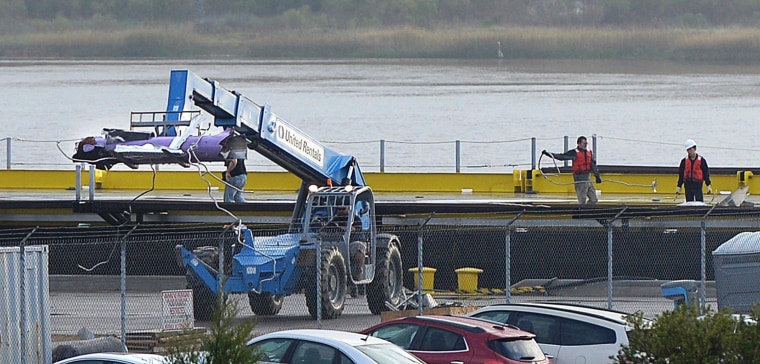 Musk said telemetry indicated that the supersonic grid fin system that was supposed to stabilize the rocket as it descended had run out of hydraulic fluid just before landing.
"Upcoming flight already has 50 percent more hydraulic fluid, so should have plenty of margin for landing attempt next month," Musk wrote in a Twitter update.