NASA will launch its Orion deep-space capsule on a test flight without a crew, but it won't be alone. A NASA drone, two U.S. Navy planes and several helicopters will join the capsule for at least part of its journey.
Eventually, Orion will carry humans deep into space, but for Thursday's test flight, the capsule will travel 3,600 miles (5,800 kilometers) from the planet before re-entering Earth's atmosphere at an estimated 20,000 mph (32,000 kilometers per hour). As the space capsule zooms toward a Pacific Ocean splashdown, NASA and Navy aircraft will be recording Orion's every move.
One of the mission's purposes is to determine how well the Orion capsule holds up to the huge change in temperature it will experience when re-entering Earth's atmosphere, according to Tom Horvath, a principal investigator with NASA's Scientifically Calibrated In-Flight Imagery team. Horvath noted that Orion will experience temperatures "from very cold to up to 4,000 degrees Fahrenheit [2,200 degrees Celsius]." [Orion's First Test Flight: Full Coverage]
The SCIFLI team plans to capture thermal images of re-entry using a Navy NP-3D plane, which is also called Orion. This Orion plane, which is typically used for surveillance and data collection, is equipped with a long-range infrared optical system. Crew members will also try to snap photos of the spaceship as it descends.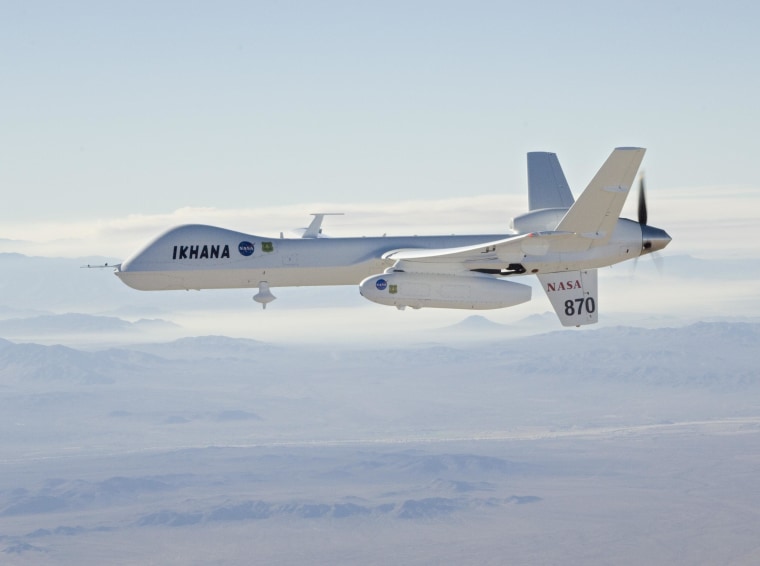 While the NP-3D Orion circles, NASA's Ikhana drone will fly south of the capsule's projected entry location. The drone will capture video of the descent, to be broadcast live on NASA-TV.
Another Navy NP-3D plane will keep an eye on Orion's parachute system. First, small drogue parachutes will be released to stabilize and decelerate the aircraft, and then three huge main parachutes will deploy, slowing Orion down to less than 20 mph (32 kilometers per hour) for splashdown.
Two Navy MH-60S Knighthawk helicopters will observe and record the final 10,000 feet (3,000 meters) of Orion's descent with infrared cameras. The copters also will assist crew members aboard the USS Anchorage, the vessel charged with recovering the spacecraft.
This is a condensed version of a report from LiveScience. Read the full report. Follow Elizabeth Palermo on Twitter. Follow LiveScience on Twitter, Facebook and Google+.