A Russian Soyuz craft carried three new crew members for the International Space Station into orbit on Tuesday, but an engine glitch delayed their arrival until Thursday.
A 24-second engine burn to adjust the Soyuz' orbital path "did not occur as planned," NASA spokesman Josh Byerly said hours after the spacecraft was launched from the Baikonur Cosmodrome in Kazakhstan.
As a result, NASA's Steve Swanson and Russian cosmonauts Alexander Skvortsov and Oleg Artemyev weren't able to take advantage of the six-hour "fast-track" route to the space station. Instead, they'll have to wait until 7:58 p.m. ET Thursday at the earliest to make their rendezvous.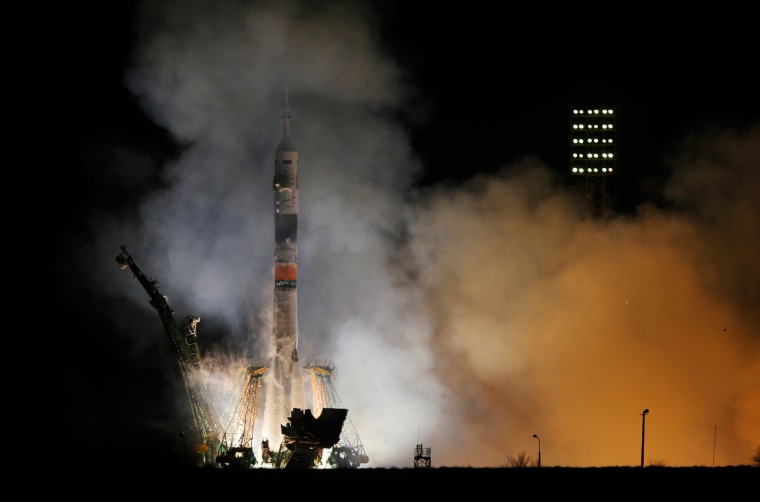 That's no biggie. In fact, the two-day trip was routine until last year, and the crew has ample supplies for an even longer trip. "The crew is in no danger whatsoever," NASA spokesman Rob Navias reported from Baikonur.
Navias said the engine burn was aborted due to a problem with the Soyuz's attitude control system, but further details were not immediately available. "Right now we don't understand exactly what happened," a mission manager at Russian Mission Control told the Soyuz crew late Thursday.
Ground controllers planned to download data from the Soyuz and determine whether the glitch was due to a hardware or software problem, Byerly said.
Swanson, Skvortsov and Artemyev are planning to join the three crew members already living on the station: NASA's Rick Mastracchio, Japan's Koichi Wakata and Russia's Mikhail Tyurin. The current routine calls for trios of spacefliers to serve staggered tours of duty lasting roughly six months each.