What's cooler than pictures of the northern lights, or pictures of the Geminid meteor shower in progress? How about getting both of those celestial phenomena in one photograph? Veteran skywatchers pulled off that trick last weekend when the Geminids reached their peak just as a high-speed solar wind was sparking heightened auroral displays in high northern latitudes.
"Tonight our group of 10 guests from all over the world enjoyed an amazing display of auroras dancing in the sky with the Geminid meteor shower," Chad Blakley, the photographer/guide who runs Lights Over Lapland, told SpaceWeather.com in a posting on Sunday. "The auroras started with a burst of energy and slowly calmed down as the meteor shower intensified. At one point we were seeing several meteors per minute."
Based on the reports gathered by the International Meteor Organization, Blakley and his guests at Sweden's Abisko National Park weren't the only ones to enjoy a standout show. Some skywatchers reported seeing 140 meteors or more during one hour of peak time on Saturday night. Sharp-eyed observers can still catch the tail end of the spectacle on Monday night and early Tuesday morning.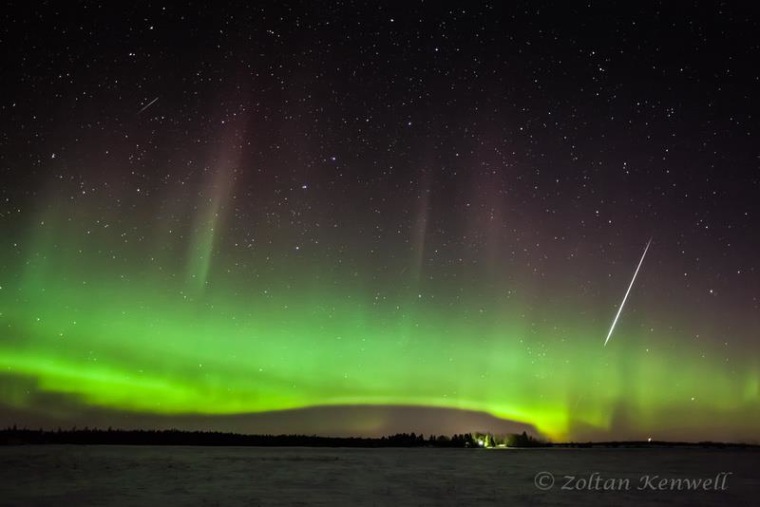 About 40 miles (60 kilometers) north of Edmonton, Alberta, photographer Zoltan Kenwell of InFocus Imagery also sampled a double-dip of northern lights and meteor flashes.
"My plan was to capture a few Geminids, and to my surprise I found a little aurora as well," Kenwell told SpaceWeather.com. "So what does an aurora hunter do when there is a meteor shower on? He kicks back in a recliner, relaxes and enjoys the show!"
The outlook from the National Oceanic and Atmospheric Administration's Space Weather Prediction Center suggests that the show will continue this week, and SpaceWeather.com says there's a chance that newly emerging sunspots could produce fresh solar flares. As for shooting stars, the next display on the calendar is the Quadrantid meteor shower.
"The bright waxing gibbous moon will wash out all but the brightest Quadrantid meteors," EarthSky's Bruce McClure reports. "But if you're game, try watching between midnight and dawn on January 3 and/or 4."
Update for 5:40 p.m. ET Dec. 15: In response to our call for Geminid pictures via #NBCmeteor, Roberto De Lorenzo sent this picture of a meteor flash, witnessed in the skies over southern Italy on Saturday evening. "It shows a Geminid meteor crossing the sky between Orion and Taurus," De Lorenzo wrote in an email. "I shot it with a Canon EOS with standard optics and 15 seconds of exposure."