Darkness is coming -- and you should book a hotel room now.
That's what eclipse-chasers from around the world are doing, as they prepare for the first total solar eclipse to cut a swath from the Pacific to the Atlantic since 1918. The event is still 1,000 days away, counting from Tuesday, and will occur on Aug. 21, 2017. But that hasn't slowed enthusiasts who want a viewing spot along the path of totality, the strip of land along which the sun will be completely blotted out.
"If you do plan to have an actual hotel booked for any number of days for that event, you need to get on the phone and take care of that right now," Paul Tomaszewski, a member of the Solar Eclipse Hopkinsville 2017 committee, told WAVE-TV.
Hopkinsville, Kentucky, is the closest town to the point of greatest eclipse in 2017, which is why it's such a hot spot. But it won't be long before reservations get scarce at other points of interest in the total eclipse zone — ranging from Lincoln City on the Oregon coast, to Jackson Hole and Nashville, to Charleston on the South Carolina coast.
Dedicated eclipse-chasers will spend thousands of dollars to travel to witness even the slightest brush with totality in a far-flung clime, but it'll be much easier for Americans to catch the show in 2017, said Michael Zeiler, who is keeping close track of the buildup to the big day on his Eclipse-Maps.com and GreatAmericanEclipse.com websites.
"This is truly a Great American Eclipse, because most Americans can reach the eclipse within one day's drive," Zeiler told NBC News in an email. "Also, the eclipse occurs during summer, so families can make a trip with campers, RVs, etc., to see the spectacle."
Americans don't get a chance like this very often:
The last coast-to-coast total solar eclipse was on June 8, 1918, which Scientific American hailed at the time as "the first astronomical event to be observed from an airplane."
The last solar eclipse in the contiguous 48 states was on February 26, 1979.
The last to be visible from U.S. soil was on July 11, 1991, when the path of totality passed through Hawaii.
You don't have to go to Hopkinsville to maximize 2017's eclipse experience. Actually, the eclipse's total phase will last the longest (2 minutes and 41.661 seconds) at a different location, near Carbondale, Illinois. And even if you're 400 miles away from Carbondale, the duration of totality is just a fraction of a second less, Zeiler said.
"I'd say there is no single best place to view the eclipse," he said. "Wherever you can find clear skies and a good viewing area will be your best place. In general, experienced eclipse chasers are targeting the zone in the eclipse path between central Oregon and western Nebraska. Besides a higher probability of clear, transparent skies, the western United States have generally less traffic, so crowding will not be an issue if you are prepared to camp."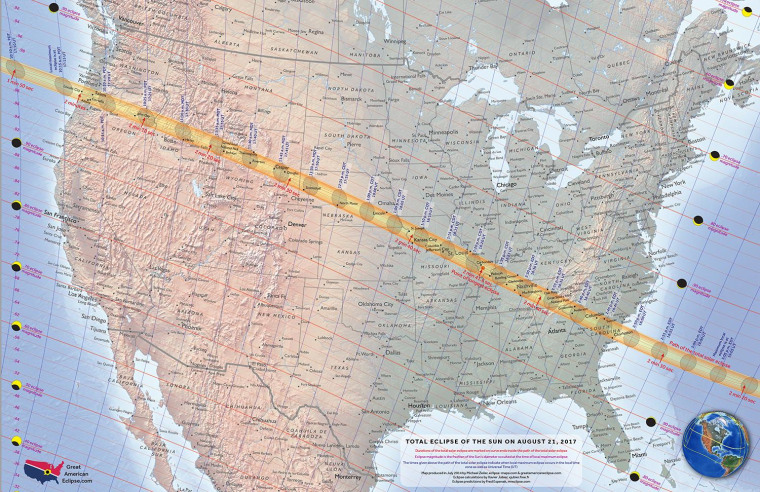 It's important to make plans, but it's just as important to be ready to change your plans. "No matter what arrangements you make, be prepared to jump in your car so that an errant cloud will not deter your view," Zeiler said. Bookmark this strategy for eclipse success, so you can refresh your memory 995 days from now:
Check the weather forecast five days before the eclipse, and be ready to relocate if the prospects are better elsewhere.
Check the short-term forecast two days before, either by watching the local news or consulting the Eclipser.ca website. If the weather in your preferred location doesn't look good, work on a Plan B.
Early on eclipse morning, check the weather online to find out if you're in the right spot, or if you have to drive 100 miles or so to a better location.
When you arrive at your viewing site, watch any clouds and judge their speed and direction in case you need to make a last-minute move.
If you can't get to the path of totality, which goes across the continent but measures only about 100 miles (160 kilometers) wide, you can take some consolation in the fact that a partial solar eclipse will be visible everywhere in the Lower 48 states.
Between now and 2017, brush up on your eclipse lore by checking Zeiler's website as well as NASA's eclipse website, Eclipse2017.org and this Flash interactive. You can also practice by watching eclipses on the Web: The world's next encounter with totality comes on March 20, 2015, and there's another one on March 9, 2016. Both those events are certain to be webcast — as will the 2017 eclipse, for that matter.
If you plan to watch the eclipse with your own eyes, don't wait 1,000 days to take safety measures. The total phase is totally safe to see with the naked eye — but to look at the partial phase, you'll need special filters or a pinhole camera setup.
The MrEclipse.com website provides links to a host of filter-makers, and NASA's Jet Propulsion Laboratory shows you how to make a pinhole camera. The nice thing about planning 1,000 days ahead is that there's plenty of time to get those eclipse specs shipped out to you and your friends.