A probe chasing a comet is about to make a daring attempt to land on its deep-space target — and now the robot's landing site has an official name.
The Rosetta mission's Philae lander is expected to make its home on Comet 67P/Churyumov-Gerasimenko at a site now called "Agilkia," European Space Agency officials announced Tuesday. The new name was chosen from 8,000 entries after ESA officials asked the public for suggestions. The name Agilkia was suggested by more than 150 people.
Until this week, the landing site was unofficially called "Site J."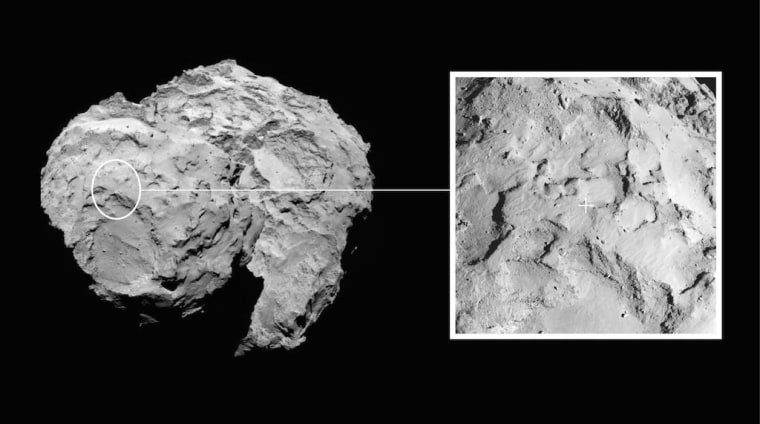 The new name comes from an island on the Nile River in Egypt. The name fits with the other monikers given to different parts of the comet-chasing mission. The Philae lander is named for an obelisk discovered on Philae Island in the Nile, while Rosetta — the spacecraft that has carried Philae into deep space — is named after the Rosetta Stone, an ancient Egyptian tablet that helped modern archaeologists translate hieroglyphics. Some of the artifacts found on Philae Island were relocated to Agilkia Island to protect them. [See photos from the Rosetta mission]
The goal of the $1.6 billion Rosetta mission is to learn more about the science of comets. Scientists are also interested in researching what comets might reveal about the way life evolved in the solar system.
Officials chose the landing site because it has some smooth terrain, and could be the safest area to set down the probe.
One of the people who suggested the site's new name, Alexandre Brouste of France, was invited to watch Philae's landing from ESA's Space Operations Control Center in Darmstadt, Germany. Rosetta is due to send Philae down to the surface of Comet Churyumov-Gerasimenko on Nov. 12, when both spacecraft are orbiting the comet at about 14 miles (22.5 kilometers) from its core.
This is a condensed version of a report from Space.com. Read the full report. Follow Miriam Kramer on Twitter and Google+. Follow Space.com on Twitter, Facebook and Google+.