Amazon.com billionaire Jeff Bezos' space venture, Blue Origin, launched its New Shepard spaceship almost as high as outer space during a test flight on Wednesday — and although the craft's propulsion module was lost, the empty crew capsule made a parachute landing just the way it was supposed to.
"Any astronauts on board would have had a very nice journey into space and a smooth return," Bezos wrote in a recap of the test, which took place at Blue Origin's sprawling test facility in West Texas. "In fact, if New Shepard had been a traditional expendable vehicle, this would have been a flawless first test flight."
Wednesday's outing was the most ambitious rocket-powered flight test since 2011, when an earlier version of the propulsion module went supersonic — and then crashed. That vehicle went to 45,000 feet in altitude. Bezos said the redesigned vehicle went up to 307,000 feet (93.6 kilometers), thanks to Blue Origin's next-generation, hydrogen-powered BE-3 rocket engine.
That height is close to the internationally accepted boundary of outer space, 328,084 feet or 100 kilometers — and beyond the U.S. Air Force's 50-mile definition of spaceflight's boundary (264,000 feet or 80 kilometers).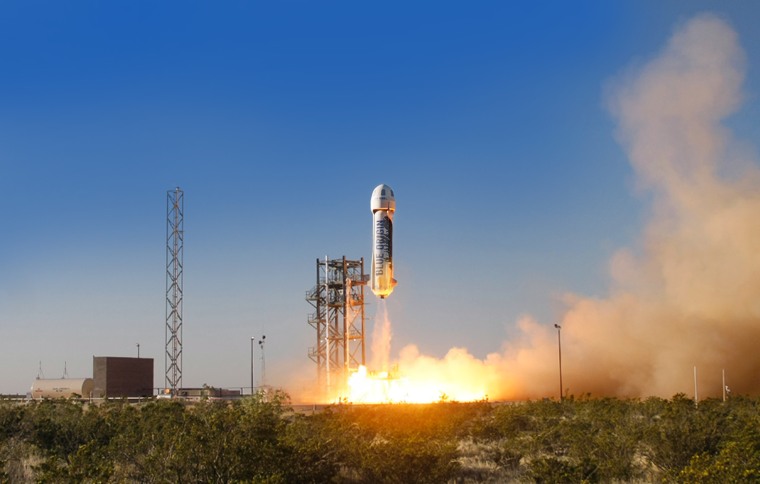 Bezos said guidance, navigation and control was "nominal" through the ascent, and the crew capsule's separation from the propulsion module was "perfect." However, the propulsion module's hydraulic system lost pressure during its descent. As a result, that part of the spaceship couldn't come down for a rocket-powered landing as planned — and couldn't be recovered, Bezos said.
"Fortunately, we've already been in work for some time on an improved hydraulic system," he wrote. "Also, assembly of propulsion model serial numbers 2 and 3 is already under way — we'll be ready to fly again soon."
Blue Origin's production facility is in Kent, Washington, south of Seattle — but the heavy-duty testing takes place at a launch site on Bezos' sprawling ranch near Van Horn, Texas. The New Shepard launch system, which was named with a nod toward pioneering NASA astronaut Alan Shepard, is aimed at taking passengers and payloads on up-and-down suborbital space trips.
During a teleconference conducted earlier this month, Blue Origin President Rob Meyerson said dozens of test flights would have to be conducted before the start of commercial operations. "We're probably a few years away from selling tickets, at least from flying our first astronaut," he said. (The company's website is already taking signups, however.)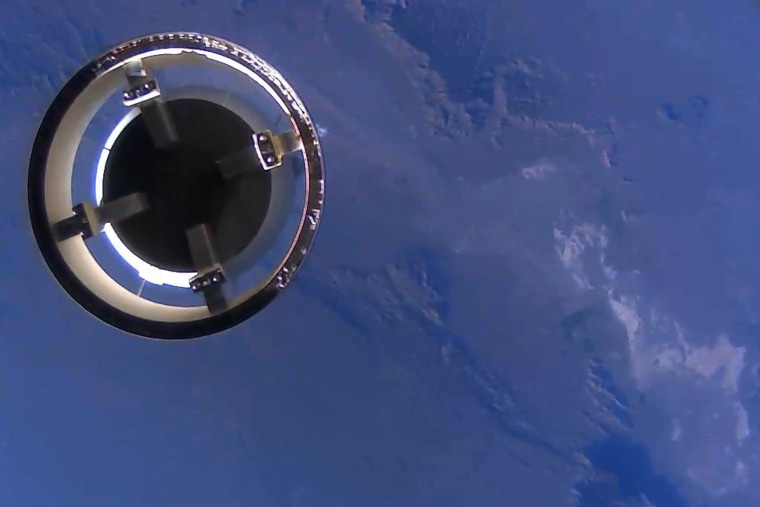 At the same time, Blue Origin is developing an orbital launch system that will use a much bigger BE-4 engine, powered by liquefied natural gas. The BE-4 is also slated for use on United Launch Alliance's Vulcan rocket, which is scheduled to start flying in 2019.
Blue Origin's main rival is SpaceX, founded by billionaire Elon Musk. SpaceX's Falcon 9 rocket has sent more than a dozen payloads into orbit, including cargo capsules for the International Space Station and satellites like the one that was launched for Turkmenistan just this week. Musk's company has been testing a procedure to have the Falcon's first stage fly itself back to a landing pad, and by 2017 or so, SpaceX could start flying astronauts to the space station for NASA.
On the suborbital front, Blue Origin's biggest competitor is Virgin Galactic, which suffered a fatal accident during a test flight last October and is currently working on its second SpaceShipTwo rocket plane. Another company, XCOR Aerospace, is getting ready to test its Lynx suborbital space plane.