Blue Origin, the spaceflight company created by billionaire Amazon.com founder Jeff Bezos, says that its hydrogen-fueled BE-3 rocket engine is ready for flight testing after years of development.
"The BE-3 has now been fired for more than 30,000 seconds over the course of 450 tests," Bezos said in a statement issued Tuesday. "We test, learn, refine and then test again to push our engines. The Blue Origin team did an outstanding job exploring the corners of what the BE-3 can do, and soon we'll put it to the ultimate test of flight."
Now that acceptance testing for the BE-3 has been completed, the engine will be integrated into the company's suborbital spaceship, Blue Origin President Rob Meyerson told reporters during a Tuesday teleconference. He said flight tests are due to begin at the company's West Texas spaceport site by the end of the year.
Eventually, the BE-3 will power an autonomously piloted suborbital spaceship that would take passengers on up-and-down rides into outer space. But Meyerson cautioned that dozens of flight tests would have to be completed first.
"We're probably a few years away from selling tickets, at least from flying our first astronaut," he said. Meyerson declined to say how much those tickets would cost.
The New Shepard spacecraft is designed to carry three or more passengers, plus scientific payloads, beyond the 100-kilometer (62-mile) altitude that marks the internationally accepted boundary of outer space. The passenger capsule would separate from Blue Origin's propulsion vehicle, provide about four minutes of weightlessness, and then descend to a parachute landing, Meyerson said.
Powered by hydrogen
Blue Origin says the BE-3 is the first new hydrogen-fueled engine to be developed in the United States in more than a decade. It can be continuously throttled between 20,000 and 110,000 pounds of thrust.
"Liquid hydrogen is challenging, deep throttling is challenging, and reusability is challenging," Bezos said. "This engine has all three. The rewards are highest performance, vertical landing even with a single-engine vehicle, and low cost. And as a future upper-stage engine, hydrogen greatly increases payload capabilities."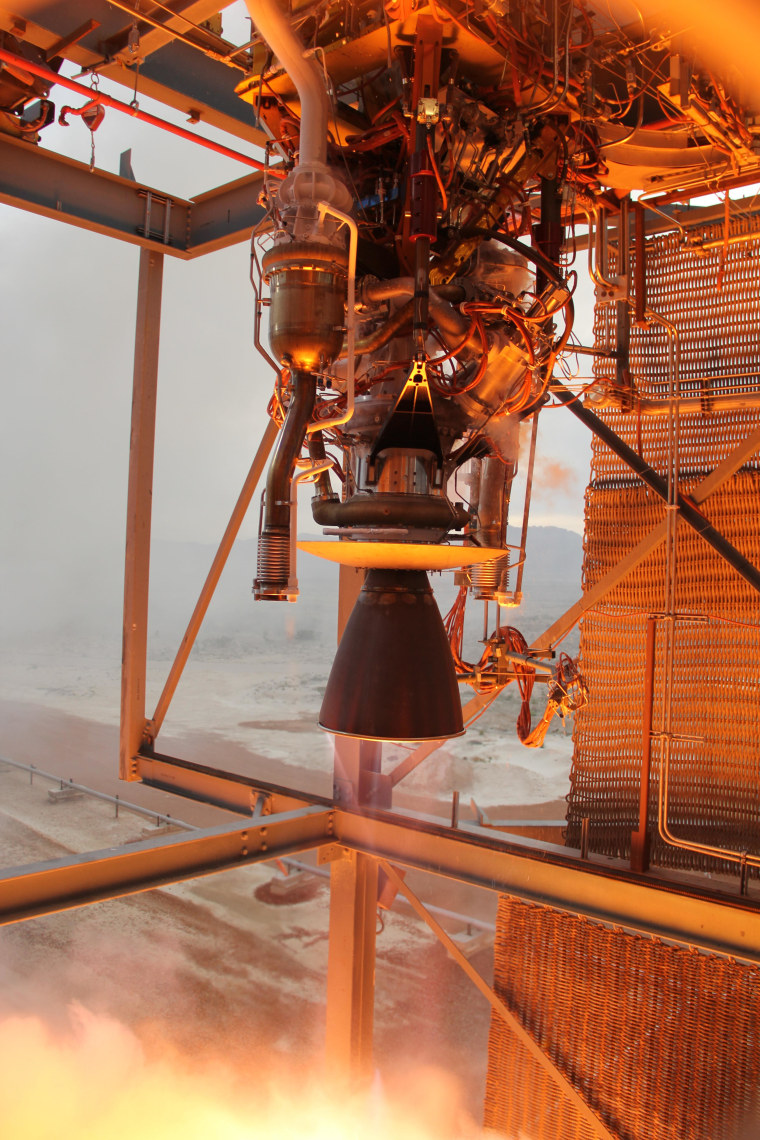 The BE-3 was designed and fabricated at Blue Origin's production facility in Kent, Washington, south of Seattle. Full-engine testing was conducted at the West Texas facilities, while early tests of the combustion chamber were done at NASA's Stennis Space Center in Mississippi.
While Blue Origin works on the BE-3 for suborbital space trips, the company is also developing a BE-4 engine that uses liquid oxygen and liquefied natural gas as propellants. The BE-4 would produce 550,000 pounds of thrust for orbital launches — and United Launch Alliance plans to use the engines for its Next Generation Launch System. Meyerson said the name of the NGLS and other details are to be announced Monday.
Rocket rivalries
One of Blue Origin's chief rivals in the rocket business is California-based SpaceX, which is already using its Falcon 9 rocket and robotic Dragon cargo capsule to resupply the International Space Station under a $1.6 billion contract with NASA. Other rocket engine developers include Virgin Galactic and Masten Space Systems in California, and XCOR Aerospace in Texas.
In 2013, Blue Origin lost out to SpaceX in its bid to take over Launch Pad 39A at NASA's Kennedy Space Center in Florida. At the time, Blue Origin said it would have begun using the pad for orbital development activities as early as 2018. On Tuesday, Meyerson said his company was still looking for an orbital launch site, in Florida or potentially elsewhere.
Meyerson said "2018's probably still a good date for getting a site," but orbital flights wouldn't begin until later in the decade. The company could compete for future space station transport contracts and look for other opportunities in the orbital launch market, he said.
However the market evolves, Meyerson signaled that Bezos was willing to keep funding Blue Origin for the long haul. "Blue Origin has this long-term goal of making space safe, reliable and affordable, so that millions can go," he said.