LightSail's handlers unfurled the experimental spacecraft's solar sail in orbit on Sunday, marking a triumph for the nonprofit Planetary Society after more than two weeks of ups and downs.
The LightSail craft, which was designed to test solar sail technology, was launched from Cape Canaveral Air Force Station in Florida on May 20 as a secondary payload accompanying the U.S. Air Force's X-37B space plane. Two days later, it went offline because of a software glitch.
LightSail rebooted itself after eight days of silence — but it fell out of contact again last Wednesday. After a tense couple of days, contact was once more re-established on Saturday.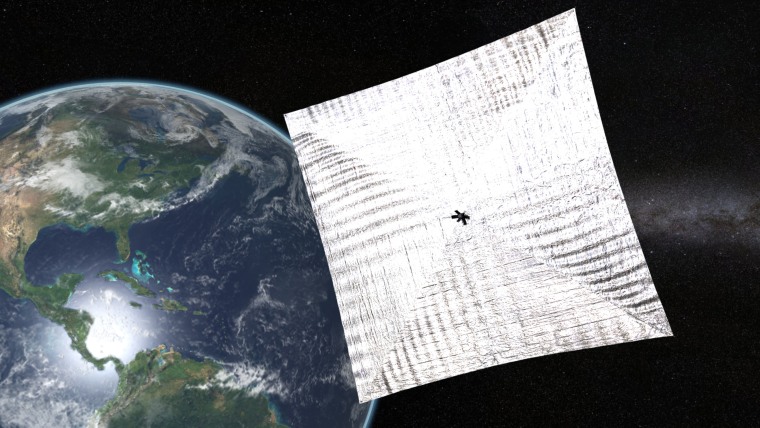 Mission managers at the Planetary Society and its partners determined that the problem had to do with LightSail's solar-powered batteries going into safe mode, perhaps due to a "ping-pong" effect between levels of sunlight that were alternately too low and too high.
After assuring themselves that the battery levels were sufficient, they drew up a plan to deploy the ultra-thin, 344-square-foot (32-square-meter) solar sail. An initial attempt to begin the command sequence on Sunday went nowhere, but the second try got the sail assembly's motor running.
"All indications are that the solar sail deployment was proceeding nominally," mission manager David Spencer was quoted as saying in an update from the Planetary Society.
The Planetary Society's CEO, Bill Nye the Science Guy, hailed the achievement in a series of tweets as well as a statement distributed via email and online. "We've learned a lot about perseverance on this test mission," Nye said. "Although it's in inertial space, LightSail has had me on a roller coaster."
Related: LightSail Shines Global Spotlight on Solar Sails
During this mission, the spacecraft's altitude is too low to allow for actual sailing, and its days are numbered. "Orbit will decay pretty quickly now that sail is in thin, thin upper atmosphere," Nye tweeted. But a successful deployment should give the team confidence to proceed with a more ambitious test next year.
Solar sails can use the pressure of sunlight to propel themselves through deep space. Proponents of the technology say such spacecraft could someday fly efficiently to the far reaches of the solar system and beyond.
The Planetary Society's partners in the LightSail project include Stellar Exploration Inc., which designed the spacecraft; Ecliptic Enterprises Corp., lead contractor for integration and testing; California Polytechnic State University at San Luis Obispo; and Georgia Tech. The project is managed by Doug Stetson of the Space Science and Exploration Consulting Group. Boreal Space and Half-Band Technologies are contractors to Ecliptic. For updates on LightSail, check in with the Planetary Society.