Lockheed Martin has unveiled a spaceflight architecture that it says could take cargo to the International Space Station and help facilitate humanity's spread out into the solar system.
Lockheed hopes the system — which features a space tug known as Jupiter and a supply module called Exoliner — wins a NASA contract for the next round of cargo missions to the space station, which would commence in 2018. But the company's ambitions extend far beyond low Earth orbit, to destinations such as the moon and Mars. Lockheed unveiled the project, along with a video animation of how Jupiter and Exoliner would work, on Thursday.
Two American companies — Orbital ATK and SpaceX — currently resupply the space station for NASA under separate billion-dollar contracts. Last year, the space agency solicited proposals for a new round of private cargo delivery, called Commercial Resupply Services 2, or CRS-2.
Lockheed won't be the only competition that Orbital ATK and SpaceX will face in this next round: Boeing and Sierra Nevada also have thrown their hats into the CRS-2 ring. NASA is expected to make its decision this June.
If Lockheed Martin's entry is selected, the company's first operational mission would launch Jupiter and an Exoliner toward the space station aboard a United Launch Alliance Atlas 5 rocket. The Exoliner is designed to be disposable: After unloading the Exoliner, astronauts on the station would fill the vessel with trash and send it to burn up in Earth's atmosphere.
Here's where things get interesting. The old Exoliner's departure would be coordinated with the launch of a new one from the ground. Jupiter would haul the doomed Exoliner over to the new one — which would still be attached to the Atlas 5's Centaur upper stage — and then swap the two cargo vessels out using its onboard robotic arm. [Space Station's Robotic Cargo Fleet: A Photo Guide]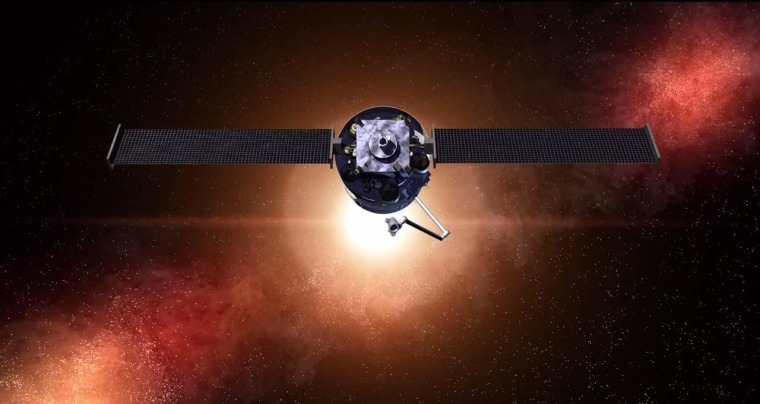 The Centaur would then de-orbit, taking the used Exoliner to a fiery death, and Jupiter would haul the new cargo vessel to the space station. The cycle would repeat on future resupply missions.
Lockheed hopes International Space Station resupply missions are just the beginning for Jupiter and the Exoliner. Jupiter is based on NASA's Lockheed-built Mars Atmosphere and Volatile Evolution spacecraft, or Maven, which went into orbit last year. Jupiter is therefore designed for deep-space travel, Lockheed Martin space exploration architect Josh Hopkins said.
Moreover, the Exoliner could be modified to become a human habitat rather than a cargo vessel. Hopkins said the system could be used to establish a human outpost near the moon, for example.
— Mike Wall, Space.com
This is a condensed version of a report from Space.com. Read the full report. Follow Mike Wall on Twitter and Google+. Follow us on Twitter, Facebook or Google+.