The short circuit that has stalled some of the science work by NASA's Curiosity rover on Mars apparently originated in the robot's rock-boring drill, mission team members say.
Curiosity experienced a current fluctuation on Feb. 27 while delivering some sample powder from the drill to instruments on the robot's body. The drill sits on the rover's 7-foot-long (2.1-meter-long) robotic arm. The rover hasn't moved the arm or its six wheels since, as engineers have focused on running tests to figure out what exactly happened.
Those diagnostic tests have been productive. [Amazing Mars Photos by NASA's Curiosity Rover]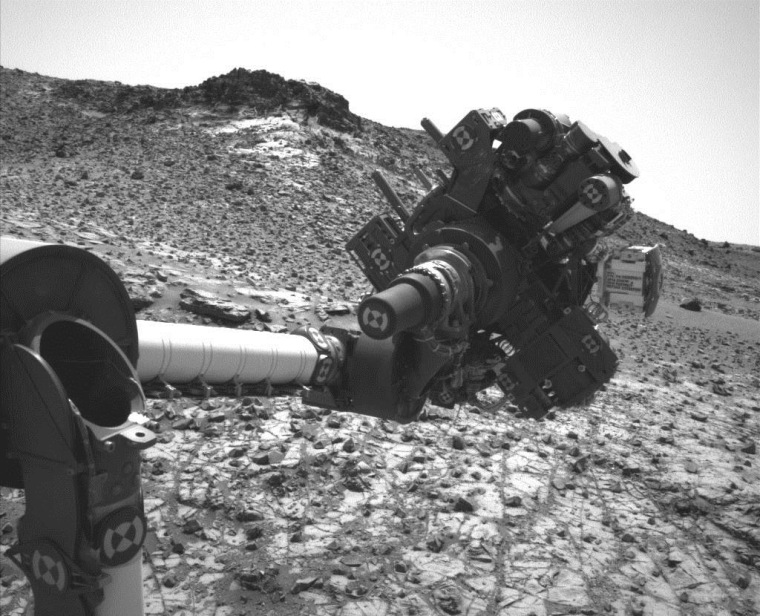 "The most likely cause is an intermittent short in the percussion mechanism of the drill," Curiosity project manager Jim Erickson said in an update issued by NASA's Jet Propulsion Laboratory on Friday. (Curiosity's drill doesn't simply rotate; it hammers into rock, via that percussion mechanism, as well.)
The short was first triggered on Feb. 27, and cropped up again on Thursday during a test that used the drill's percussive action. After further tests, engineers confirmed the diagnosis with "pretty high confidence," deputy project manager Jennifer Trosper said Monday.
Based on that analysis, the rover team gave the go-ahead to move the robotic arm, with the initial moves expected to take place later this week, Trosper said. Curiosity's first task will be to deliver the sample powder that's currently being held by the arm to the rover's onboard laboratory instruments.
This is a condensed and updated version of a report from Space.com. Read the full report. Follow Mike Wall on Twitter and Google+. Follow Space.com on Twitter, Facebook or Google+.