A privately funded effort aimed at sending two astronauts flying past Mars has officially shifted its target launch date from 2018 to 2021, but the Inspiration Mars mission would still depend on a heavy-lift NASA rocket that has yet to be built.
Inspiration Mars' current plan for a 582-day round trip was the subject of a congressional hearing before the House Science Committee on Thursday. The project, conceived by millionaire space tourist Dennis Tito, calls for liftoff of NASA's Space Launch System with a modified Orion capsule on Nov. 22, 2021, with a Venus flyby in April 2022, a Mars flyby in October 2022, and then a return to Earth on June 27, 2023.
Doug Cooke, a former NASA executive who has served as an adviser to Inspiration Mars, told lawmakers that the trip would give astronauts "40 hours of looking at Mars" when it's at least as big as the moon as seen from Earth.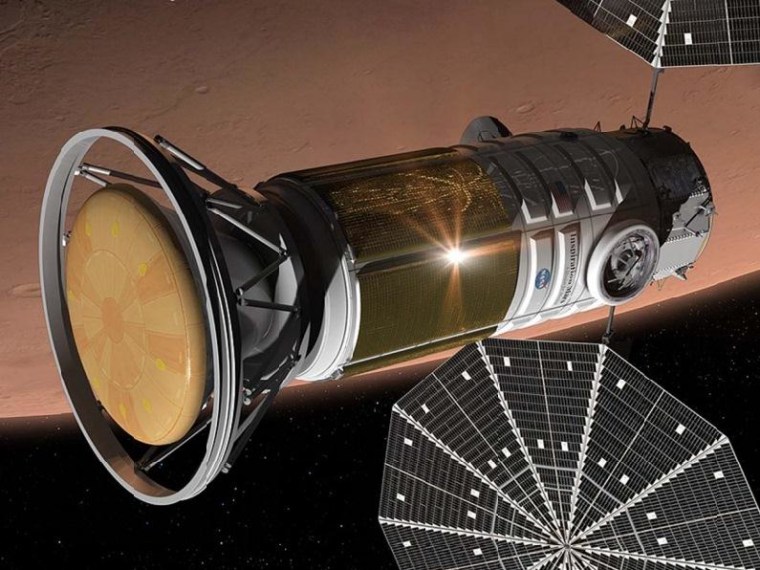 Tito, a former space engineer, proposed the Inspiration Mars project with the aim of kickstarting deep-space exploration a la Apollo and inspiring the next generation of scientists and engineers. He initially laid out a 501-day mission taking off in 2018, but mission planners determined that the requirements for the trip couldn't be met by then.
Planners also determined that the mission would need a beefed-up version of NASA's SLS heavy-lift rocket and hundreds of millions of dollars in additional federal funding.
Cooke and another witness at the hearing, retired Air Force Gen. Lester Lyles, said the SLS and Orion could be ready in time for 2021. However, NASA's current plan doesn't call for the launch system to be tested with a crew on board until that year. That led Rep. Eddie Bernice Johnson, D-Texas, to suggest that the mission was unworkable.
"I doubt that a flyby of Mars will ultimately be considered to be an appropriate first shakedown of flight for a new crewed spacecraft, given the risk involved in a year-and-a-half trip to Mars and back," she said.
Johnson said it was "unfortunate" that no current NASA officials had been invited to testify at the hearing, and stressed that any mission to Mars would have to be part of a "clear, thoughtful roadmap" for human spaceflight.
Concerns about the big picture
That concern was echoed by Sandy Magnus, a former NASA astronaut who is now executive director of the American Institute of Aeronautics and Astronautics. "We need to have a big-picture plan," she told the committee. She said any NASA strategy — including the current strategy of redirecting a near-Earth asteroid by the mid-2020s — would be "doomed to failure without the resources to support it."
In 2012, a panel assembled by the National Academy of Sciences said there was little support for the asteroid strategy, resulting in fresh questions over whether the moon or Mars should be targeted instead.
Scott Pace, director of the Space Policy Institute at George Washington University, said Inspiration Mars could mark a transition from the current focus on the International Space Station to a fresh focus on deep-space exploration.
"The Mars flyby mission serves as an interesting bridge, a potential bridge between where we are with the ISS and where we would like to be with Mars, and where our international partners and commercial opportunities are with human spaceflight beyond low Earth orbit," Pace said.
How much will it take?
Committee Chairman Lamar Smith, R-Texas, backed the Inspiration Mars concept. "NASA, the White House and Congress should consider this Mars flyby proposal," he said in his opening remarks. Rep. Steven Palazzo, R-Miss., who heads the House space subcommittee, also spoke in favor.
However, Rep. Dana Rohrabacher, R-Calif., said he was concerned about the potential costs and risks. When Tito first floated the plan, the millionaire suggested that the mission could be funded fully with private-sector contributions. But last November, Tito estimated that $300 million in private contributions would have to be supplemented by roughly $700 million in federal funding.
"The window of opportunity in 2021 is challenging but achievable and waiting to be claimed."
"While I thought it was a great idea if people were willing to take the risks and spend the money in the private sector, I think this is a foolhardy use of very limited government resources," Rohrabacher said.
Because of the orbital mechanics required for what's known as a "free return" trip to Mars and back, the mission as currently conceived would have to launch in 2021 or wait until 2033.
In a statement issued after Thursday's hearing, Tito said he was "very encouraged" by the discussion.
"I continue to believe, as do many Americans, that Mars is the logical destination to put human space exploration back on track and demonstrate the 'can do' spirit that seems to have faded over time," Tito said. "The window of opportunity in 2021 is challenging but achievable and waiting to be claimed."
More about Mars
Inspiration Mars isn't the only effort aimed at clearing the way for human exploration on the Red Planet. Here's a quick scan of other recent developments:
The Mars Society says it has selected 62 semi-finalists for a simulation crew that would spend a full year in the Canadian Arctic, testing the tools and techniques that would come into play during an eventual human mission to Mars. The nonprofit society will select 18 finalists and divide them into three six-person crews, for two-week trial missions at the Flashline Mars Arctic Research Station on Devon Island this summer. After those field tests, one of the crews will be chosen for the Mars Arctic 365 mission starting in the summer of 2015.
To support the Mars Arctic 365 project, the Mars Society has launched an Indiegogo crowdfunding campaign, with the aim of raising $100,000 by April 21. The fundraising premiums range from bumper stickers to Devon Island outings.
Mars One, a Dutch-based venture that plans to send reality-TV contestants on a one-way trip to Mars in the 2020s, also conducted an Indiegogo campaign and raised $313,749 by the Feb. 9 deadline. The project's organizers are currently sorting through 1,058 applicants who made it through an initial selection round. Mars One plans to fund the multibillion-dollar cost of its Red Planet missions primarily through sponsorships and media deals.
Islamic authorities in Dubai and the United Arab Emirates have issued religious rulings, or fatwas, condemning the Mars One venture because they equate one-way trips to Mars with suicide and rebellion against God. Mars One has issued a statement calling for the cancellation of the fatwa and offering to work with religious authorities "to assess the risk of the mission."