The Dutch-based Mars One venture says it's delaying its timetable for one-way trips to Mars by two years, but insists that its plan will still be viable.
The new schedule calls for a robotic lander to be sent to the Red Planet in 2020 as a preparatory mission, with the first four-person crew landing on Mars no earlier than 2027. Both those dates are two years later than previously planned.
The schedule shift was mentioned Thursday in Mars One's response to a string of sharply critical reports about its long-shot plan to fund and launch one-way trips to Mars. It's not clear whether the response will quell questions about the project's finances and technical underpinnings — or lead to even more criticism.
The most recent criticism dwells on what Mars One expects of its applicants, particularly the 100 applicants who were selected last month for further screening. Mars One's timetable calls for the list to be pared down to 24 crew finalists who will undergo training for a series of space missions.
The idea behind Mars One is to jump-start Red Planet settlement, and fund the endeavour with billions of dollars' worth of sponsorships and media deals. So far, however, the nonprofit group's revenue has come from hundreds of thousands of dollars' worth of contributions, merchandise sales and application fees.
Pros and cons from the Mars100
The most pointed criticism has come from a member of the Mars100 finalist group, Irish astrophysicist Joseph Roche. In reports published by Medium and The Guardian, Roche said Mars One's selection process was "not rigorous enough" to select the best and the brightest for Red Planet trips. He also said a point system created by Mars One used financial contributions by applicants as one of the criteria for ranking.
In Thursday's response, Mars One CEO Bas Lansdorp said contributions didn't play a part in the selection process.
"There are a lot of current Round Three candidates that did not make any donations to Mars One, and there are also a lot of people that did not make it to the third round that contributed a lot to Mars One," he said. "It's not related at all, and to say that it does is simply a lie."
In a follow-up report published by Medium, Mars100 members acknowledged that contributions were factored into an internal point system, but they said the tallies were merely informal engagement tools, analogous to the virtual badges and buttons that social-media users collect.
Roche complained applicants were asked to donate as much as 75 percent of any speaking fees they received, but the Mars100 finalists quoted by Medium said the financial appeal was nothing more than a "polite request." Lansdorp said a profit-sharing arrangement would be part of an agreement currently being worked out with the Mars100 finalists.
Timetable runs into snags
Lansdorp said Mars One was working on a fresh round of funding from a consortium of investors. "Unfortunately, the paperwork of that deal is taking much longer than we expected," he said. "I now think that it will be completed before the summer of this year."
Lansdorp indicated that Mars One was relying on that money to finance follow-up studies for the robotic lander mission, which had been set for launch in 2018.
"This unfortunately means that we will have to delay the first unmanned mission to 2020," he said. "Delaying our first unmanned mission by two years also means that all the other missions will move by the same period of time, with our first human landing now planned for 2027."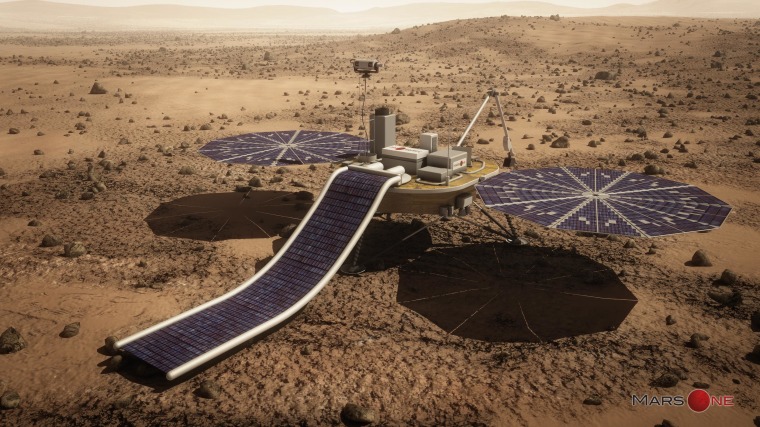 Lansdorp said Mars One was "very close" to clinching a TV documentary deal with Darlow Smithson Productions last year, but the deal fell apart.
A different production company was now trying to market the documentary series to an international broadcaster, but Lansdorp did not identify either the producers or the broadcaster. "There is no deal in place yet, but it is looking very promising, and there is a lot of interest," he said.
Lansdorp said he was unfazed by the delays.
"Going to Mars is very difficult — for example, NASA has been talking about going to Mars in 20 years for more than 45 years now," he said. "Of course, NASA needs a return mission, which is much more complex than our one-way mission, but it shows how difficult Mars exploration is."
He vowed to persevere even if further snags arose.
"Is it really a failure if we land our first crew two, four, six, or even eight years late?" Lansdorp asked. "I would be extremely proud if we could make that happen, and Mars One is still fully committed to keeping that on track."