The not-for-profit Mars One venture wants to send humans on one-way trips to Mars in the 2020s, but first it wants to send experimental packages to the Red Planet — potentially including the first interplanetary advertisements.
You could even put your company's name on the robotic lander that's scheduled to carry the experiments to Mars in 2018.
"What better way for an unknown phone brand to establish worldwide brand awareness and a image of innovation than by purchasing the naming rights for the first private Mars lander?" Bas Lansdorp, co-founder and CEO of Mars One, told NBC News in an email.
Sign up for Science news delivered to your inbox
On Monday, the Dutch-based venture began soliciting proposals for experiments to fly on the lander — including four projects that would demonstrate technologies for future human missions, an educational project, a university-based experiment that would be selected in an online vote, and two experiments that would be flown for a fee.
Those last two experiments could address a scientific question or a technological challenge, or they could be part of "marketing or publicity campaigns," Mars One said in its announcement. It'd be up to the buyers to suggest what they want to do, and how much they'd pay to do it. "These payload opportunities are for sale to the highest bidder," Mars One said.
The 2018 lander is considered a precursor for the multibillion-dollar human missions that Mars One intends to begin in 2025. More than 700 volunteers are vying to be sent to Mars with no guarantee that they'll ever return to Earth. The crew members are supposed to be selected, four at a time, during a series of reality-TV competitions.
Mars One hasn't said how much the lander mission would cost, but it's based on the same design used for the $420 million Phoenix Mars Lander that NASA launched in 2007. A similar design is being used for NASA's InSight lander, which is to be launched to Mars in 2016. The price tag for the InSight mission is $425 million, excluding launch costs.
Mars One project signs deal with TV producers
Lockheed Martin, which built the spacecraft for Phoenix and InSight, is producing a concept study for Mars One's lander mission. That work helped Mars One figure out how many experiments will fly, and how much room each of them can be given on the lander's 4-foot-wide (1.2-meter-wide) instrument deck. Now the venture is looking for specific proposals to fill out the deck.
"The ideas that are adopted will not only be used on the lander in 2018, but will quite possibly provide the foundation for the first human colony on Mars," Arno Wielders, Mars One's co-founder and chief technical officer, said in Monday's announcement. "For anyone motivated by human exploration, there can be no greater honor than contributing to a manned mission to Mars."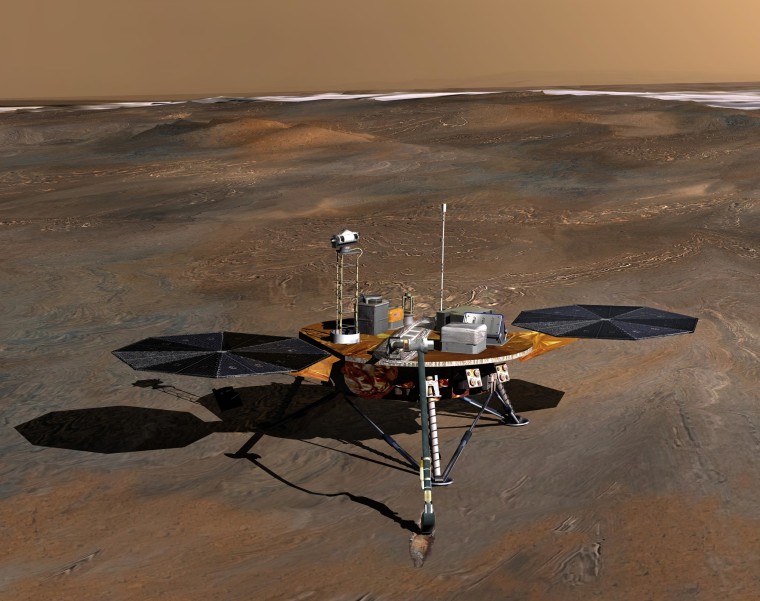 Three experiments will address specific tasks required for Mars One's future missions: digging up Martian soil, extracting water from that soil, and using thin-film solar panels to generate electricity. The fourth experiment would be a camera system capable of sending a continuous video feed back to Earth from all around the spacecraft.
Mars One is also soliciting proposals from university research teams for a competition. The winning experiment would be selected by Mars One's supporters in an online vote. Yet another slot is being held open for an educational project to be determined later.
And then there are those two wild-card experiments. Mars One doesn't specify what the experiments would have to do, but they would have to fit into the slots set aside for them on the instrument deck. The experimenters would have to make "a financial contribution to Mars One beyond the cost of the payload or instrument," with each slot going to the highest bidder.
It's not unprecedented to use outer-space resources for publicity stunts: The Russians blazed that trail long ago when it let Pepsi, Pizza Hut and the Israeli milk company Tnuva do space station commercials. Bigelow Aerospace printed corporate logos on the inside of its Genesis 1 space module. And strangely enough, the Heineken beer company has already taken advantage of the Mars angle in a Dutch TV commercial.
An honest-to-goodness publicity stunt on Mars, however, would mark a new high (or low) in space commercialization. And it may not be long before we find out what form that stunt (or, ahem, serious scientific endeavor) could take.
Mars One says interested parties have until the end of July to file a notice of intent to participate, and they must submit their proposals by October. Mars One plans to reveal the selected experimental packages next January.
Does Mars One have the wherewithal to get its lander mission off the ground? Not yet, but Lansdorp is optimistic.
"We're in discussion with three different investors that are interested in funding the first unmanned mission," Lansdorp said in his email to NBC News. "We're also talking to a number of different potential partners about taking part in that mission."
The naming rights for the lander would be part of those discussions, he said.
'Time Capsule to Mars' kicks off $25 million campaign
If the mission is a go, the current thinking is that Lockheed Martin would perform all the technical work as a supplier to Mars One. Lockheed Martin is a partner in United Launch Alliance, which produces the Atlas 5 and Delta 4 rockets — but Lansdorp said it's too early to decide which launcher would be used.
"The relatively low throw mass allows us to use several different launchers," he said. "It's likely to be a USA launch supplier because of export regulations."
For more information on Mars One's solicitation, including a formal request for proposals and the proposal information package, check out the Mars One website.