NASA's Opportunity rover passed a major Martian milestone Tuesday: After 11 years and 2 months, it has finally covered a distance of 26.219 miles — a marathon. "This mission isn't about setting distance records, of course," said Steve Squyres, the Opportunity mission's principal investigator at Cornell University. "Still, running a marathon on Mars feels pretty cool."
Opportunity broke the record last year for longest distance traveled by an off-earth land vehicle, previously held by the former Soviet Union's Lunokhod 2 moon rover, and it's been moving the bar ever since.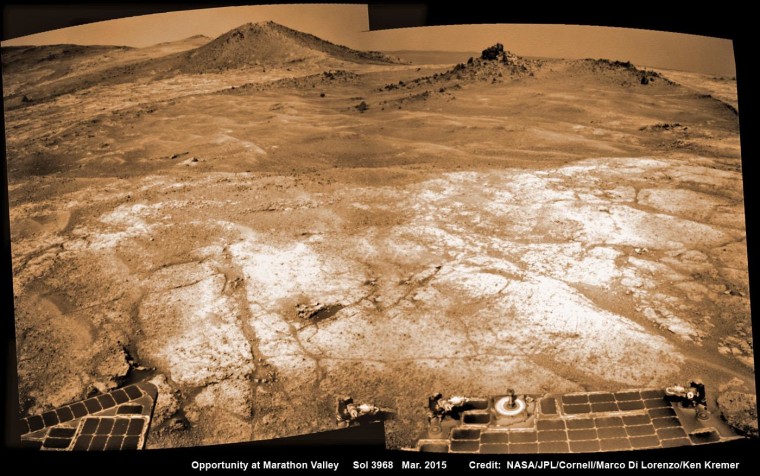 To celebrate, the Jet Propulsion Laboratory team is planning a marathon-length relay run next week. And the valley that Opportunity is currently exploring has been named Monument Valley in honor of the achievement. It looks into Endeavour Crater, an enormous feature that Opportunity has been working its way around for the past four years. Endeavour's rim is where the rover detected signs of water that could have been suitable for garden-variety life on Earth.
Opportunity has already thrived on Mars for more than 40 times the original mission length, and although wear and tear will eventually halt its progress, the persevering rover probably has a few miles left in it.
IN-DEPTH
SOCIAL
- Devin Coldewey
Tip o' the Hat to scientist/photographer Ken Kremer and Marco Di Lorenzo for sharing their colorized version of Opportunity's Marathon Valley vista.