There's a disturbance in the force, and astronomers suspect it's a baby moon named "Peggy" being born on the edge of Saturn's A ring.
For the past year, a team has been tracking observations of Saturn's rings from the Cassini orbiter — specifically, a bright feature that's about 750 miles (1,200 kilometers) across.
Carl Murray, an astronomer at Queen Mary University of London, figured that the feature was a gravitational disturbance in the A ring, caused by an unseen icy object no more than a kilometer (half a mile) in width.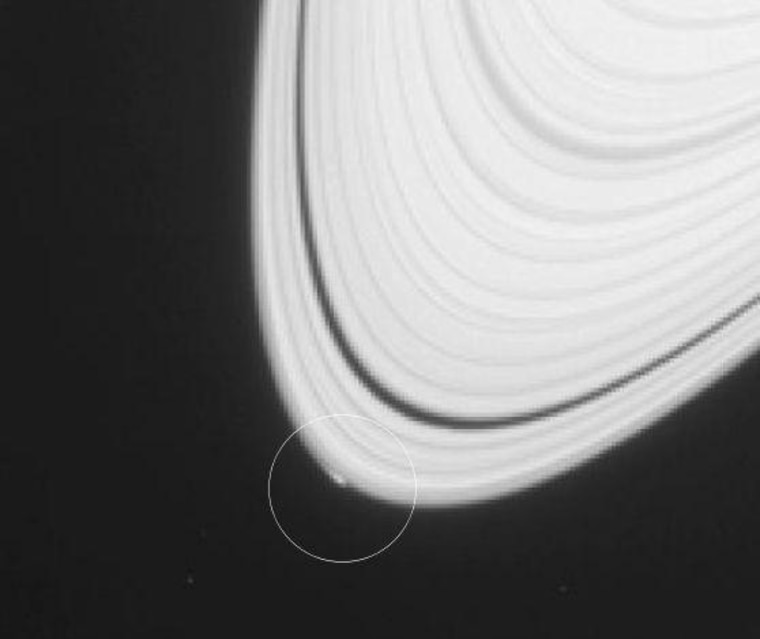 Murray named the object Peggy, after his mother-in-law, who was celebrating her 80th birthday just as he was analyzing the imagery. He delivered a report on Peggy last December at the American Geophysical Union's fall meeting in San Francisco, and now Peggy's the subject of a paper published in the journal Icarus.
"We have not seen anything like this before," Murray said in a report from NASA Science News. "We may be looking at the act of birth, where this object is just leaving the rings and heading off to be a moon in its own right."
There's also a chance that Peggy is falling apart. Even if that's the case, tracking the disturbance could shed additional light on the process that gave rise to Saturn's bigger icy moons in the past. Cassini's scientists hope to get a closer look at Peggy when the probe zooms closer to the A ring in 2016.