NASA has named the first four astronauts to train for commercial spaceflights — a quartet of space shuttle veterans who could ride Boeing's CST-100 capsule or SpaceX's Dragon capsule to the International Space Station as early as 2017.
The four include:
Robert Behnken, an Air Force colonel who performed spacewalks during flights of the shuttle Endeavour in 2008 and 2010.
Eric Boe, an Air Force colonel who flew into space on Endeavour in 2008 and on Discovery's last spaceflight in 2011.
Doug Hurley, who first went into space on Endeavour in 2009 and was on the shuttle Atlantis' crew for the final mission of the space station program in 2011. He's a retired Marine colonel.
Sunita Williams, a Navy captain who did months-long tours of duty on the space station in 2006-2007 and 2012. Williams holds the record for cumulative spacewalk time by a woman astronaut (50 hours and 40 minutes).
All four of the astronauts are test pilots, each with thousands of hours of flying experience.
"These distinguished, veteran astronauts are blazing a new trail, a trail that will one day land them in the history books, and Americans on the surface of Mars," NASA Administrator Charles Bolden said Thursday in a statement.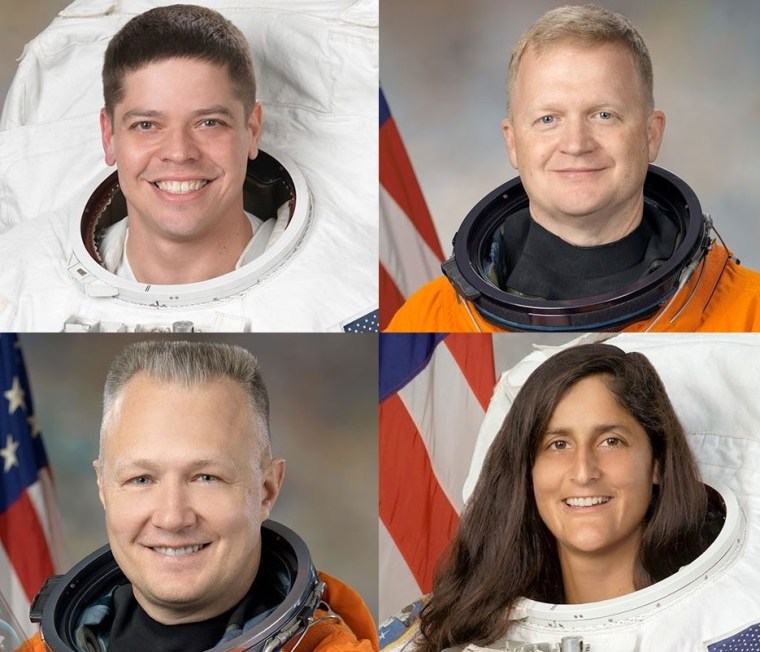 NASA is providing billions of dollars to SpaceX and the Boeing Co. to develop the Dragon and the CST-100 to carry crew. The plan calls for a series of uncrewed test flights, leading up to a demonstration flight to the space station with at least one NASA astronaut aboard. Just last month, NASA put in the first order for flights with Boeing, and it's expected that a similar order eventually will be placed with SpaceX.
The current schedule calls for crewed flights to begin in 2017, but NASA says that's dependent on funding. The space agency says it needs $1.2 billion next year to stay on track. A Senate panel trimmed that figure back to $900 million last month.
In the meantime, NASA is paying the Russians $76 million a seat for trips to the station and back aboard Soyuz capsules. In comparison, the average cost of a seat on a U.S.-built spaceship will be $58 million, Bolden said. "What's more, each mission will carry four crew members instead of three, along with 100 kilograms of materials to support the important science and research we conduct on the ISS," he said.
Bolden has repeatedly suggested that reduced funding levels from Congress will delay the start of commercial spaceflights to the station and extend NASA's dependence on the Russians.
Update for 2:55 p.m. ET July 9: NASA spokeswoman Stephanie Schierholz explained the plan for test flights in an email to NBC News:
"For the crewed test flights, two NASA astronauts will fly on the SpaceX Crew Dragon, and one NASA and one Boeing astronaut will fly on the Boeing CST-100. The companies each proposed the composition based on their unique approaches to meet NASA's requirements. NASA requires the flight test program include a crewed flight to the International Space Station. This minimally crewed flight must include a NASA crew, dock with the International Space Station, remain docked for a sufficient duration to check out space station interfaces, then return to a supported landing site."