NASA does have a starship enterprise, but not a Starship Enterprise.
The collaboration between a Dutch artist and a NASA researcher who works on warp-drive theories and other advanced propulsion concepts has brought forth some flashy and inspiring graphics — but it's also fuzzed the line between science fiction and fact.
Sign up for Science news delivered direct to your inbox
For years, Harold "Sonny" White has been delving into the technical details of a concept known as the Alcubierre warp drive as part of his job at NASA's Johnson Space Center. The idea, put forward by Mexican physicist Miguel Alcubierre, suggests that faster-than-light travel might be achieved by distorting spacetime in a clever way.
To illustrate his talks, White has drawn upon computer graphics from Mark Rademaker, an artist in the Netherlands whose work is often featured in calendars and other publications related to the Star Trek saga. Rademaker, in turn, incorporates the ideas from White's work into his graphics.
Over the past couple of years, Rademaker has created a concept craft known as the IXS Enterprise, with a ring-ship design that might come in handy for an Alcubierre warp drive. The artwork was turned in for the Star Trek Ships of the Line 2014 calendar, but Rademaker continued to fine-tune the look.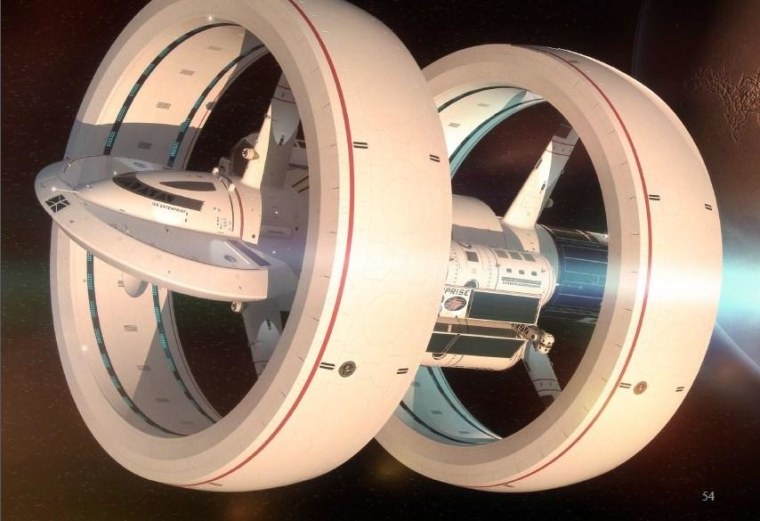 "I could have walked away, but I wanted this to be really good, so I put in an extra three months of spare time, with the new images as the result," Rademaker told NBC News in an email.
Versions of the images showed up in a talk that White gave last November at the SpaceVision 2013 conference. (You can see them starting around the 42-minute mark in this video.)
Rademaker has been sharing the finished graphics via his Flickr gallery and his Facebook account for weeks, but they really hit the big time on Tuesday when the io9 sci-fi website featured them as "NASA's New Design for a Warp Drive Ship." Even though it's really Rademaker's design, the concepts were picked up and passed around as if they were NASA's.
"The Flickr views went from 119 yesterday to 2 million today," Rademaker said Wednesday.
So is NASA working on a warp drive? Last year, the folks at Johnson Space Center told SpaceRef that White and his colleagues are working on a warp-drive interferometer that could theoretically detect small-scale warp bubbles in spacetime. No breakthrough has yet been reported, although Rademaker said he's heard that "there is progress in the field."
Efforts to contact White for an update have been unsuccessful so far, but to get up to speed on the subject, check out this report from last year, plus the presentations and papers archived by NASA. You can also check in with Icarus Interstellar, the 100 Year Starship project, the Tau Zero Foundation and the Centauri Dreams blog.