The OneWeb satellite venture says it has raised $500 million in funding for its plan to put more than 600 satellites in orbit to provide low-cost global Internet access.
OneWeb also announced deals with Virgin Galactic for 39 launches on its yet-to-be completed LauncherOne rocket, and with Europe's Arianespace consortium for 21 launches on Russian-built Soyuz rockets. OneWeb called it the "largest commercial rocket acquisition ever."
"The dream of fully bridging the digital divide is on track to be a reality in 2019," Greg Wyler, OneWeb's founder, said Thursday in a news release.
The announcement marks the latest volley in an Internet space race that also involves Google, SpaceX and other high-profile players. Both OneWeb and SpaceX are aiming to establish satellite constellations that would provide broadband Internet service to the billions of people around the world who can't currently get it. Access-less markets also are being targeted by Google's balloon-based Project Loon and the fleet of drones being planned by Facebook's Internet.org.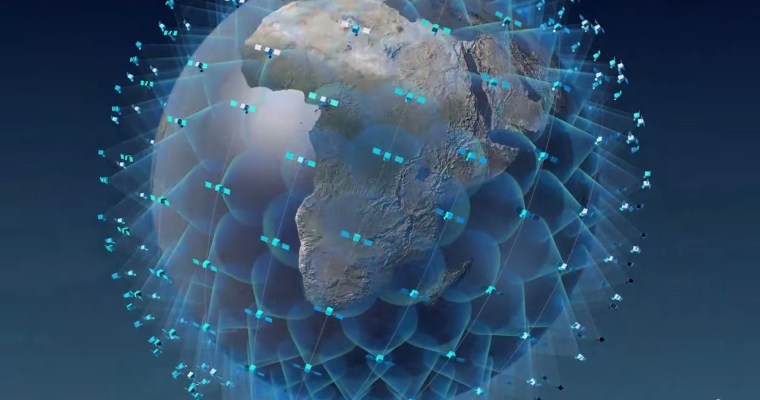 Related: SpaceX, OneWeb and Google Revive Satellite Internet Buzz
In January, SpaceX announced that Google and Fidelity are investing $1 billion in a satellite system that could get its first orbital test as early as next year and go into commercial operation by 2020.
OneWeb plans to have hundreds of Airbus-built satellites launched, beginning in late 2017 and building up to the start of service in 2019. The venture already has clearance for its satellite service from the International Telecommunication Union, but if it doesn't start broadcasting by 2019 it may lose that right.
Virgin Galactic said its agreement with OneWeb includes options for 100 more satellite launches. "It's a historic project that we're very excited to be a part of," Virgin Galactic CEO George T. Whitesides told NBC News. "It has the potential to change the way people connect."
Arianespace said it had options for five more Soyuz launches and three Ariane 6 launches. Theoretically, dozens of OneWeb's 330-pound (150-kilogram) satellites could be put into orbit with a single launch.
OneWeb's investors now include Airbus Group, Bharti Enterprises, Hughes Network Systems, Intelsat, Qualcomm, Coca-Cola, Virgin Group and Totalplay. But even $500 million or $1 billion won't be enough to build out the complete system. In March, Wyler told NBC News that the first phase of OneWeb's network would cost about $2 billion to set up.