A $5 billion "merger of equals" will turn Orbital Sciences Corp. and ATK into a single space services company called Orbital ATK, while spinning off ATK's firearms-heavy sporting equipment business.
Orbital has focused on building small and medium-class satellites as well as rockets such as the air-launched Pegasus and the recently introduced Antares, which has been sending Orbital's Cygnus capsule on cargo runs to the International Space Station. The next Cygnus delivery is scheduled for June.
ATK, meanwhile, built the solid rocket boosters that were used in the space shuttle program — and recently announced a $178 million contract to provide hardware for United Launch Alliance's Atlas 5 and Delta 4 rockets. ATK is also working on the solid rocket boosters for NASA's heavy-lift Space Launch System, which is due to make its flight-test debut in 2017.
Orbital and ATK already have been working together on an air-launched rocket for Stratolaunch, the venture backed by software billionaire Paul Allen.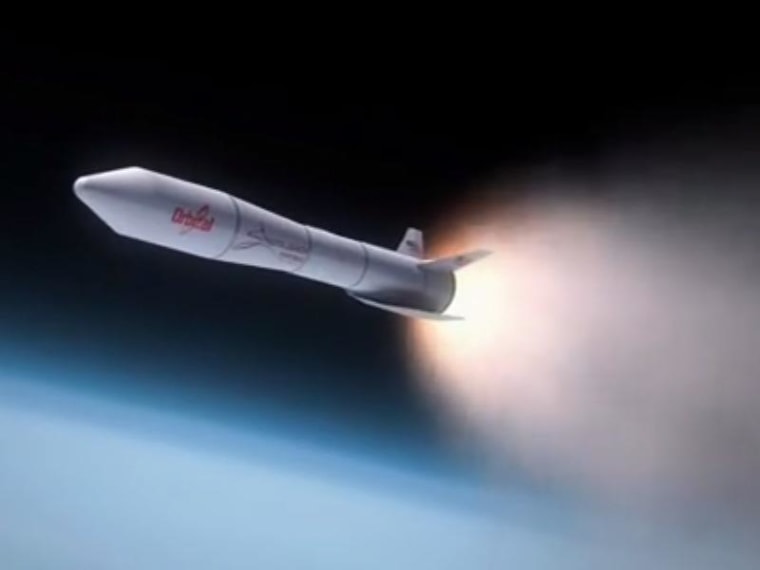 The combination of Orbital's and ATK's aerospace ventures would create a 13,000-employee company that accounted for $4.5 billion in revenue during 2013, the companies said in a news release issued Tuesday. Orbital ATK would be based at Orbital's current headquarters in Dulles, Va.
ATK's shareholders would own about 53.8 percent of the new company's equity, with the remaining 46.2 percent going to Orbital's shareholders. ATK's Sporting Group, which produces firearms, ammo and equipment primarily for hunters and recreational shooters, would be spun off to shareholders before the merger.
The merger is conditioned on approval by shareholders and regulators. The transaction is expected to close before the end of 2014.