For decades, observers have talked about the Overview Effect — the feeling of global connectedness that astronauts get when they see the wide Earth below, devoid of national boundaries. Now one of those astronauts says it's possible to get the Overview Effect, and translate it into action, without going into space.
Retired astronaut Ron Garan, the author of "The Orbital Perspective," is counting on it.
"You don't have to be in space to realize that we need to take a long-term view," he told NBC News. "You don't need to be in space to realize that we need to pull back and look at the big picture of how things affect us — not just locally, but globally."
Garan says he saw the big picture even before he went into orbit — at first as a shuttle astronaut in 2008, and then as a long-term resident of the International Space Station in 2011.
Since Garan left NASA in 2013, he's been focusing on translating that big-picture thinking into humanitarian efforts on Earth, ranging from the Fragile Oasis social-media venture to Manna Energy Foundation, Impact CoLab, Spaceship Earth Grants and the yet-to-be-launched Star Harbor Space Training Academy.
Along the way, Garan has picked up 3.6 million Google+ followers, with 250,000 fans on Facebook and 119,000 followers on Twitter.
"The Orbital Perspective," published this week, is Garan's call to action for global transformation. In the book, he explains how the Overview Effect — experienced by visionaries on Earth as well as astronauts in space — leads to an orbital perspective on our planet's problems.
"It's the result of the Orbital Effect," Garan said. "To me, what that translated into was a very compelling call to action, to try to lessen the contradiction between the view of our planet and the unfortunate realities of life on our planet. ... The thread that took was to try to enable better collaboration among people who are trying to improve life on Earth."
Lessons from the space station
Garan's book charts how post-Cold War collaboration between the United States and Russia turned the space station into a test case for bridging ideological divides. The space station partnership has remained strong for more than 20 years — even though U.S.-Russian relations in general have gone downhill over the past year, primarily due to the Ukraine crisis.
The keys to the space station's success include a shared vision of the big picture — learning how to live long-term in space — as well as the threads of trust that knit together the individuals working on every facet of the project. In the book, Garan shows how similar principles can be applied to healing the scars of ethnic conflicts in Africa, or providing clean water in the world's underdeveloped regions.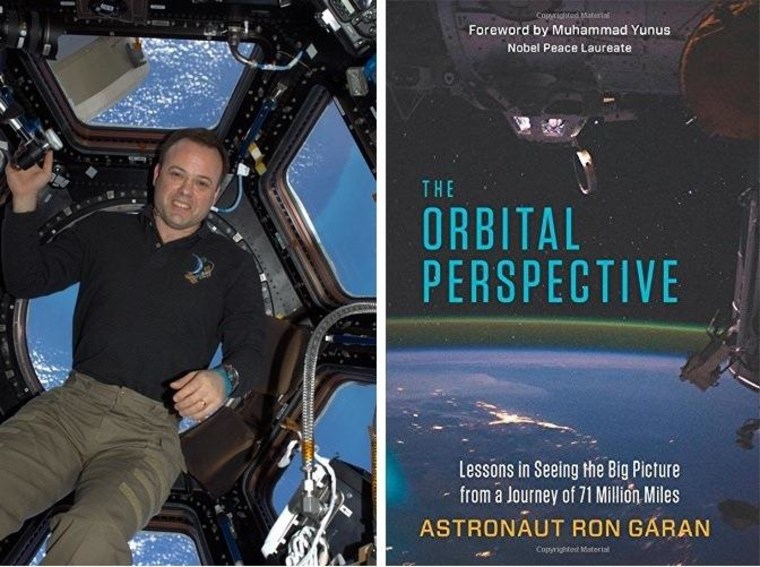 Grass-roots methods for connecting people and resources — such as crowdsourced projects, crowdfunding campaigns and high-tech hackathons — promise to accelerate the pace of innovation and transformation, Garan said. The examples cited in "The Orbital Perspective" range from Uber and Airbnb to ReCAPTCHA and Duolingo.
"The greatest projects right now are the open-projects," he said.
Garan acknowledged that many projects aim high but fall short, often because organizations measure their success by the wrong metrics. For example, what good does it do to install thousands of water pumps or solar panels in an underdeveloped area if they can't be maintained?
'Unity Node' for Earth
One of Garan's suggestions is to create a "Unity Node" database that would be modeled after the first connecting node for the International Space Station. Just as the station's Unity Node ties together different modules on the station and heads off hardware incompatibilities, the earthly Unity Node would tie together nonprofit organizations to share data, encourage collaboration and head off duplicative efforts.
Garan emphasized that you don't have to start up a new project to put the orbital perspective into practice. "If you have an idea that you want to fix something in the world, before you found another new organization, look and see if somebody is already doing what you're seeking to do, and if it makes sense, join that effort," he said.
Feeling the Overview Effect on our home planet is getting easier, thanks to Earth-imaging satellites such as WorldView-3 (launched last year) and DSCOVR (due for launch this month). Garan's book may not provide a sure-fire visualization exercise for turning that effect into action, but it's sure to change your perspective.
"If there is an exercise, if you will, it's that every time we make a decision, in every thought, action and deed that we do, we should take a second and think about the long-term effects of what that's going to be, the big-picture effects of what that's going to be," he said.