CAPE CANAVERAL, Fla. — This week's first-ever test flight of NASA's Orion deep-space capsule is all about the future of America's space effort, but it's also about reviving the past.
"I feel like the Blues Brothers — we're getting the band back together," Bob Cabana, director of NASA's Kennedy Space Center, said Wednesday during a news conference at the Orion's Florida launch pad.
The cone-shaped Orion craft is due for liftoff at 7:05 a.m. Thursday, atop a Delta 4 Heavy rocket at Cape Canaveral Air Force Station's Launch Complex 37. Mission managers said there were no major technical issues standing in the way of an on-time launch.
Forecasters raised the chances of acceptable weather to 70 percent from 60 percent, with the possibility of rain or high winds looming as the only factors that could spoil the launch.
This Orion test vehicle won't be carrying a crew. The flight is meant only to check out the spacecraft's systems for the first time in space — particularly its heat shield and parachutes. But a full-featured version of the spaceship is scheduled to send astronauts beyond Earth orbit in 2021, for the first time since the Apollo 17 moonshot in 1972.
NASA plans to use Orion spaceships to send astronauts to an asteroid by the mid-2020s, and to Mars and its moons starting in the 2030s.
"What you will see tomorrow is building upon the legacy of Apollo. ... If we didn't want to go to Mars, then we shouldn't have done Apollo," NASA Administrator Charles Bolden told reporters.
Echoes of Apollo
Even this crewless outing — known as Exploration Flight Test 1, or EFT-1 — carries echoes of Apollo: The 4.5-hour, two-orbit trip will send Orion 3,600 miles out from Earth, the farthest that a spacecraft meant for humans has flown since 1972. And it will splash down in the Pacific Ocean — just like NASA's last Apollo spaceship, which returned to Earth at the end of the Apollo-Soyuz Test Project in 1975.
"It's been close to 40 years since NASA has recovered a human-rated spacecraft from the ocean," said Jeff Angermeier, who manages ground systems development and operations for the EFT-1 mission.
Apollo veterans will be on hand on the recovery ship as well as in Mission Control. Angermeier said Milt Heflin — who was onboard the recovery vessels for eight splashdowns during the Apollo and Skylab eras — is aboard the USS Anchorage this time around. And Apollo flight director Gene Kranz (famous for "Failure Is Not an Option") will be a VIP guest at NASA's Johnson Space Center.
EFT-1's lead flight director, Mike Serafin, acknowledged that his team sought veterans' guidance "about how they did things under Apollo." He also noted that everyone at Mission Control was a veteran of the space shuttle program, which ended in 2011.
Serafin seconded Cabana's sentiment about getting the band back together. "We haven't had this feeling in a while, since the end of the shuttle program," he said.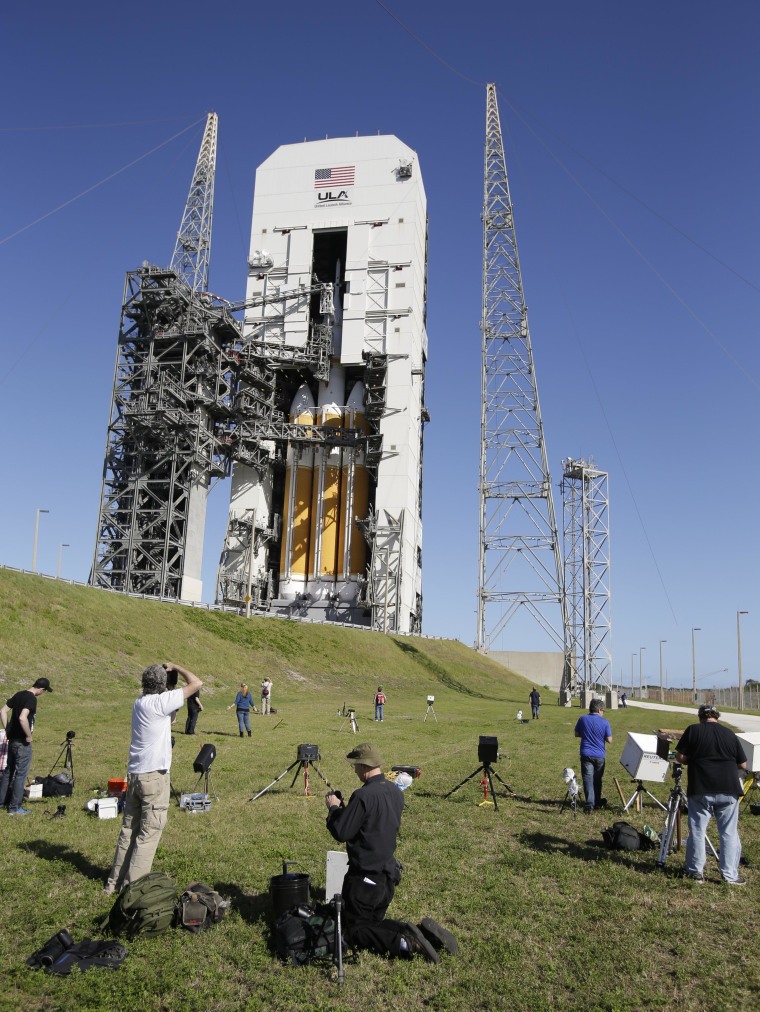 Test flight for the team
This time around, NASA managers aren't the only players in the band: In fact, the prime contractor for the Orion program, Lockheed Martin, is handling launch logistics for the $370 million test flight under a novel arrangement with NASA.
"This is a test flight of the ways we work together as well," said Mike Hawes, Lockheed Martin's Orion program manager.
For NASA, even the fact that people are paying attention to the Orion test flight comes as a welcome blast from the past. The space agency says more than 500 journalists and 150 #NASASocial tweeters and bloggers have been accredited for the launch — which is more than for any other Florida launch since the shuttle fleet's retirement. Tens of thousands of spectators are expected to watch liftoff.
"It is exciting to me, to see you," Bolden told the crowd who attended Wednesday's launch-pad news conference.