NASA's rocket-powered "flying saucer" successfully deployed an inflatable cushion that could be used on future Mars-bound spacecraft during a flight test on Monday, but the saucer's parachute deployed only partially.
The latest flight of the saucer-shaped Low Density Supersonic Decelerator, or LDSD, produced a mixed result similar to that of the vehicle's first test, a year ago.
The LDSD was carried up from the U.S. Navy's Pacific Missile Range Facility on the Hawaiian island of Kauai by a high-altitude balloon. When the balloon reached a height of 120,000 feet, the vehicle was dropped into the air and fired its solid-fueled rocket as planned, arcing up to 180,000 feet.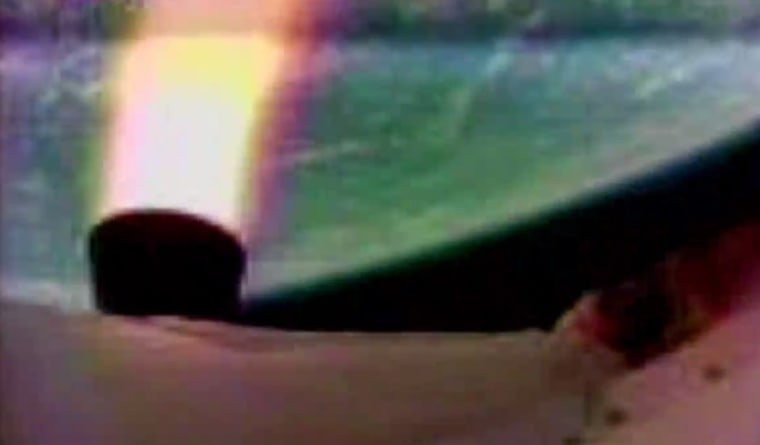 In the midst of the LDSD's ensuing supersonic plunge, the craft's doughnut-shaped cushion — known as the Supersonic Inflatable Aerodynamic Decelerator, or SIAD — was inflated to a diameter of 20 feet (6 meters). The SIAD took advantage of atmospheric drag to slow the speed of descent from Mach 3 to about Mach 2.4.
Then the test parachute was supposed to unfurl to slow the descent even more. The chute popped out — but it didn't unfurl. Controllers at NASA's mission control said they saw a "partial chute," which suggests that the parachute didn't open as planned. The stress of the supersonic air flow ripped the fabric apart.
Without a workable chute, the LDSD made a hard splashdown in the Pacific Ocean.
That's basically how the first LDSD flight test ended a year earlier. Mission managers had hoped that their redesigned parachute would stand up to the stress better. Instead, they''ll recover the wreckage, review the detailed data recorded during Monday's test — and go back to the old drawing board for next year's flight.
"We'll study data from this test to learn and improve," NASA said in a tweet about the project.
Related: Flying Saucer Videos Show What Worked (and What Didn't)
LDSD project manager Mark Adler said $230 million has been budgeted over three years for developing the descent system.
NASA wants its next-generation drag devices to be capable of delivering 2- to 3-ton payloads safely to the Martian surface. Current technologies limit NASA's Mars payloads to about a ton. That worked out fine for landing the Curiosity rover in 2012, and it'll also work for the rover that NASA plans to launch in 2020. But it's not good enough for landing the equipment that would be required for future human missions to the Red Planet, or for landing high-value payloads in high-elevation regions of Mars.
Those situations require the kinds of technologies that are being tested in Hawaii.