During an hours-long national call-in program, Russian President Vladimir Putin said his country is planning to create its own orbital space station by 2023, just as the operational life of the current International Space Station is due to wind down. It was only the latest in a string of contradictory statements about how Russia sees life in space after the ISS.
Putin said a national space station was an economic necessity. "We use the ISS actively for science and the economy, but from the ISS only 5 percent of the area of Russia can be seen," he said Thursday. "From a national station, of course, we will be able to see the whole territory of our vast country."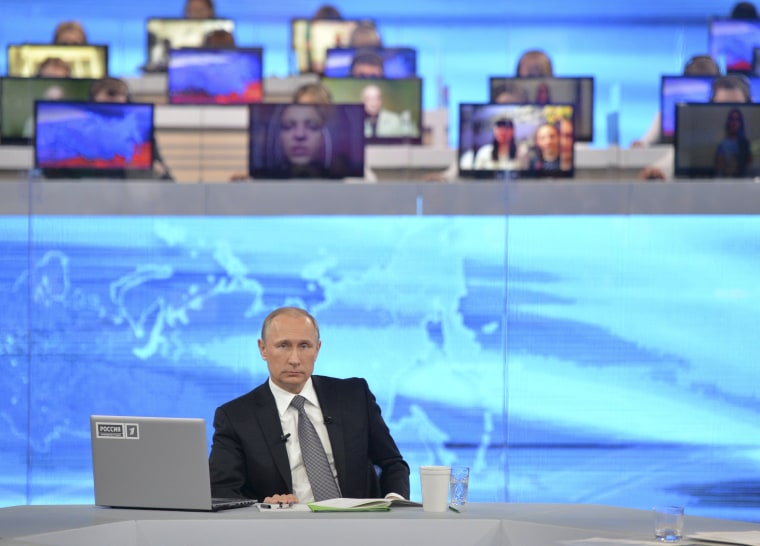 Meanwhile, NASA Administrator Charles Bolden told a House subcommittee that the International Space Station was the "perfect role model" for U.S.-Russian cooperation. He said Russian Deputy Prime Minister Dmitri Rogozin recently declared that "it's a good idea to stay with the space station until 2024."
Over the past year, some Russian officials have suggested that they could separate Russian-built components from the rest of the space station and reassemble them into a stand-alone, all-Russian space station. In January, there was talk about creating a space station for the BRICS nations — Brazil, Russia, India, China and South Africa. And last month, Russian space chief Igor Komarov said NASA, Russia and other nations would work on a new orbital space station after the current one has run its course.
IN-DEPTH
SOCIAL
— Alan Boyle