The Quadrantid meteor shower is arguably one of the most quizzical phenomena of its kind: Not only is it the traditional opener for each year's shooting-star season, but it's also named after a constellation that no longer exists — and was spawned by a comet that's no longer a comet.
Moreover, the Quads are known for a brilliant but brief peak, which is expected to come at about 9 p.m. ET Saturday this year. Even though there's a nearly full moon, that brilliance — plus the fact that the meteors will be at their best during the weekend — could make it worth your while to watch the skies.
"It would be best to look on the night of the 3rd and the morning of the 4th," Bill Cooke, head of the Meteoroid Environment Office at NASA's Marshall Space Flight Center, told NBC News.
Under peak viewing conditions, skywatchers could hope to see more than 100 meteors in the course of an hour, but Cooke advises lowering your expectations because of the moon's glare. He said this year's peak might yield no more than 10 to 20 meteors per hour — and that's assuming you have clear, dark skies.
Meteor showers occur when Earth's orbit takes it through the trail of cosmic grit left behind by a comet. Astronomers say the Quadrantids were caused by an extinct comet known as 2003 EH1, which is now in a highly inclined orbit, apparently due to a series of close encounters with Jupiter. (Comet 1490 Y1 is another prime suspect in the mystery of the Quads' origins.)
If you could trace the trails of Quadrantid meteors backward through the sky, you'd find that they appear to radiate from a single point, just as snowflakes seem to streak past your windshield from a single point as you drive down a winter road at night.
The Quadrantids' radiant is in the northern constellation called Bootes — but back in the 1820s, when the Quads were first noted in the astronomical literature, that particular part of the sky was known as Quadrans Muralis, or the Wall Quadrant. Quadrans Muralis was incorporated into Bootes in 1922, but the meteor shower is still known as the Quadrantids rather than the Bootids.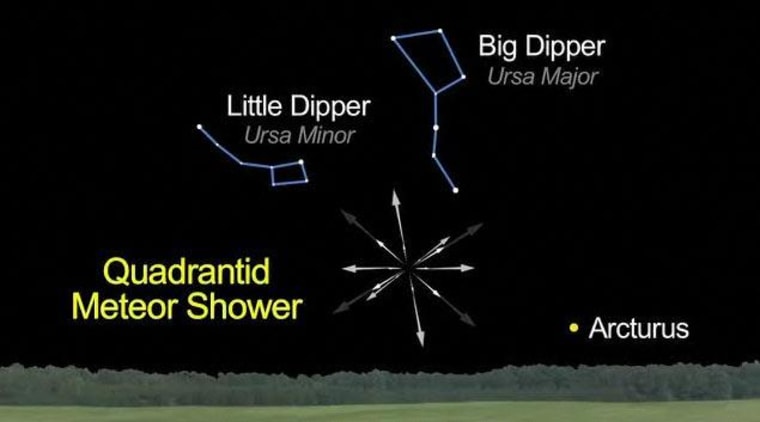 Only Northern Hemisphere observers are able to see the Quads — and European skywatchers are expected to have the best seats in the house, due to the timing of the peak. Here's a top-ten roundup of tips and resources:
The nearly full moon's glare poses an extra challenge this year. The best strategy is to time your meteor-watching session to include the early-morning interval between moonset and sunrise. The prime times come before dawn Saturday and Sunday.
If you don't already have a favorite meteor-watching spot, the Clear Sky Chart can show you locales that are expected to have good viewing conditions. You can also check with your local astronomy club.
Try to find a viewing spot with a clear northward view. Shooting stars can appear anywhere in the sky, but because the Quads' radiant is so far north, set up a lounge chair to focus your view in that direction. That also has the benefit of putting the moon behind you.
The meteors flash brightly when bits of cometary grit zoom through the upper atmosphere at speeds of 90,000 mph and create bright ionized trails. But it's easy to miss seeing those flashes in light-polluted urban skies. To see more meteors, get as far away as you can from city lights. The higher the elevation, the better.
January can get chilly, so dress warmly. It's not a bad idea to bring snacks and a hot drink to keep up your energy.
NASA's Fluxtimator applet provides predictions of the expected meteor rate, based on your locale as well as sky conditions and time of night. Make sure that your Java software and security settings are up to date, and that you enter the correct parameters into the applet.
The Slooh virtual observatory is planning a webcast about the Quadrantids, starting at 11 p.m. ET Sunday. The video will be accompanied by the audio buzz from meteor ionizations. For an alternate soundtrack, tune in online to SpaceWeather Radio. Here's a sound sample.
Look for images of shooting stars on SpaceWeather.com. If you snap a great meteor photo, why not share it? Let us know by using the hashtag #NBCmeteor on Twitter or Instagram.
You won't need binoculars or a telescope to see the Quadrantids, but those observing aids can come in handy for seeing other celestial highlights. Mars, Venus and Mercury shine in western skies just after sunset. Jupiter makes an appearance in eastern skies after moonrise, and Saturn shows up before dawn. You could even try seeing Comet Lovejoy, although the moon will be in the way until next week.
For more about the Quads, check out the viewing guides from Universe Today, Space.com, EarthSky, Astronomy Now, Sky & Telescope and Astronomy.com.
Tip o' the Log to Jeff Berkes for his 2011 photo of a Quadrantid meteor's flash. For more about Berkes and his work, check out his website and Facebook page.