The private spaceflight industry could be worth trillions of dollars and employ millions of people some day, but for now it's led by a few of the richest and most adventurous tycoons out there. And despite the intense secrecy surrounding the development and test flights of rockets and spacecraft, it's clear they're all pursuing different goals and have different motivations. Here are five of the biggest investors in the next frontier.
Richard Branson, Virgin Galactic
Richard Branson was already the head of a multimedia and retail empire before he entered the aerospace industry in 2004 with the space tourism-focused Virgin Galactic. Branson's goal is to make short trips to space relatively affordable and comfortable for well-heeled passengers looking for a weightless thrill, researchers looking for a low-cost suborbital space ride, and companies seeking to launch small satellites. Virgin Galactic's approach was to eliminate expensive ground-launched rockets by carrying the spacecraft almost 10 miles up on a "buddy" aircraft, WhiteKnightTwo. At that height, SpaceShipTwo would detach and continue to space by firing its own rocket engine, achieving an outer-space altitude with a short weightless period. Hundreds have paid up to $250,000 to reserve a ride on the craft once it proves ready for passengers.
The tragic crash of SpaceShipTwo during a flight test on Oct. 31 dealt a setback to Virgin Galactic's venture, though Branson has vowed to push ahead.
Elon Musk, SpaceX
Space Exploration Technologies Corporation, commonly known as SpaceX, was founded in 2002 by Elon Musk after the entrepreneur's early investment in PayPal reaped huge rewards. SpaceX uses its Falcon 9 rocket and Dragon capsule for uncrewed resupply missions to the International Space Station. Musk is aiming for a much more ambitious goal: to "make life multiplanetary," as he said in an interview with CNBC in June, by sending humans to Mars.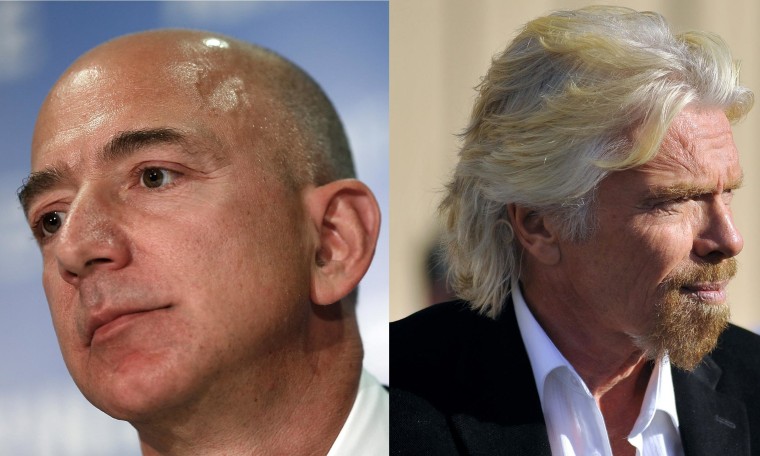 Jeff Bezos, Blue Origin
The founder and CEO of Amazon.com, Jeff Bezos is gearing up to compete with Virgin Galactic in the nascent space tourism industry. The company is more secretive than Virgin, and is also moving more slowly, with a more traditional approach to putting people in space. The first crewed suborbital flights of its New Shepard spacecraft were originally planned for 2010, but as with nearly all private space programs, these early predictions were overly optimistic. Testing of the craft continues, and the company also recently announced a partnership with America's most established orbital launch provider, United Launch Alliance, to build a brand new rocket engine called the BE-4.
Paul Allen, Stratolaunch Systems
Spaceflight is just one of former Microsoft co-founder Paul Allen's many multimillion-dollar investments. He backed the SpaceShipOne project along with the legendary but now retired aerospace engineer Burt Rutan, founder of Scaled Composites. Stratolaunch, started in 2011, is working on a carrier aircraft that looks like a scaled-up version of Virgin Galactic's WhiteKnightTwo, with the widest wingspan of any plane ever created. Stratolaunch has joined forces with Orbital Sciences Corp., which is developing a new type of rocket to launch satellites, as well as with Sierra Nevada Corp., whose Dream Chaser spacecraft will be mounted aboard the carrier for potential crewed flights. The first test flight for the carrier is planned for 2016, and the first space launch is set for 2018.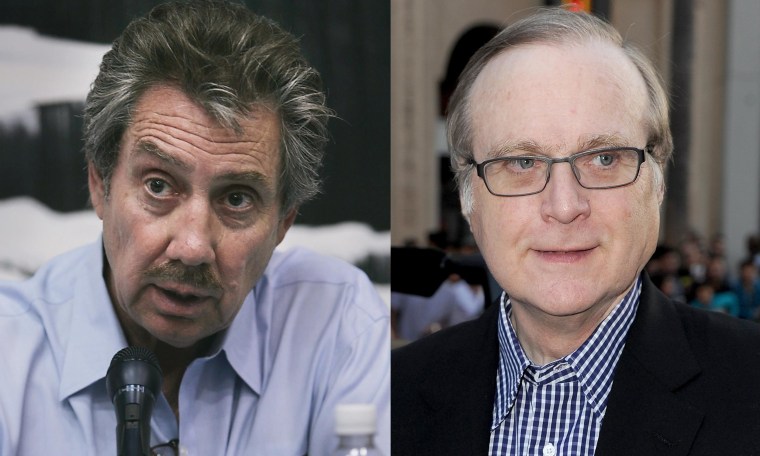 Robert Bigelow, Bigelow Aerospace
Robert Bigelow, who earned his fortune in the hotel business, started his aerospace company in 1998, the same year the first components of the International Space Station were put in orbit. Bigelow is concerned not so much with space launch capability as with space habitation. His company makes modules that could be added onto the International Space Station or float in an orbit of their own. After putting two inflatable habitats in orbit in 2006 and 2007 and studying their performance, Bigelow is now at work on a much larger production unit, based on earlier work by NASA. Such large, durable structures are built to weather long exposure to radiation and micrometeorites, and eventually they could be used in long-distance space travel. Bigelow is particularly interested in commercial lunar missions.
NBCUniversal established a multi-platform partnership with Virgin Galactic to track the development of SpaceShipTwo.