A robotic Russian supply capsule that went into an uncontrollable spin was declared a total loss Wednesday, but the astronauts at the International Space Station said they will get by without the delivery of fresh food, water, clothes and equipment.
The head of Russia's space agency, Igor Komarov, said a series of problems caused the Progress M-27M freighter, also known as Progress 59, to tumble shortly after Tuesday's launch from Russia's Baikonur Cosmodrome in Kazakhstan.
"Because of this, the craft's continued flight and its docking with the ISS is not possible," Reuters quoted him as saying during a Moscow news conference.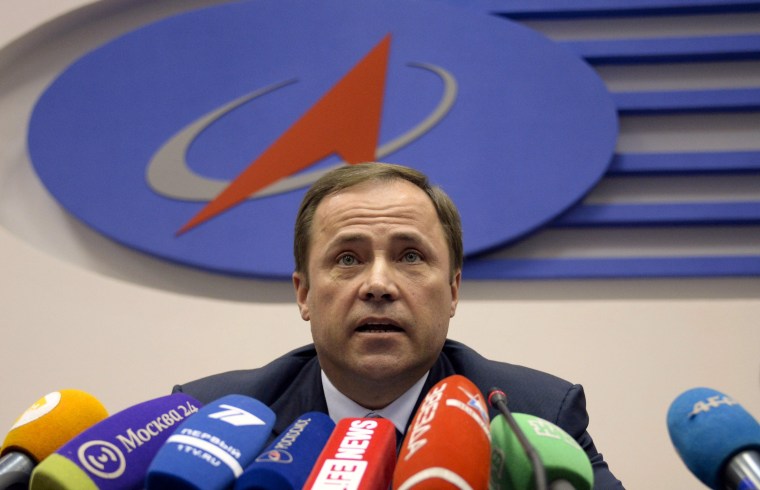 The capsule is expected to burn up in a week or two as it re-enters the atmosphere. Debris is not likely to reach Earth's surface, Russian flight director Vladimir Solovyov said. The Russians have had long experience with this: Progress capsules are typically sent down with a load of trash for fiery disposal after each delivery.
NASA astronaut Scott Kelly, one of the spacefliers who is spending almost a year aboard the station, said the orbital crew "should be OK."
The Progress was carrying 3 tons of supplies and equipment. NASA said that nothing was irreplaceable, and that the crew has enough supplies to remain in good shape until well past the next scheduled shipment — a delivery by a robotic SpaceX Dragon capsule in June.
"The program plans for these kinds of things to happen. They're very unfortunate when they do," Kelly told The Associated Press during an interview. "The important thing is, hardware can be replaced."
This is the second cargo ship lost in the past half year. In October, Orbital Sciences Corp. suffered a launch explosion in Virginia that destroyed a cargo ship that had been intended for the orbiting lab. Orbital is planning to resume deliveries later this year, but for now, SpaceX is currently NASA's sole supplier. The Japanese space agency also periodically sends up cargo; it is aiming for a summer shipment.
Six people are currently living on the space station: two Americans, one Italian and three Russians.
— The Associated Press and Reuters