NASA astronaut Scott Kelly's one-year stay on the International Space Station will be a one-of-a-kind science experiment studying the effects of long-duration spaceflight, made possible by history's only set of two-of-a-kind spacefliers.
The mere fact that Kelly will be in space for roughly a year (actually, 342 days), starting Friday, is not a record-setter. Four Russian cosmonauts spent longer stints on the Mir space station. But this marks the first time that an American astronaut has done it, and the first time that scientists will compare a space traveler's health with that of an identical twin on Earth over the course of a year.
Scott Kelly's twin, retired astronaut Mark Kelly, has volunteered to be the earthly guinea pig.
"I believe in science," said Mark Kelly, who is a space and aviation analyst for NBC News and MSNBC. "I'm very grateful for the opportunities that the U.S. government has given me, NASA in particular, so I'm glad to do it."
Both Kellys, who turned 51 last month, will be providing blood, saliva, urine and even fecal samples throughout the timespan of the spaceflight and beyond. Their skeletons will be scanned to study bone loss — one of the negative effects of long-term spaceflight. Their immune systems will be tested, their vision will be checked, and the tips of their chromosomes will be compared to see whether space radiation leads to premature aging.
Russian cosmonaut Mikhail Kornienko will also be on the yearlong mission, and will also participate in scientific experiments.
Kornienko and Scott Kelly have each spent a six-month tour of duty on the space station — Kornienko in 2010, and Kelly in 2010-2011. But that's nothing compared to what will be required for deep-space missions. "If we're going to go to Mars, we need to understand how the human body reacts in space for longer periods of time," Scott Kelly said in a NASA video interview on the one-year mission.
Even a six-month orbital stay has a negative effect on bones as well as on muscles and vision. The yearlong study could help scientists develop countermeasures to stave off those effects — perhaps through drugs, or new exercise routines, or upgraded radiation shields, or artificial gravity systems.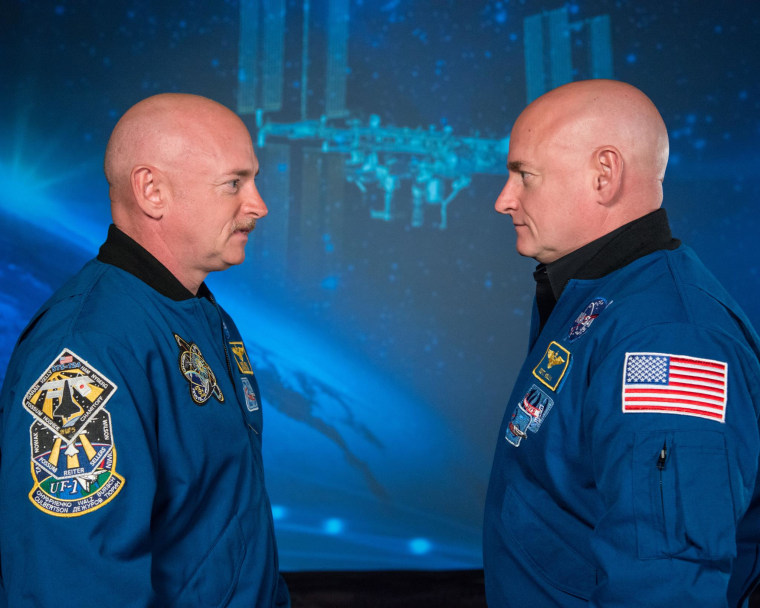 Going for the gut
Scientists also plan to study genetically identical mice in space and on Earth, and they'll even analyze genetic differences in the gut bacteria taken from Scott and Mark Kelly over the course of a year. (That's the reason for the fecal samples.)
Northwestern University's Fred Turek, the principal investigator for the gut bacteria study, said that other spacefliers have had their microbiomes studied on an individual basis, but the results of those studies have not yet been published. And no one has ever done the kind of comparison that's planned by Turek and his colleagues.
"Essentially, it's unknown territory," he told NBC News. The fact that scientists have recently found gut bacteria play a vital role in human health makes it all the more important to figure out how outer space affects our innards.
A colleague of Turek's at Northwestern, Martha Vitatema, said she was glad the Kelly twins are on board with the experiment. "Identical twins provide unique advantages," she said in a news release. "We can directly compare the space twin with the Earth twin because they are a genetic match."
Mark Kelly, who is in Kazakhstan to see Friday's launch from Russia's Baikonur Cosmodrome, told NBC News that the experiment won't have that much of an effect on everyday life. That goes for him as well as for his equally famous wife, Gabrielle Giffords, a retired member of Congress who survived a deadly shooting attack in 2011.
"It's a lot of work for a lot of scientists ... but not really a lot of work for me," Mark Kelly said. However, he plans to keep track of his brother's exercise regimen in orbit and will "try to do something similar" on Earth.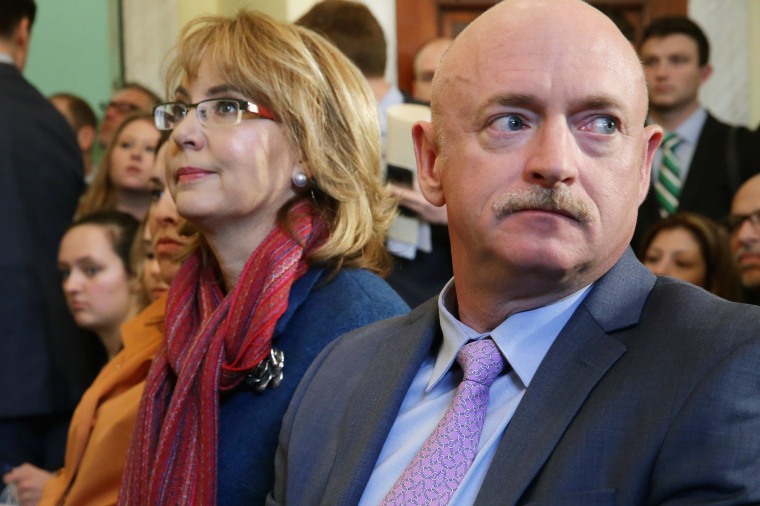 Privacy concerns
One of the big questions has to do with how results from the one-year experiment will make their way into the scientific literature. The results of medical studies are usually anonymized — but because this study has such a high profile, it will be trickier to preserve the Kelly twins' privacy.
The journal Nature reported on Thursday that the concerns about privacy are so great there's a chance that the studies resulting from the one-year mission will be unpublishable. Mark Kelly acknowledged that he and his brother have the option to withhold sensitive medical information from publication, but he stressed that no decisions have been made about what kind of information might be kept private.
"I can't speak for my brother, but just speaking for me, if there's data that I feel would be helpful to science if it's made public, as long as it's not harmful to my kids for that information to get out there ... I am more likely to release it than not. Much more likely," he said. "I don't really worry about how the release of genetic data affects me."
Mark Kelly said NASA insisted on paying him for participating in the experiment. "I'm like, 'You can pay me, but I'm not filling out any paperwork,'" he told NBC News. The details still have to be worked out, but he expects the hourly compensation will work out to be "close to minimum wage."
Which is fine with Mark. He fully realizes that his brother, Scott, will be bearing the brunt of the burden over the next year, physically as well as psychologically.
"His decision to fly into space for a year was infinitely more significant than me helping NASA out with science," Mark Kelly said. "For most people, a year seems like a long time ago, so it's a big commitment. We haven't had somebody make that commitment before."
NASA astronaut Scott Kelly and Russian cosmonauts Mikhail Kornienko and Gennady Padalka are due to launch from Russia's Baikonur Cosmodrome in Kazakhstan to the International Space Station at 3:42 p.m. ET Friday. Stay tuned for NBC News' coverage of the launch — including dispatches from Mark Kelly, who is serving as a space and aviation analyst for NBC News and MSNBC.