The three companies that are building space taxis to transport NASA astronauts to and from the International Space Station all say they're on track to get their spaceships into orbit by 2017 — provided that NASA keeps the money flowing.
California-based SpaceX was the latest to make a splash, thanks to last week's unveiling of its Dragon V2 space capsule. But the Boeing Co. is about to ramp up operations at NASA's Kennedy Space Center for its gumdrop-shaped CST-100 capsule. And Sierra Nevada Corp.'s Space Systems operation, headquartered in Colorado, is also making progress on its winged Dream Chaser mini-shuttle.
"We've had a busy few months," Mark Sirangelo, head of SNC Space Systems, told NBC News this week. "The program is moving along quite rapidly."
Last month, Sierra Nevada Corp. finished wind-tunnel testing for the Dream Chaser orbital design. "Getting all the aspects of wind tunnel testing done is about as close as you can come to flying in orbit," Sirangelo said.
At NASA's Michoud Assembly Facility in Louisiana, Lockheed Martin has begun work on the version of the vehicle that's due to be launched into orbit for the first time in late 2016 atop an Atlas 5 rocket. Lockheed Martin is part of the "dream team" that Sierra Nevada assembled to turn the Dream Chaser into a space-traveling reality.
"Things are beginning to be quite real for us," Sirangelo said.
Sierra Nevada has also analyzed the results from the first free-flying glide test of a Dream Chaser prototype, conducted last October, and Sirangelo said two more autonomous glide tests will be conducted in the latter half of this year. A series of atmospheric tests with crews aboard will follow — and although the schedule for those flights has not been announced, Sirangelo said "we're going to be flying it with people shortly."
He said the prototype vehicle "is essentially the equivalent of what NASA had with Enterprise," the experimental space shuttle that was designed only for atmospheric testing. The orbital vehicle, in contrast, can be launched into orbit and come back down for a runway landing, with or without a pilot aboard.
After the uncrewed orbital test in 2016, Sierra Nevada is aiming for demonstration flights with crews starting in 2017. That meshes with the time frame that NASA is expecting, and the time frame that's being targeted as well by SpaceX and Boeing.
Sizing up the competition
Those two other companies received the lion's share of the $1.1 billion that NASA allotted for the current phase of the spaceship competition: $460 million for Boeing, and $440 million for SpaceX. Because of budgetary limitations, Sierra Nevada received just a half-share of $212.5 million, and Sirangelo said that forced his company to be frugal.
"Even though we didn't receive as much funding, we're pretty equal if not ahead in our development with our competitors," he said.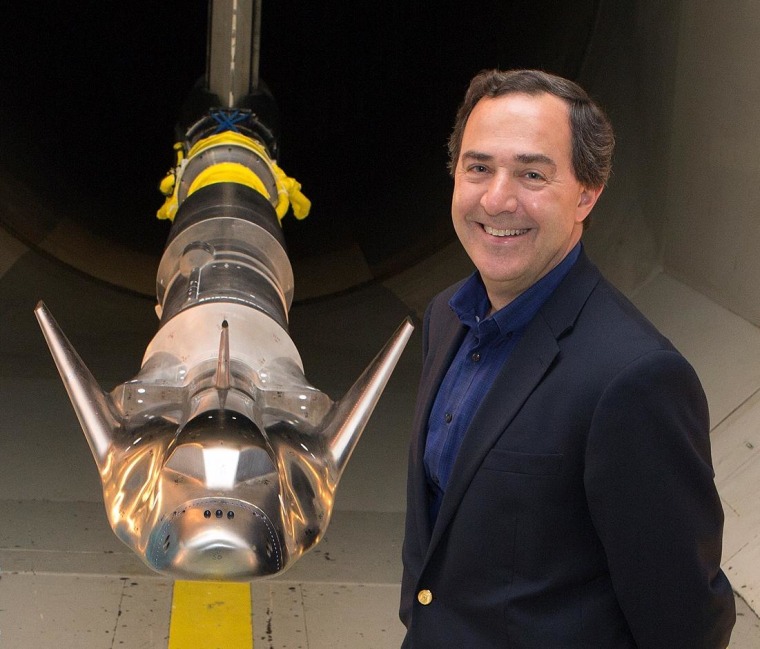 The toughest round may be ahead: Sometime in the next few months, NASA is expected to choose one or more of the companies to go on to the final phase of development, potentially including demonstration flights all the way to the space station.
Some in Congress are insisting that NASA should select just one winner. But NASA officials say they'll need at least two commercial spaceship providers. They say that arrangement would promote competition and also provide a backup in case one company can't follow through — as was the case during NASA's earlier competition for commercial cargo spaceships.
Sierra Nevada is hedging its bets by forging partnerships with other players in the space game. On the commercial side, the company is exploring potential spaceport deals with officials in Texas, Colorado and Florida. And in January, Sierra Nevada announced that it was collaborating with the European Space Agency and the German Aerospace Center. "We're expecting three or four other countries to join us shortly," Sirangelo said.
Sirangelo makes it sound as if he's intent to turn the Dream Chaser into something more than a dream, no matter what NASA decides. And maybe part of the reason is that as a licensed pilot, he's interested in taking a turn in the cockpit himself someday.
"After 10 years of developing it, I'm certainly looking forward to doing that," he said.