LONGYEARBYEN, Norway — For the best view of the solar spectacle of the year, Svalbard eclipsed the Faroe Islands.
Skywatchers in the remote Norwegian archipelago of Svalbard popped champagne corks, oohed and aahed as they witnessed a total solar eclipse Friday under perfect weather conditions. A clear sky over the Arctic islands offered a full view of the sun's corona — a faint ring of rays surrounding the moon — that is only visible during a total eclipse.
"I was just blown away. I couldn't believe it," said Hilary Castle, a 58-year-old visitor from London.
Meanwhile, a blanket of clouds blocked thousands of people from experiencing the full effect in the Faroes in the North Atlantic — the only other place on land where the eclipse was total.
About 20,000 visitors had traveled to the two island groups to watch the spectacle.
"Well, it was very close," said Fred Espenak, a retired NASA scientist visiting the Faroe Islands. "If the eclipse had been 25 minutes later, it would have been fantastic. But the clouds ruined it for us. So I'm very disappointed."
A solar eclipse happens when the moon lines up between the sun and the Earth. This casts a lunar shadow on Earth's surface and obscures the sun.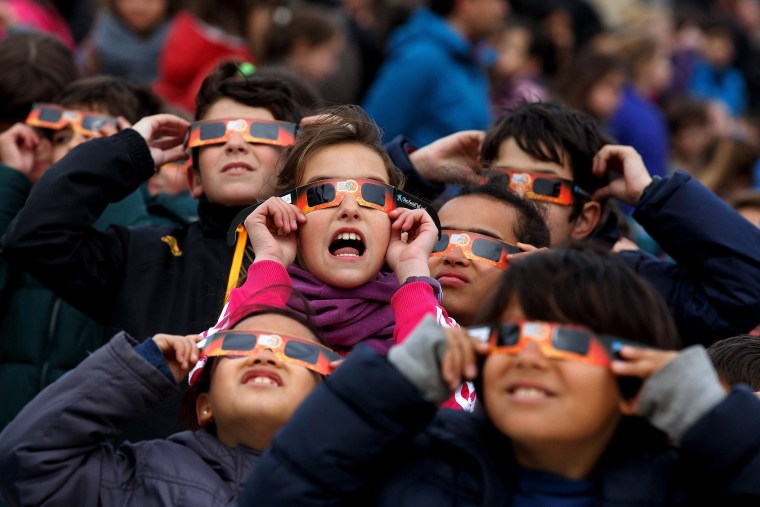 Gallery: Greatest Hits of the Equinox Eclipse
The total phase of the eclipse could be seen only along a relatively narrow track, and for no more than 2 minutes and 45 seconds. But millions of people in Europe and parts of Asia and Africa could witness the partial solar eclipse, in which just a portion of the sun is blotted out for periods amounting to several hours.
Across Europe, people were warned against looking directly at the sun — but that wasn't the only hazard. In Switzerland police said a 49-year-old man in the eastern town of Baar was taken to a hospital with a suspected broken leg after falling off a roughly 20-inch-high (50-centimeter-high) ramp as he watched the eclipse.
In Germany, a world leader in solar power, fears that the flood of sunshine after the eclipse would overload the system never materialized.
"We are very relieved," Dirk Biermann, head of 50Hertz, one of Germany's four transmission system operators for electricity, told the DPA news agency. "Everything worked out wonderfully."
IN-DEPTH
SOCIAL
— The Associated Press