A Russian Soyuz spacecraft successfully executed a series of maneuvers in preparation for a docking with the International Space Station, one day after an engine glitch forced a two-day extension in what was to have been a quick trip for a trio of spacefliers, NASA said Wednesday.
Russian mission managers were still looking into why the Soyuz aborted an automated engine burn just hours after Tuesday's launch from the Baikonur Cosmodrome in Kazakhstan. NASA said the required orbital maneuver didn't occur because the spacecraft wasn't in the proper attitude when the 24-second burn was to take place.
The glitch spoiled the plan for a six-hour, four-orbit journey to the station, and forced controllers to fall back on a two-day, 34-orbit itinerary. The two-day trip was standard until last year.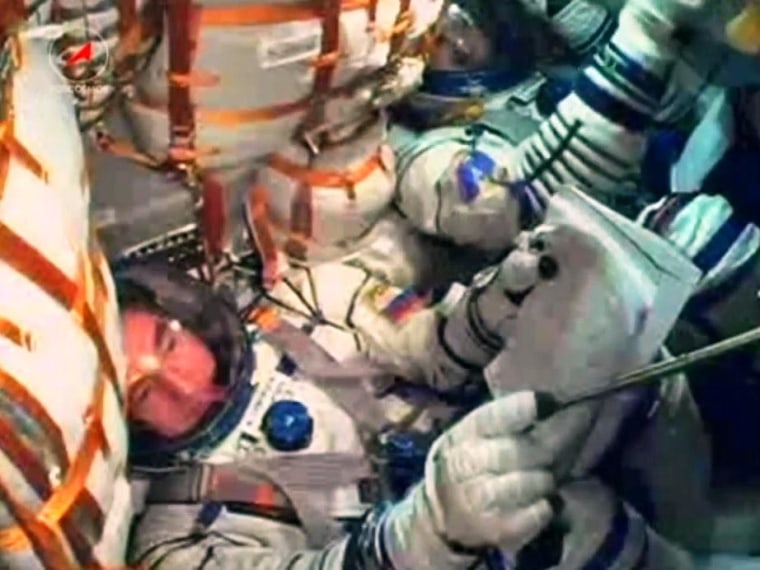 NASA spokesman Kyle Herring told NBC News that nothing was standing in the way of the currently scheduled docking at 7:58 p.m. ET Thursday. "Indications are that they're back on track," he said.
NASA TV coverage of the docking is due to begin at 7 p.m. ET Thursday.
Once the Soyuz is docked and the hatches are opened, NASA astronaut Steven Swanson and Russian cosmonauts Alexander Skvortsov and Oleg Artemyev will join the three other spacefliers currently living on the station: NASA's Rick Mastracchio, Japan's Koichi Wakata and Russia's Mikhail Tyurin. Those three are set to head back to Earth in May, while the trio on the Soyuz craft will stay in orbit until September.
A robotic SpaceX Dragon supply ship had been scheduled for launch to the station on Sunday, but NASA said in a Twitter update late Wednesday that the resupply mission was being "postponed due to range asset issue." NASA did not immediately announce a new date for the launch.
Range issues at Cape Canaveral Air Force Station forced the postponement of a spy satellite launch earlier this week.