NASA is weighing whether the failure of a backup electronics box for the International Space Station's robotic arm system will force another postponement in SpaceX's launch of a Dragon cargo ship.
The box will eventually have to be replaced, NASA said. That might require SpaceX, the California-based company founded by billionaire Elon Musk, to hold off on its third resupply mission to the station under the terms of a $1.6 billion contract with NASA. But there's also a chance the mission could go ahead before the spacewalk.
In a status report issued on Saturday, mission managers emphasized that the crew was in no danger. But they're evaluating whether the problem with the computer component, known as a multiplexer-demultiplexer, would pose too much of a risk for the Dragon's hookup to the station — which relies on the proper operation of the station's robotic arm.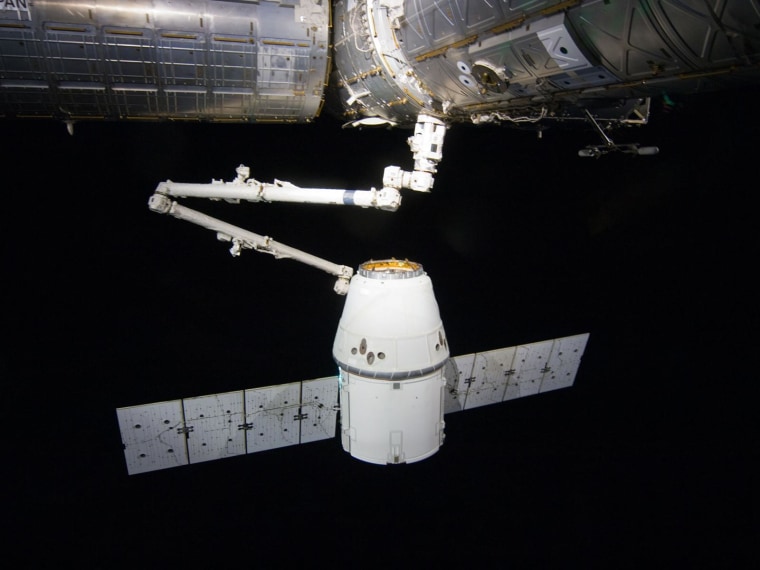 The Dragon capsule is currently scheduled for launch atop a SpaceX Falcon 9 rocket from Cape Canaveral Air Force Station at 4:58 p.m. ET Monday, with the station berthing set for Wednesday. The Dragon is packed with about 4,600 pounds (2,100 kilograms) of supplies and equipment, including scientific experiments and the legs for the station's Robonaut 2 android.
The SpaceX launch has already been delayed once, due to a temporary problem with the Air Force's radar tracking system.
The problem with the backup multiplexer-demultiplexer, one of more than a dozen such boxes mounted on the station's exterior, cropped up on Friday when it stopped responding to commands. The primary system, which transmits commands to the robotic arm system's rail car, is working fine, NASA said. The big question is whether it's too risky to proceed with the Falcon 9 launch without the backup system. Astronauts on the station have to use the robotic arm to pull the Dragon in to its berthing port.
NASA said there were other contingency plans that didn't depend on the failed electronics box. A decision on whether to go ahead with the launch would be made on Sunday, after a series of technical reviews. Meanwhile, plans are also being laid for a spacewalk to replace the backup box, which is considered one of the station's routine maintenance tasks.