The hearts of astronauts who spend a lot of time in space become more spherical, raising concern about the potential for cardiac problems during prolonged space travel, according to a new study.
Researchers analyzed heart data collected from 12 astonauts before, during and after stints on the International Space Station. The results show the heart in the weightlessness of space becomes more spherical by a factor of 9.4 percent.
"The heart doesn't work as hard in space, which can cause a loss of muscle mass," James Thomas, the study's lead author and lead scientist for ultrasound at NASA, said in a statement. "That can have serious consequences after the return to Earth, so we're looking into whether there are measures that can be taken to prevent or counteract that loss."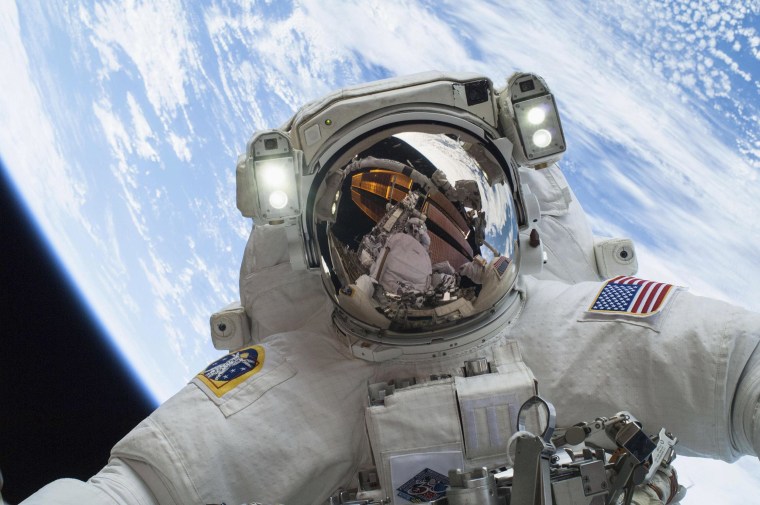 The long-term health impacts of the shape change are not known. The good news is that the transformation appears to be temporary, with the heart returning to its normal elongated self shortly after the return to Earth.
NASA wants to send astronauts to Mars in the 2030s, so researchers are keen on trying to understand how a spaceflight of 18 months or more could affect astronauts' heart health. As part of that research, NASA and its Russian partners are planning to keep two spacefliers on the station for an entire year, starting in 2015.
In addition to the insights for long-term spaceflight, such studies could lead to a better understanding of common heart problems in people on Earth.
The new study, "Affect of Microgravity on Cardiac Shape: Comparison of Pre- and In-flight Data to Mathematical Modeling," was presented over the weekend at the annual scientific sessions of the American College of Cardiology in Washington.
— James Eng, NBC News