A robotic SpaceX Dragon capsule splashed down in the Pacific Ocean on Thursday, ending the longest-lasting Dragon resupply mission to the International Space Station.
NASA astronaut Scott Kelly, who's spending almost a year on the space station, used the outpost's robotic arm to unhook the gumdrop-shaped spacecraft from its port on the station's Harmony module and release it for the homeward journey.
Hours later, SpaceX said the Dragon splashed down in the Pacific Ocean at 12:42 p.m. ET, about 155 miles southwest of Long Beach, California.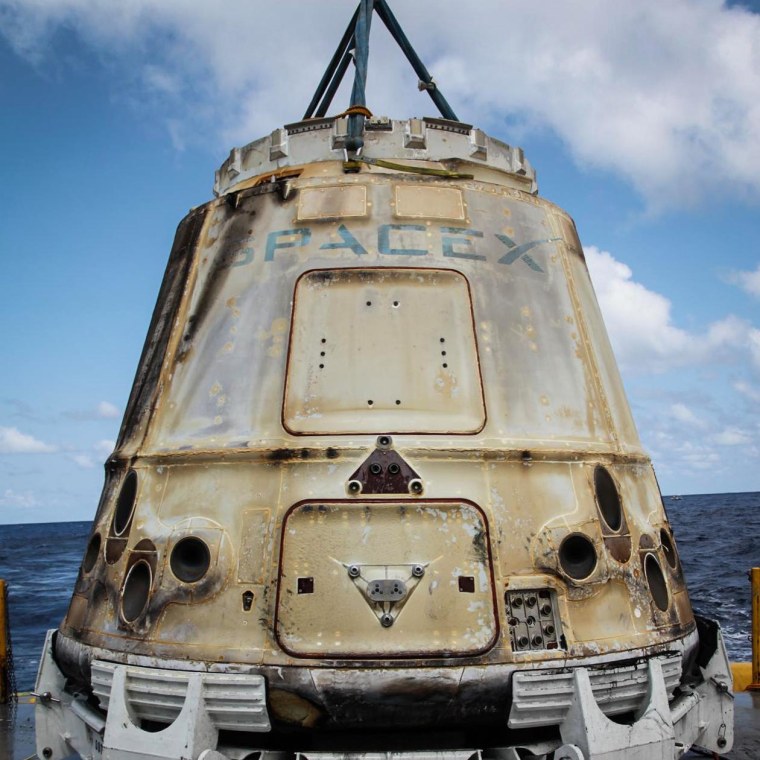 The capsule was packed with more than 3,100 pounds of equipment and experiments, including an assortment of roundworms that were used to study the effects of spaceflight on the aging process. A recovery ship picked up the Dragon and is bringing it back to port. Eventually, the capsule will be transported to SpaceX's test facility in Texas for processing.
This was the sixth of 15 scheduled cargo resupply missions that California-based SpaceX is taking on under the terms of a NASA contract. SpaceX launched the Dragon with more than 4,300 pounds of cargo on a Falcon 9 rocket on April 14, making for a 37-day stay at the space station. One of the items on board was the first zero-G espresso machine to go into outer space.
Another Dragon shipment is due to be launched on June 26. That delivery could be crucial, in light of last October's failure of an Orbital Sciences Cygnus resupply mission and the loss of a Russian Progress cargo ship in April.
IN-DEPTH
SOCIAL