A private Dragon cargo ship built by SpaceX arrived at the International Space Station on Tuesday to deliver more than 2 tons of astronaut supplies and experiments for NASA, including the first 3-D printer in space and an intrepid crew of 20 lab mice.
After a two-day chase, the Dragon spacecraft caught up to the orbiting laboratory at 6:52 a.m. ET. German astronaut Alexander Gerst used the space station's robotic arm to grab the capsule with help from NASA astronaut Reid Wiseman. The spacecraft is packed with 5,000 pounds (2,268 kilograms) of experiments and supplies.
"This was a great flight of Dragon toward the space station," Gerst radioed Mission Control after capturing the Dragon capsule with the robotic arm. [See photos from the SpaceX-4 Dragon mission]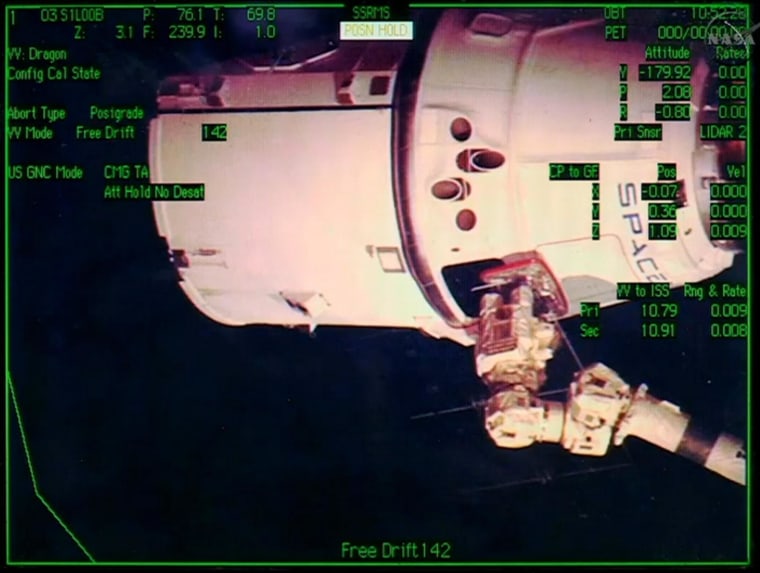 Dragon launched into space early Sunday atop SpaceX's Falcon 9 rocket from Cape Canaveral Air Force Station in Florida, in a liftoff described by mission managers as "perfect." The Dragon spent two days catching up to the station through a series of carefully timed thruster firings.
The flight marked SpaceX's fourth resupply mission to the space station under a $1.6 billion contract with NASA. The California-based company has agreed to provide at least 12 Dragon supply flights to the astronaut outpost.
Dragon will remain berthed to the space station for about 30 days to allow astronauts to unload the new cargo and refill it with equipment to be returned to Earth.
— Megan Gannon, Space.com
This is a condensed version of a report from Space.com. Read the full report. Follow Megan Gannon on Twitter and Google+. Follow Space.com on Twitter, Facebook and Google+.