CAPE CANAVERAL, Fla. — For the first time, the SpaceX commercial rocket company will try to bring a rocket back for a soft landing after sending its payload toward orbit — and you can keep track of the effort online.
The attempt will come in the minutes after SpaceX's scheduled launch of a two-stage Falcon 9 rocket, topped by a Dragon capsule that's loaded with 5,200 pounds (2,350 kilograms) of supplies, equipment and experiments for the International Space Station. Liftoff from Cape Canaveral Air Force Station is set for 6:20 a.m. ET Tuesday, with a 70 percent chance of acceptable weather.
Dragon's flight is SpaceX's fifth cargo resupply mission under the terms of a $1.6 billion contract with NASA, which is aimed at fill the gap left by the retirement of the space shuttle fleet in 2011.
If the Falcon 9 launches on Tuesday, the Dragon should link up with the space station on Thursday. If Tuesday's launch attempt has to be scrubbed, due to weather or technical concerns, the next opportunity for liftoff comes on Friday.
Tuesday's launch had to be delayed from Dec. 16 due to a problem with a static-fire test on the launch pad. That full-duration test was successfully completed a week before Christmas.
As long as the rocket gets SpaceX's Dragon into the proper orbit for its hookup, Tuesday's launch will be judged a success from NASA's point of view. But SpaceX and its billionaire founder, Elon Musk, are hoping for something more: the success of a maneuver that could make spaceflight far more affordable in the future.
The new twist comes after the Falcon 9's first stage finishes its main job. Three minutes after launch, the second stage is due to separate and fire up its own rocket engine to continue the trip. Then the first stage is slated to relight its rocket engines and go through a complex series of maneuvers to put itself safely down on a 300-foot-long, 170-foot-wide (91-by-52-meter) "autonomous spaceport drone ship" in the Atlantic Ocean.
"Nobody has ever tried that, to our knowledge," Hans Koenigsmann, SpaceX's vice president of mission assurance, told reporters during a Monday briefing at NASA's Kennedy Space Center.
SpaceX has tested aspects of the maneuver before, resulting in a soft splashdowns, but this will be the first time the company tries setting the rocket stage down on a platform for retrieval and return to port. The maneuver will be facilitated by precision firing of the Falcon 9's nine first-stage engines, as well as contributions from four hypersonic stabilizing fins and landing legs.
The drone ship is equipped with underwater thrusters to compensate for the pitch and roll of the sea; nevertheless, SpaceX acknowledges that the maneuver won't be a slam-dunk. Maybe it'll just be a slam. Or a dunk.
"The odds of success are not great — perhaps 50 percent at best," SpaceX said in a statement explaining the effort. "However, this test represents the first in a series of similar tests that will ultimately deliver a fully reusable Falcon 9 first stage."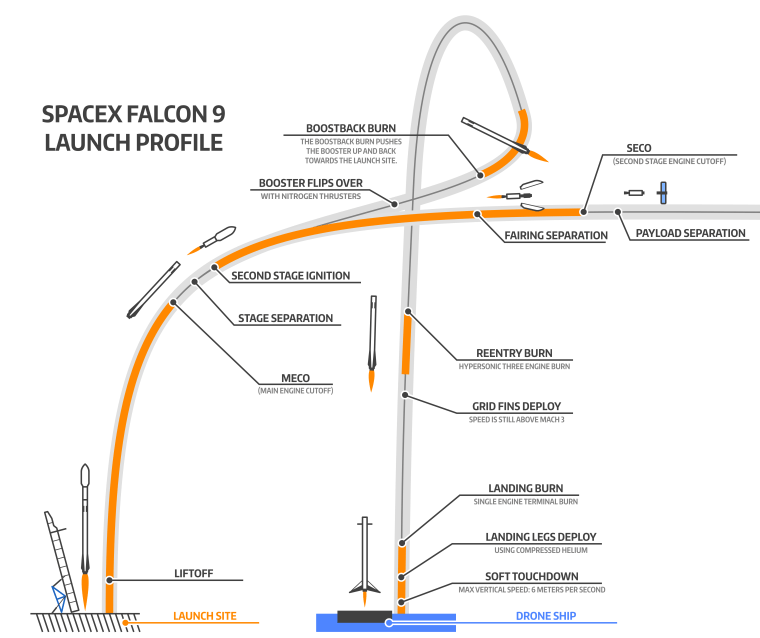 For a larger version of the graphic and a full explanation of the launch profile and its significance, check out 'The Future of Space Launch Is Near' by John Gardi and Jon Ross.
Eventually, SpaceX wants all of its Falcon rockets to fly themselves back to safety — at first at sea, and then on land. Musk has said this kind of rocket reusability is an essential part of his plan to reduce the cost of launching payloads to 1 percent of what it is today. Over the longer term, he envisions making spaceflight cheap enough to allow for the colonization of Mars, thus making humanity "a multiplanet species."
The buildup to the launch began on Monday night, when Musk took questions during a Reddit "Ask Me Anything" forum at 9 p.m. ET. Live NASA video coverage of the countdown begins at 5 a.m. ET Tuesday, and SpaceX will provide streaming video starting at 6 a.m. ET. The landing attempt is expected to come about 10 minutes after the 6:20 a.m. launch.
SpaceX's Koenigsmann said it may not be immediately clear whether the maneuver has succeeded or failed. It all depends on data connectivity from the uncrewed drone ship, which is stationed a couple of hundred miles off the Florida coast.
"Will we know the results live? Probably not. There will be some delays," Koenigsmann said.
Video from the descent and landing may be available within a couple of hours, or a day or two, depending on logistics. Koenigsmann said that if the landing is successful, the rocket would be secured to the drone ship's deck and returned to port at Jacksonville, Florida, for inspection.
Meanwhile, the Dragon capsule is slated to spend about four weeks hooked up to the station, during which it will be unloaded and repacked with supplies and trash for return to Earth. The mission plan then calls for the Dragon to be released and sent down for splashdown and recovery from the Pacific Ocean.