SpaceX launched more than two tons of cargo to the International Space Station — and also conducted an experiment in rocket recovery.
The company's Falcon 9 rocket lifted off into the cloudy skies over Cape Canaveral Air Force Station at 3:25 p.m. ET, sending a robotic Dragon cargo capsule into orbit.
The Dragon held nearly 5,000 pounds (2,200 kilograms) of supplies and equipment for the station, ranging from the legs for a space robot to a lettuce-growing experiment. This is the third cargo delivery under the terms of SpaceX's 12-flight, $1.6 billion contract with NASA.
In addition to sending up the Dragon, SpaceX tested a landing system that could make it possible for future Falcons to return autonomously to a landing pad for reuse.
The Falcon's first stage was prepped to fire its engines for a soft splashdown and recovery from the Atlantic. SpaceX CEO Elon Musk said in a pre-launch tweet that heavy seas were keeping the recovery ship from reaching the anticipated splashdown zone.
After the launch, Musk reported via Twitter that the first stage executed a good re-entry burn and was able to stabilize itself on the way down. However, the rough seas were a problem. "I wouldn't give high odds that the rocket was able to splash down successfully," he said.
Later updates were more positive: "Data upload from tracking plane shows landing in Atlantic was good! Several boats enroute through heavy seas," Musk tweeted. "Flight computers continued transmitting for 8 seconds after reaching the water. Stopped when booster went horizontal."
Recovering and reusing rockets are key parts of Musk's strategy for reducing the cost of spaceflight and eventually sending colonists to Mars. The South African-born Musk, whose net worth is estimated at more than $9 billion, is in charge of SpaceX as well as the Tesla electric-car company and the Solar City power-generation venture.
Success after weeks of delay
This space station resupply mission had been delayed for more than a month, due to setbacks ranging from contamination concerns, to a radar outage, to a helium leak on the rocket's first stage. On Friday, however, the countdown went smoothly all the way to the end.
A dark-colored plume rose up along the side of the Falcon 9 during liftoff, but Musk said the plume presented no concerns for the Dragon's flight.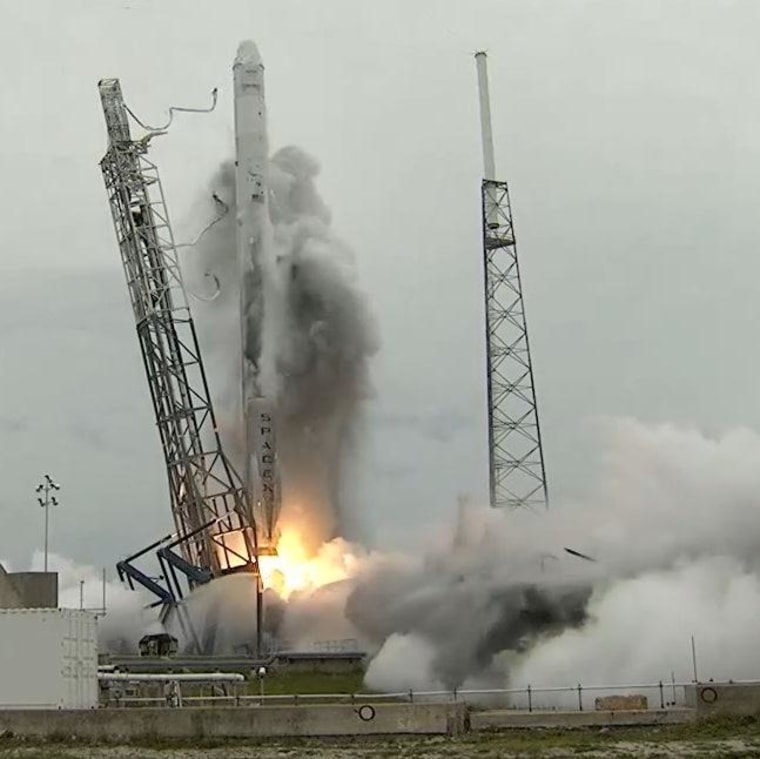 "Essentially, what happened is we splashed dirty water on ourselves," he told NBC News. "A little embarrassing, but no harm done."
SpaceX also had some "slight initial challenges" with the Dragon's thrusters, but the spacecraft was now on track for its trip to the space station, Musk said.
"This is a happy day," Musk said. "Most important of all is that we did a good job for NASA. ... Everything else is secondary to that."
Spacewalk timing affected
The timing of the launch affected the timing of an emergency spacewalk to replace a backup computer on the station's exterior that failed a week ago.
The computer, which is formally known as a multiplexer-demultiplexer, routes commands to several essential systems on the station's exterior — including the robotic rail car, cooling system and solar arrays. The primary computer is working fine, and the crew is in no immediate danger. But just in case something goes wrong, NASA wants the backup computer to be working as well.
"Right now we don't have that," flight director Brian Smith told reporters.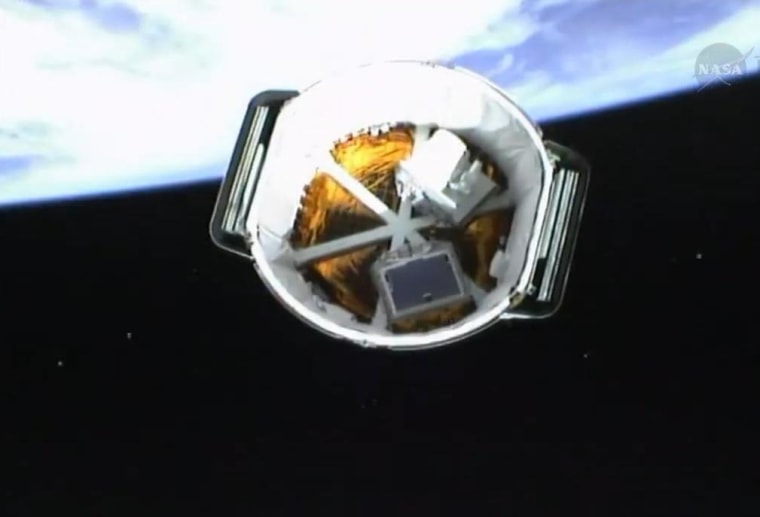 NASA will wait for the Dragon to arrive at the station on Sunday, and then conduct what's expected to be a 2.5-hour spacewalk next Wednesday. If the Falcon launch had been delayed, NASA would have gone ahead with the spacewalk on Sunday instead.
The Dragon's cargo includes a spare spacesuit as well as replacement components that would address concerns about potential water leaks in the suits used by NASA spacewalkers. Such a leak nearly drowned an Italian spacewalker last year, and the cause of the malfunction is still under investigation.
Mission managers say the emergency repair spacewalk could proceed even without the replacement parts on the Dragon. Spacewalkers Rick Mastracchio and Steve Swanson will still be required to wear absorbent helmet pads and snorkels as added safety measures, space station program manager Mike Suffredini said.
Correction for 9:20 p.m. ET April 19: I mistakenly called the space station's multiplexer-demultiplexer a "modulator-demodulator," a.k.a. modem. The error has been corrected. Please feel free to zap me with a Q-36 space modulator.