SpaceX scrubbed Monday's scheduled launch of a robotic Dragon cargo capsule to the International Space Station, due to a helium leak on the Falcon 9 rocket's first stage.
Word of the postponement came a little more than an hour before the Falcon 9 was to lift off from Cape Canaveral Air Force Station in Florida.
NASA said that the next opportunity for launch would come at 3:25 p.m. ET Friday.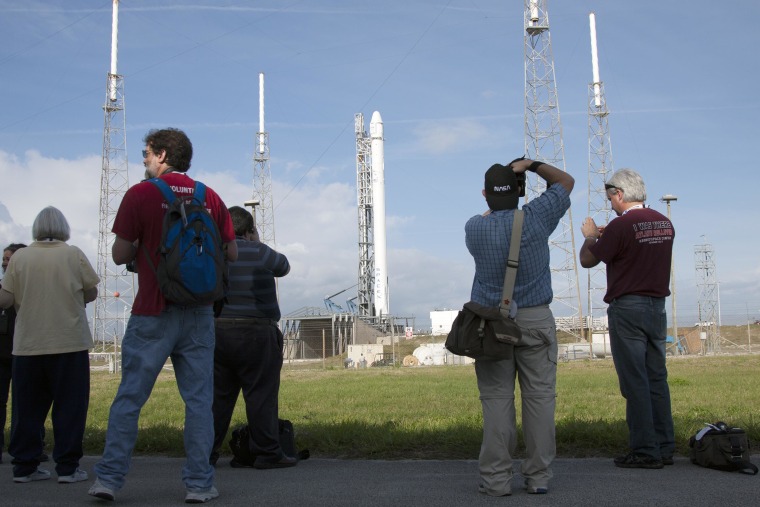 "A fix will be implemented by the next launch opportunity ... though weather on that date isn't ideal," SpaceX said in a status update.
Forecasters had put the chance of acceptable weather for launch at 80 percent for Monday, but only 40 percent for Friday.
SpaceX's Dragon capsule is packed with about 4,600 pounds (2,100 kilograms) of supplies and equipment for the station. This is the third of 12 round-trip resupply flights that SpaceX is conducting under the terms of a $1.6 billion contract with NASA.
Billionaire's grand vision
This particular mission is notable because it's the first time the Falcon 9 has been outfitted with a set of four landing legs. The 25-foot-long (7.6-meter-long) foldable legs are part of a long-term experiment to see whether the Falcon 9 rocket can be recovered and reused.
This time around, the legs won't play a useful role. They're just part of a test to relight the rocket engines after stage separation and ease the first stage's fall into the Atlantic Ocean, so that it can be recovered intact by a SpaceX team.
SpaceX estimates the chances of a successful recovery at only 30 percent to 40 percent. But if the technology works, the Falcon 9 rocket of the future could fly itself back from a launch, unfold its legs and gently touch down on a landing pad. SpaceX has already tried out the prototype for such a system, known as the Grasshopper, at its Texas test facility.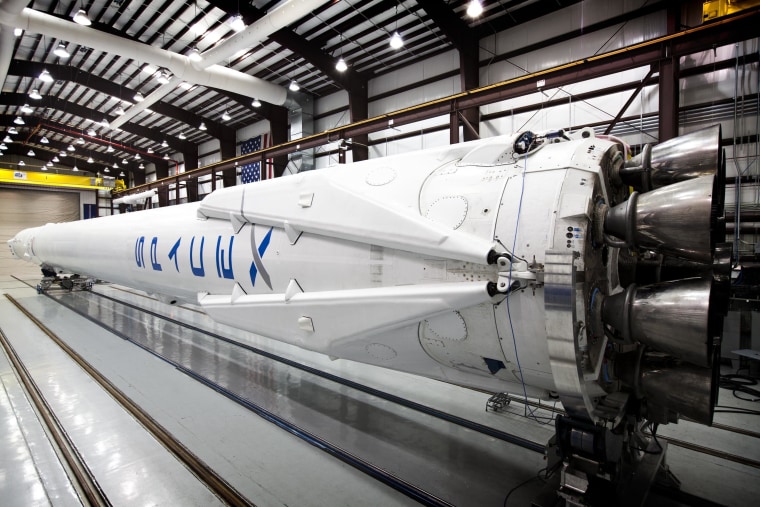 Rocket reusability is a key part of SpaceX founder Elon Musk's vision for bringing the cost of spaceflight down to the point that missions to Mars become more affordable, not just for exploration but for colonization as well.
Musk, a 42-year-old billionaire who is also in charge of the Tesla electric-car company and the Solar City power-generating venture, has said his long-term goal is to make humanity a "multiplanet species." He thinks low-cost reusable rockets could reduce the cost of spaceflight to 1 percent of what it is today.
No stranger to delays
Dealing with 11th-hour launch delays is nothing new for SpaceX. It's all part of the California-based company's high-tech, low-cost business strategy. SpaceX's computers are designed to detect glitches and halt the countdown automatically, even after ignition.
Monday's scrub isn't the first postponement for the mission known as CRS-3 or SpaceX-3. Earlier launch dates were missed due to contamination in a payload area and problems with the Air Force's radar tracking system.
Over the weekend, NASA had considered delaying the launch because of a computer problem aboard the space station, but decided to go ahead with the resupply mission before making repairs. The Dragon is due to take up a spare spacesuit as well as other components that would address concerns about a leakage issue that nearly caused an Italian spacewalker to drown in his suit last year.
The spacewalk to replace the backup computer box, known as a modulator-demodulator, is currently scheduled for April 22. NASA said its astronauts on the space station, Rick Mastracchio and Steve Swanson, would take on the job — which is expected to last two and a half hours.
In addition to the spacesuit and other supplies for the crew, SpaceX's Dragon will carry up more than 150 science experiments, including a test bed for growing vegetables in space. A space-to-Earth laser communication device and the claw-footed legs for NASA's Robonaut 2 android are also packed on board.